Every Justice League Character Namedrop And Appearance In Shazam 2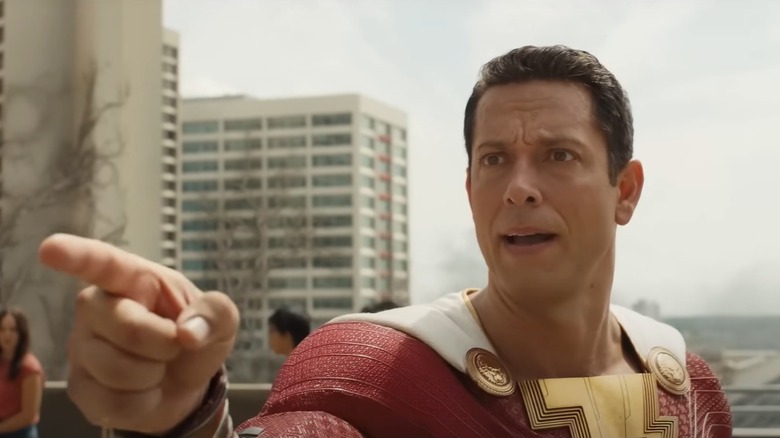 Warner Bros./YouTube
Contains spoilers for "Shazam! Fury of the Gods."
"Shazam! Fury of the Gods" hits theaters as the latest electrifying entry in the DC Universe. The delightfully campy sequel brings back the souped-up youngster Billy Batson (Asher Angel) and his alter ego Shazam (Zachary Levi) as they confront a powerful new threat. The gods return to Earth as the Daughters of Atlas seek revenge for having their powers stolen, with Billy and his family stuck in the middle of a timeless war. Luckily for Shazam, a wondrous member of the Justice League stops by to help save the day. But that's not where the DC connections end in "Shazam! Fury of the Gods."
Billy in his Shazam form deals with imposter syndrome, as he confides in his pediatrician Dr. Dario Bava (P.J. Byrne). He laments about not feeling worthy enough to have his powers and even name drops some Justice League heroes by comparison. He mentions The Flash (Ezra Miller) as another red-clad hero with a similar lighting bolt icon, making him feel both expendable and redundant. Shazam then singles out the muscular and macho Aquaman (Jason Momoa) and the brooding terror Batman (Ben Affleck), who both leave Billy feeling inferior.
However, he gets his own time to shine when a pedestrian in danger refers to Shazam as "Captain Marvel," which was the hero's original name before the comics had to change it for legal reasons. DC's Captain Marvel was even a former member of the Justice League, throwing another Easter egg reference into the mix, on top of Wonder Woman's (Gal Gadot) glorious reveal. 
Wonder Woman makes a bold entrance
Following the explosive final battle with Kalypso (Lucy Liu) and her ferocious dragon, Billy makes the ultimate sacrifice as Shazam. He traps Kalypso within Hespera's (Helen Mirren) magical dome and unleashes his lightning powers to destroy her. Sadly, the massive blow also takes out Billy, and he's laid to rest by his beloved family. When all hope seems lost, a familiar tune breaks the silence and signals the arrival of none other than Wonder Woman.
She plays a pivotal role when she reignites the wizard's (Djimon Hounsou) magic staff as the last living god on Earth. Thankfully, this also brings Billy back to life as he punches through his grave in his glorious Shazam form. This even gives Billy the chance to talk to the woman he's been dreaming about, who jokingly tells him, "Stick to saving the world, kid." 
Hopefully, this promising exchange means we can look forward to more even more interactions with Shazam and the Justice League, depending on how he fits into James Gunn's new DC Universe.