Ted Lasso's Brett Goldstein Still Hasn't Reconciled His Persona With Roy Kent's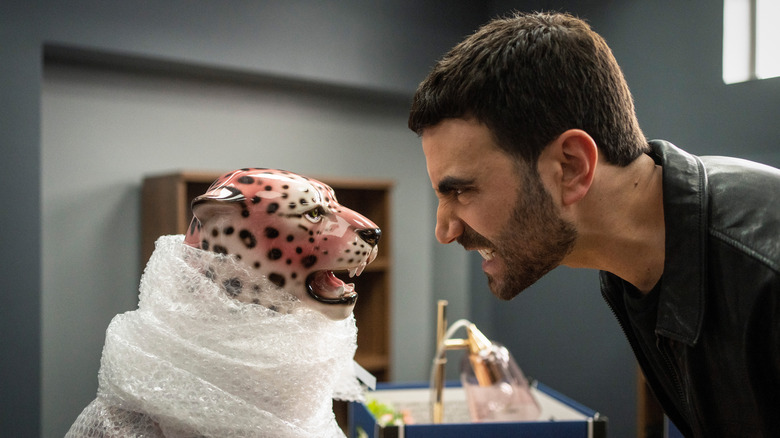 Apple TV+
Just as Ted Lasso's (Jason Sudeikis) relentless optimism is a hallmark of the eponymous Apple TV+ series, so is Roy Kent's (Brett Goldstein) rough but lovable demeanor. His hard outer shell of swearing and growling is only a shield for the gooey center of honesty and appreciation he brings to his relationships. And if you know that Goldstein lobbied hard for the role, you may think that he and Roy possess the same qualities.
But while the Emmy-winning actor feels connected to his "Ted Lasso" character, it isn't because the two are the same. When you listen to his real-life speaking voice, it has a much softer intonation as he talks about his love of the Muppets. Swearing may be one of Goldstein's talents, but he isn't sure how he should react to fans expecting Roy Kent.
"I still haven't worked out if it would be better if I just told everyone to f*** off, I don't know," Goldstein told Josh Horowitz on the podcast "Happy Sad Confused." He went on to muse: "I might have to cultivate that a bit more." Horowitz rightly wondered what sort of interactions he did have with his fanbase.
"I've had people ask me to tell them to f*** off," Goldstein revealed, going on to joke, "and I go, 'That's not hard. I was just trying to take a walk.'"
Roy's voice buries a wounded soul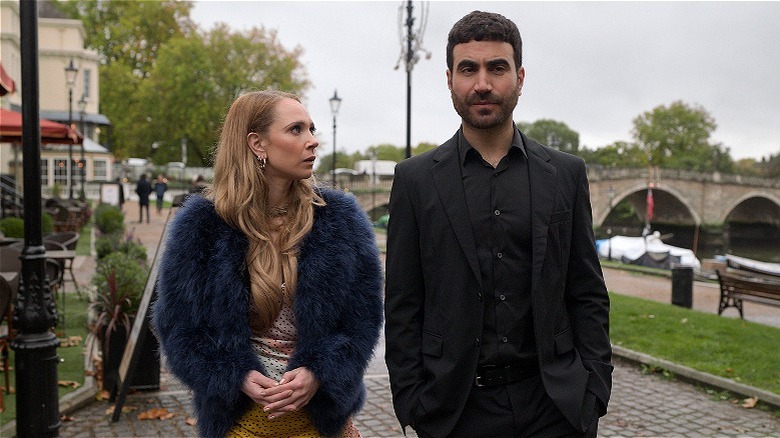 Apple TV+
Roy's constant swearing and shouting may seem like just comedic relief, but if there is one thing we know about "Ted Lasso," it's that it is full of emotional resonance. Humor is never just humor and the same goes for Roy's emotional pain. Just like Ted hides the hurt of his father's death behind a wall of positivity, Roy hides behind a wall of rage.
"His tragic flaw is he doesn't feel worthy of love," Brett Goldstein told Town & Country. "He doesn't think he deserves to be happy or deserves to be loved." This devastating fact makes sense when you analyze his stubbornness and refusal to let out his feelings most of the time. His difficult childhood leads him towards burying his feelings, and Goldstein shares this is where his raspy voice comes from. It is not just an aesthetic decision, but one deeply thought out.
"It's a manifestation of the fact that he is covering feelings that he cannot let out," Goldstein explained to Vanity Fair. "He has to keep his voice almost like a cork and hold everything down. Because if he let it out, he'd be a wreck." Little does Roy know — or let himself believe — that he is beloved. He endears himself to football fans, who have given him the best chant, and his relationship with Keeley Jones (Juno Temple) remains a series highlight. Romantics can only hope Roy will get the love he so deserves.