Young Sheldon Fans Have Mixed Feelings About Georgie And Mandy's Relationship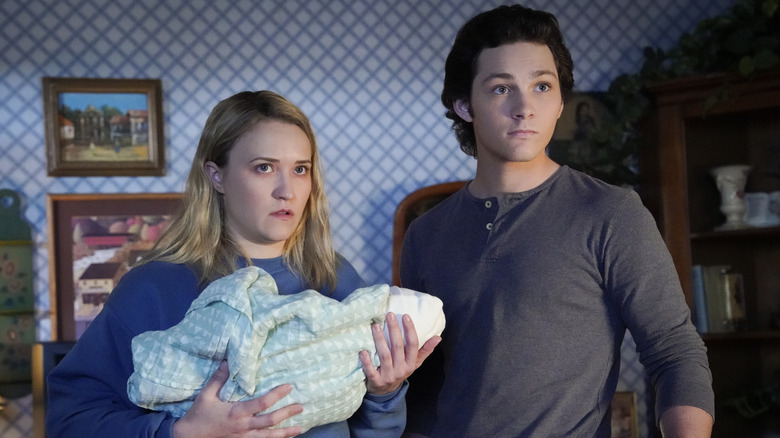 Robert Voets / 2023 Warner Bros. Entertainment Inc.
As far as sitcom love stories go, George "Georgie" Cooper Jr. (Montana Jordan) and Amanda "Mandy" McAllister (Emily Osment) on "Young Sheldon" have a truly unconventional one. It's messy enough that they both lied about their ages, claiming to be 21 and 24 when they were in fact 17 and 29 years old respectively. But after Mandy finds out the truth, she also discovers she's pregnant.
Luckily, despite Georgie being an expecting teen father, the Cooper family helps support Mandy through her pregnancy. The pair ultimately have a healthy newborn daughter, Constance, in the Season 6 episode "A Launch Party and a Whole Human Being."
Currently, the future of Georgie and Mandy is up in the air. She's encouraged him to see other people, but they clearly have feelings for each other. Some fans of "Young Sheldon" are now rooting for the couple, while others think this is a gross relationship no matter how you look at it.
Many online fans love seeing them together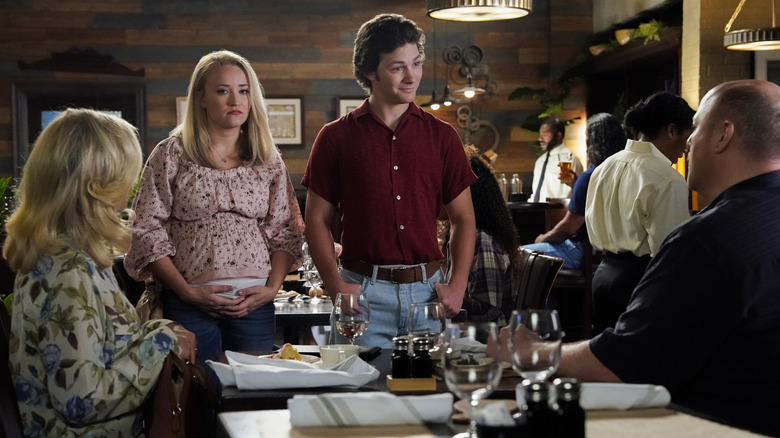 Robert Voets / 2022 Warner Bros. Entertainment Inc.
Some viewers of the latest "Young Sheldon" episodes say they really look forward to Georgie and Mandy's appearances, even more so than Sheldon (Iain Armitage) himself. Twitter user @NASCARDadGuy wrote, "When @YoungSheldon inevitably fails, they should spin off Georgie & Mandy to their own show." User @Berlin_Andrez felt similarly, tweeting, "This Georgie and Mandy part is the reason I'm continuing to watch the show." Both Twitter users noticed they weren't as engaged with the title character anymore either, with @NASCARDadGuy writing, "I think teen Sheldon has worn out his cuteness & novelty. Now it's just blah."
This could also be because Sheldon's future is extremely fixed compared to some of the prequel's other characters. Audiences know from watching "The Big Bang Theory" that he'll become a Nobel Prize-winning scientist, but Georgie and Mandy's outcome isn't as predictable.
Regardless, a lot of the sitcom's fans are definitely hooked on any scenes featuring the two of them. Twitter user @venicegaga even put a crying emoji next to writing, "I missed Georgie and Mandy In tonight's episode of young Sheldon sm [sic]."
Other fans think Georgie and Mandy are a mistake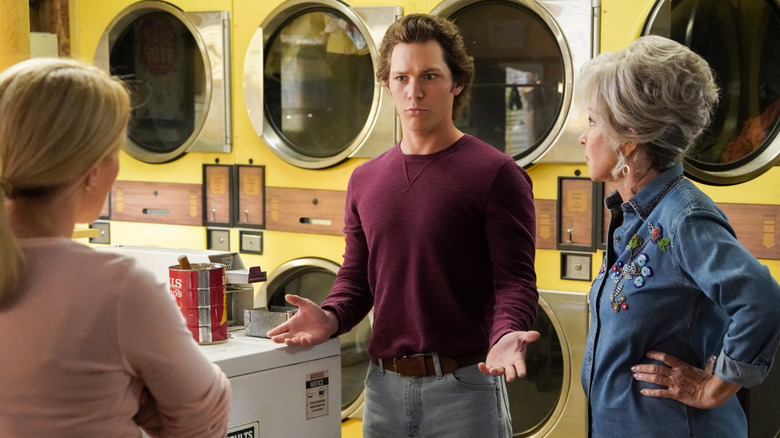 Robert Voets / 2022 Warner Bros. Entertainment Inc.
There are plenty of "Young Sheldon" fans who hope Georgie and Mandy will start dating again soon. Many others, however, find the relationship troubling and extremely inappropriate. Twitter user @Kursed69 tweeted, "did mandy forget she's 30 and georgie is 17????????HELLO #YoungSheldon." Mandy and Georgie obviously care about each other, but they do also have a major age gap.
@TheyCallMeJane8 similarly brought up statutory rape and how the show is "acting like adult and teen relationships are cool so long as the adult is a woman. SMH." @coloredseung also wrote, "17yo georgie getting a 29yo mandy pregnant feels sooo unnecessary and illegal [sic]."
Georgie is legally at the age of consent in Texas when they meet, and after Mandy finds out he's a teenager, she actively discourages any of his romantic overtures. But they also have a history and now a daughter together, and both have expressed jealousy over the other's love life. Whether they love or hate the two of them, fans will have to wait and see if Georgie and Mandy end up together, or if they merely co-parent their child.
If you or anyone you know has been a victim of sexual assault, help is available. Visit the Rape, Abuse & Incest National Network website or contact RAINN's National Helpline at 1-800-656-HOPE (4673).