Young Sheldon Fans Want Georgie And Mandy To Get Back Together After Their Sweet Moment In Season 6 Episode 12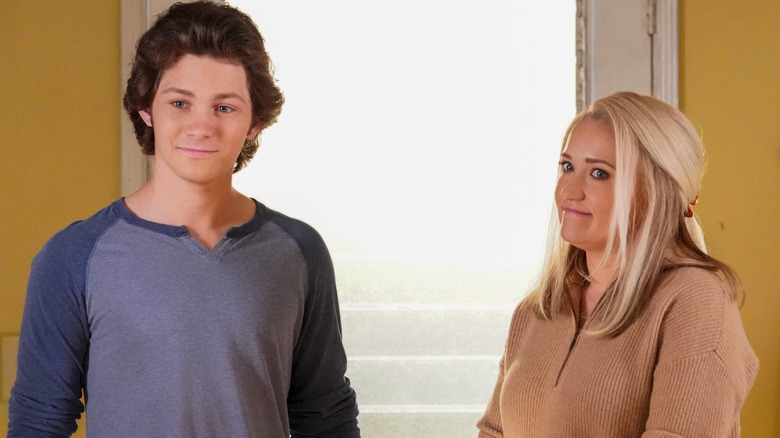 Robert Voets/2022 Warner Bros. Entertainment Inc.
"Young Sheldon" delivered the perfect Valentine's Day episode with Season 6, Episode 12, "A Baby Shower and a Testosterone-Rich Banter." Mandy (Emily Osment) had a tense and awkward baby shower with her judgmental mother Audrey (Rachel Bay Jones) present. Sheldon (Iain Armitage) made an earnest attempt at male bonding with Mandy's brother Connor (Joseph Apollonio), despite being fooled by his twin sister Missy (Raegan Revord). The two young men unexpectedly found themselves discussing gritty Batman comics together, foreshadowing how Sheldon makes his core group of friends on "The Big Bang Theory." 
However, the most notable event from the episode was the sentimental gift Georgie (Montana Jordan) gave the mom-to-be. Though it sends a confusing message to Mandy, fans were absolutely swooning over the heartfelt present he thoughtfully gave her. The two have had a frustrating "will they, won't they" relationship for far too long, and fans are hoping this sweet moment results in some well-earned resolution (for viewers, and Georgie). Surprisingly, fans find themselves enjoying "Young Sheldon," even without its titular star playing a major role, especially during this recent episode.
As the spin-off progresses, we learn more about the Cooper family, particularly Sheldon's older brother. The immature meathead has quickly become a lovable and respectable young man, leaving some to even call for his own spin-off. With that in mind, it's no surprise viewers are clamoring for Mandy and Georgie to get back together after their heartwarming exchange. 
Georgie's heart locket left many fans emotional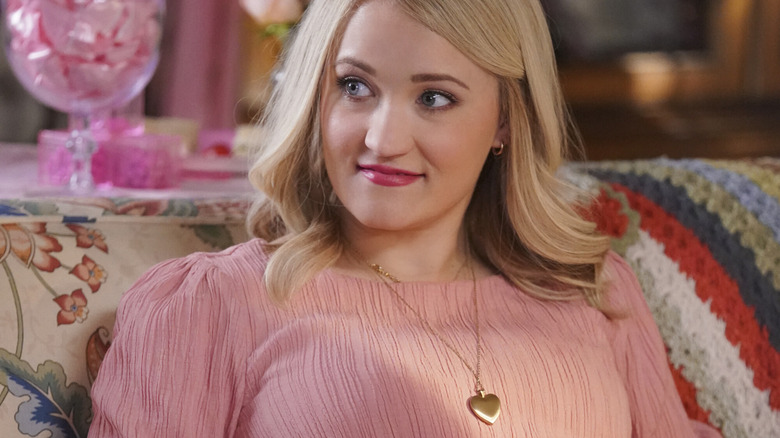 Michael Yarish/CBS ©2022 CBS Broadcasting, Inc.
Before Mandy's baby shower, Georgie wanted to give her something just for her, as the baby would receive an abundance of gifts later. He thoughtfully gives her a beautiful gold heart locket with a picture of their baby's sonogram inside. This immediately melted viewers' (and Mandy's) hearts, resulting in Twitter bursting with emotional reactions. 
Although the idea for the present originated from Georgie's new girlfriend (it's complicated), fans hope this is a promising sign of their reunion. One viewer, @just_me_terry, reflects on the series' shift in perspective while reacting to the touching scene. "I happen to love the Georgie and Mandy parts. After all this is a show about Sheldon when he was a child in his family. This baby is his niece, I LOVE LOVE the Mandy and Georgie parts and hope THEY will be a couple and raise the baby as a couple no matter the age difference." Another user, @calhoun_monique, captured audiences' tearful reaction with "Georgie['s] gift to Mandy," adding an accompanying crying emoji with watery eyes. 
Some noticed Georgie's refreshing character development, like @ASchad2014 who wrote, "While Georgie can be an idiot at times, this whole situation with Mandy and the baby shows just how noble and caring he can be." @thynebridget felt similarly, tweeting, "I am waaaay more invested in Georgie and Mandy than I should be," with another user, @waparker536, writing, "[in my opinion] Missy & Georgie have become the best characters."