How Sons Of Anarchy's Katey Sagal Inspired Her Own Character Gemma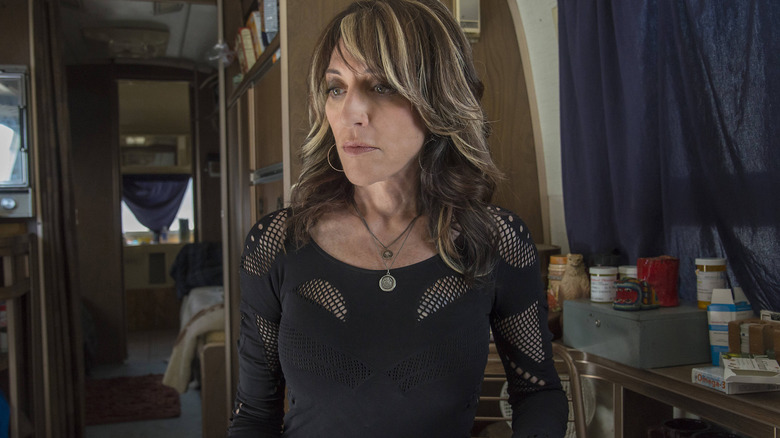 FX Networks
The bikers and drug dealers on "Sons of Anarchy" do plenty of despicable things, but SAMCRO matriarch Gemma (Katey Sagal) is truly ruthless. Gemma will do anything to protect the motorcycle club, her son Jax (Charlie Hunnam), and her grandchildren Abel and Thomas. But "anything" includes using a skateboard as a weapon, tossing a loaded syringe at recovering addict Wendy (Drea DeMatteo), and even cold-blooded murder.
Sagal talked in 2014 about the difficulty of playing a character making dangerous, violent choices. "I don't live in an outlaw world and I don't carry a gun and I don't do those things," she told Lamplight Review. Still, she also loved the challenges the series presented her with. "I felt every season brought a new set of things that I've never done before and needed exploring," the actress admitted.
Sagal may not act much like Gemma in real life, but husband and show creator Kurt Sutter was actually inspired by her maternal, protective instincts while writing the character. Here's why.
Gemma's maternal instincts are similar to Katey Sagal's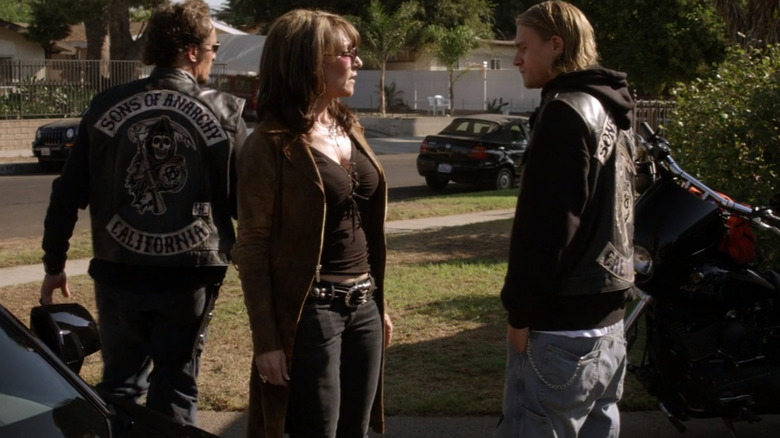 FX Networks
"Hamlet" was clearly a big influence on "Sons of Anarchy," with Jax having similarities to the titular character and the queen mother character Gertrude becoming Gemma. But Gemma was also drawn from the life of actress Katey Sagal as well.
Sagal explained to NPR in 2013 how Kurt Sutter didn't have children when they got together, but she had two of her own already from her previous marriage to Jack White. Sutter became their stepfather, and he also noticed how protective Sagal was of her children. The actress mused, "He hadn't been around that kind of energy quite so much, so I think that's what was the springboard for Gemma."
She doesn't use deadly weapons or pull the strings of a criminal motorcycle gang like Gemma does. But Sagal can easily understand taking on any action for the sake of her offspring: "It was that at her core, her motivation is her children, is her child. At any cost, she will protect him and her club." This also ultimately becomes the character's downfall at the end of the series.