The Conners Fans Were Seriously Grossed Out By Becky And Darlene's Chore War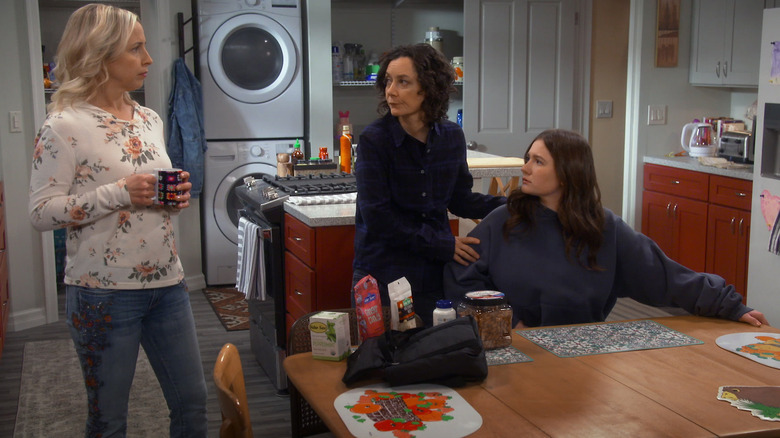 ABC
Contains spoilers for "The Conners" Season 5, Episode 18 — "Road Trip and Guilt Trip"
The never-ending sibling rivalry between Becky Conner-Healy (Lecy Goranson) and Darlene Conner (Sara Gilbert) on "The Conners" has stretched from their shared childhoods to their shared adulthoods. Now living together in the same home, they've rapidly figured out that their parenting and housekeeping styles clash. No episode has brought that revelation to light more than "Road Trip and Guilt Trip."
During the course of the outing, Becky rebels against Darlene's controlling nature and neat-freak ways by going wild and leaving sarcastic post-it notes in return. Darlene feels disrespected; Becky thinks Darlene is trying to make a point out of the fact that she and her daughter, Harris Conner-Healy (Emma Kenney), are living on Darlene's charity, staying rent-free in her home while Becky completes college. It turns out that Darlene is jealous of Becky's new connection with Harris. Before that, though, the twosome enters a housekeeping war that sees Becky do something extremely distasteful — mopping a kitchen table with the same mop she'd been cleaning the kitchen floor with. The end result is Ben (Jay R. Ferguson) coming down with a norovirus. 
Audience members were grossed out by this turn of events, to say the least. "Becky! Come on! Don't mop on the table!!" cried @OscarSm61194655. Their comments were quite representative of most other fans' feelings about it all.
Fans were grossed out by Becky's mop stunt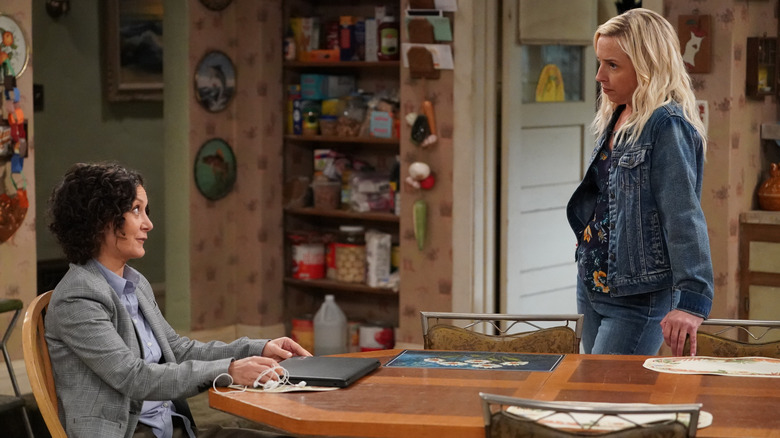 ABC/Eric McCandless
Fans were nauseated by Becky's mop work, to say the least. "Darlene is right!!!! And she is also right that it's so gross!! Yuck!!" said @sonyab1974. They later commented that "Becky had to mop the table after mopping the floors!" adding a nauseated face emoji. It looks like the scene made a lot of "The Conners" devotees as sick and green-faced as poor, perpetually suffering Ben.
Some bought personal experience to their disgust. "Kids in detention at my high school used to clean the tables in the cafeteria with mops. It was the nastiest thing I had ever seen," observed @JoshMarino420. In fact, "Nasty" was the operative word many fans used to describe their emotions. @TommieGirlsWurl summed up a lot of people's horrified feelings with a simple "Becky that's nasty." 
That's not to say audience members didn't get a couple of laughs out of the situation. Some viewers found Becky's trolling of Darlene funny, and others simply got a kick out of watching the women navigate their grown-up relationships in a way that reflects their childhood relationships. But maybe next time the show's writing team should remember that some folks like to pair the show with dinner — hopefully on a completely clean kitchen table of their own.