Ted Lasso's Creators Plan To Take Time Before Figuring Out The Lassoverse's Future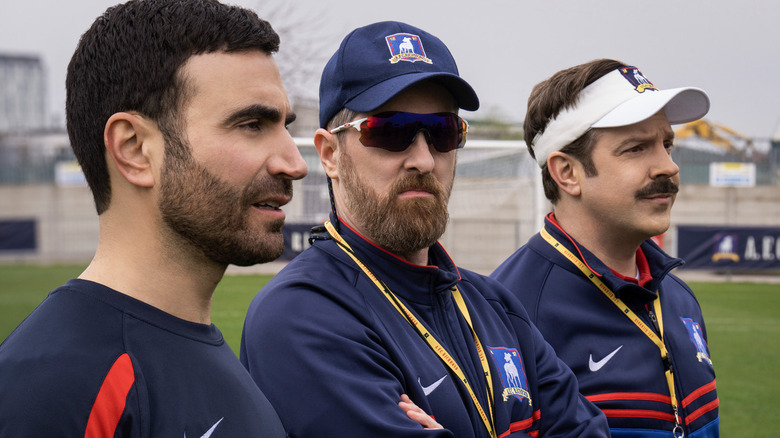 Apple TV+
The long-awaited return of "Ted Lasso" has mostly been cause for celebration among the show's fans. However, the end of the series' nearly 2-year-long hiatus has been tainted somewhat by the mystery surrounding its future. Indeed, while Apple TV+ has avoided marketing "Ted Lasso" Season 3 as the fan-favorite dramedy's last season, no one seems to know for sure if it is or isn't. In fact, everyone involved in "Ted Lasso" seems to have adopted a "let's wait and see" approach when it comes to discussing the show's future. 
That was the case, at least, in a recent interview Comicbook.com conducted with "Ted Lasso" co-creator Brendan Hunt. The actor and writer, who also stars in the Apple TV+ series as Coach Beard, the right-hand-man to Jason Sudeikis' Ted, told the outlet that no one involved in the show is in a rush to decide whether it has truly reached the end of its run.
"Part of not knowing [what's next] means it's possible that it is the end. We at the very least know we're going to be taking some time off from this thing before we figure out what happens next," Hunt revealed. The "Ted Lasso" co-creator, additionally, noted that the last day of filming on the show's third season did feel like a cathartic conclusion to the journey that he and the series' creative team started together several years ago.
"That last day definitely felt like graduation," Hunt added. "I mean that in the most wonderful way. It was very sentimental."
The Lassoverse's future is still up in the air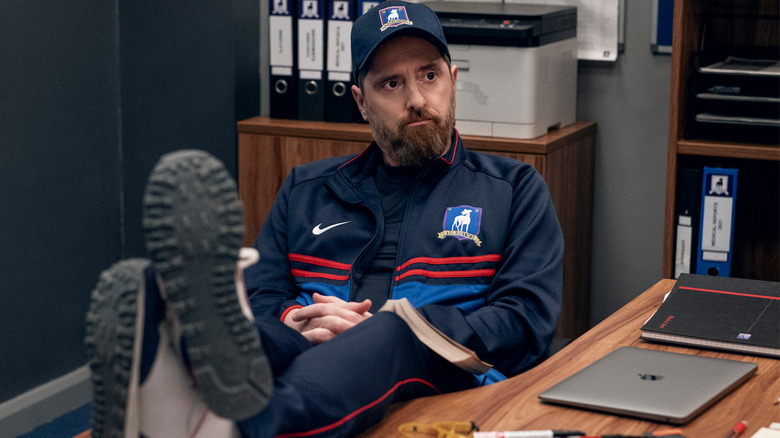 Apple TV+
For years now, the "Ted Lasso" creative team has insisted that the show's third season will be its last. Shortly following the conclusion of its second season, co-creator Bill Lawrence even told the TV Top 5 podcast, "[W]hen we started, we plotted out everybody's beginning, middle and end of a three-season arc." In recent months, however, the series' writers have all been surprisingly reticent to label "Ted Lasso" Season 3 as the show's last. Instead, they've all repeatedly insisted, much like Hunt does above, that the new season will simply bring the series' current story to an end. 
Whether "Ted Lasso" itself is also coming to an end seems to be another matter altogether. Jason Sudeikis himself said as much in an interview with Deadline this year. "[Season 3] is the end of this story that we wanted to tell," the "Ted Lasso" star and co-creator explained. "The fact that folks will want more and are curious beyond more than what they don't even know yet — that being Season 3 — it's flattering."
Fortunately, while the "Ted Lasso" team remains hesitant to announce what lies in store for their breakout hit series, they do seem open to exploring the Apple TV+ show's franchise potential. In his interview with Deadline, Sudeikis even addressed the possibility of writing a few "Ted Lasso" spin-offs, telling the outlet, "I think that we've set the table for all sorts of folks...to get to watch the further telling of these stories."
Taking all of this into account, it seems safe to assume that "Ted Lasso" will continue past its latest season in one form or another. "Ted Lasso" fans will just have to wait to see exactly what the future entails for the beloved Apple TV+ property, though.