My Hero Academia Should Stick With The High-Stakes Intensity (Even With Deku Back At UA)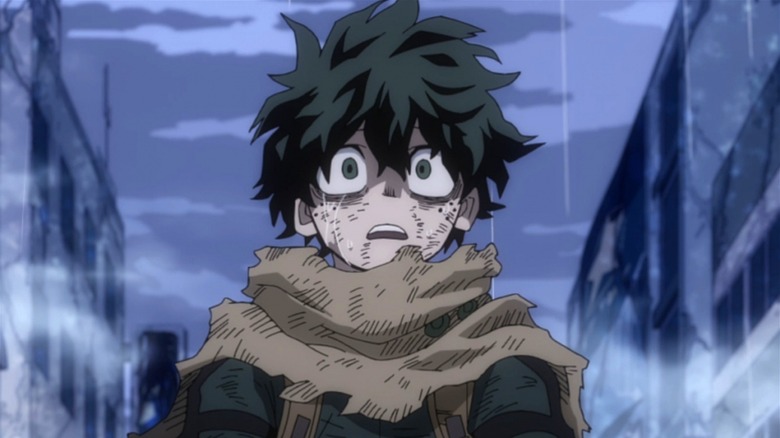 JNN (MBS)
Contains spoilers for "My Hero Academia" Season 6, Episode 23 – "Deku vs. Class A"
As Season 6 of "My Hero Academia" barrels toward its inevitable conclusion, the popular anime series set aside an episode to allow an absolutely ragged Deku (Daiki Yamashita/Justin Briner) the chance to reconnect with his old friends from Class 1A at U.A. High School.
Though Deku remained adamant that he must stay away from them so that no one else would be killed by All For One (Akio Otsuka/John Swasey) or Tomura Shigaraki (Koki Uchiyama/Eric Vale), he ultimately succumbed to the united efforts of his friends and finally gave in after a moving apology from his longtime rival, Bakugo (Nobuhiko Okamoto/Clifford Chapin).
Deku's return to U.A. lays the groundwork for something "My Hero Academia" hasn't had in a long time: a low-stakes arc. The second half of Season 5 and all of Season 6 have leaned hard into the heroes' conflict with the League of Villains and the many other fringe groups who are looking to topple the superhuman society. This has seen tensions at an all-time high as both heroes and villains died or were imprisoned during the ongoing battles — and has made the wait between each episode sometimes feel like an eternity. With "My Hero Academia" ratcheting up so hard over the last season and a half, is now really the time to wade back into the more tepid waters of crushes and friendship drama?
Let's hold off on the low-stakes arcs in My Hero Academia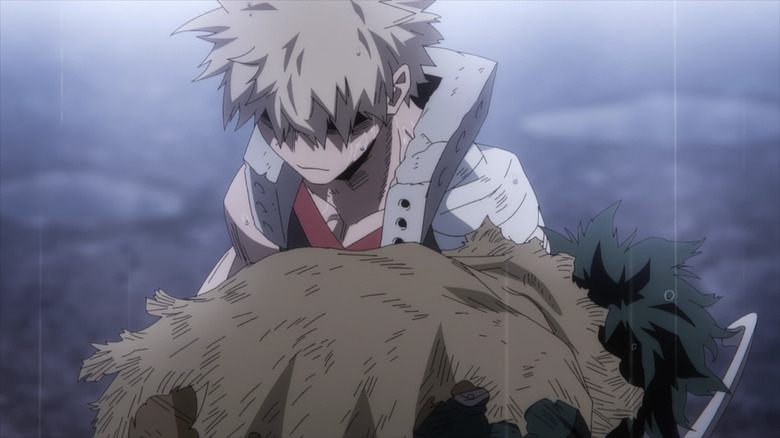 JNN (MBS)
The formatting of "My Hero Academia" has generally ebbed back and forth between high-stakes arcs and low-stakes arcs to keep the story balanced. However, the series broke that pattern at the start of Season 5. After the school festival arc that ended Season 4, the series launched a Class 1A vs. Class 1B competition; another arc that had little impact on the overall story.
This is likely the reason why fans were initially so put off by Season 5, as that's just too long for an anime like "My Hero Academia" to go without leaning into its central conflict. Luckily, the series has since bounced back with its biggest and best season yet, an epic all-or-nothing struggle that has left fans floored by its incredible battle sequences and many shocking plot twists.
With this in mind, it could be a huge mistake to try and scale down from here, especially with the manga confirmed to have an ending in sight. Furthermore, the latest episode has shown clearly that there can still be time for smaller, character-based stories even amid more intense, battle-based arcs.
A balance can be found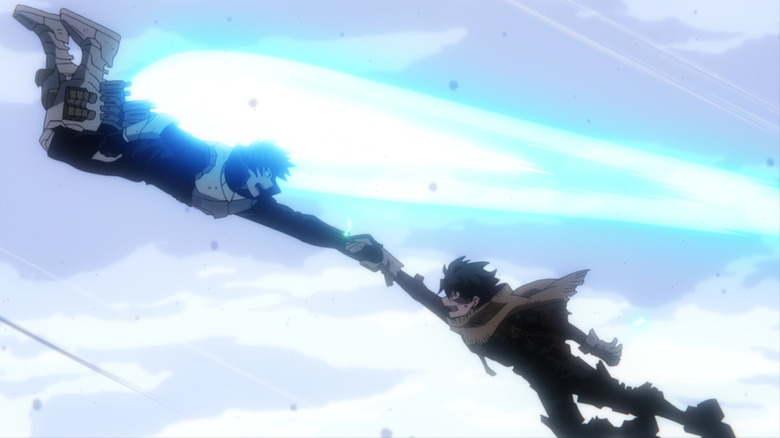 JNN (MBS)
Season 6, Episode 23 ("Deku vs. Class A") may have been set up to be a big battle, but what the episode really accomplished was having Deku reconcile with his friends. As they pulled out all the stops to make Deku stay long enough to hear them out, the episode managed to have intense visuals while still being heartfelt and emotional.
This shows that "My Hero Academia" doesn't need to go all the way back to the lighter arcs in order to make time for sweeter, character-based moments and the development of friendships. With such a perfect example of walking between the strengths of the two arc types and how quickly the emotional resonance was accomplished, it's clear that the writers have laid enough groundwork that they can have the best of both worlds from this point on.
As with the end of the "Harry Potter" series, which also saw school drama disappear in favor of a tension that escalated toward the conclusion, "My Hero Academia" has gone too big and too far to come back to the earlier low-stakes arcs and have fans take them seriously for extended periods of time. With Shigaraki, All For One, and hero-killer Stain (Go Inoue/Robert McCollum) still out there as looming threats, there's just not much room left for high school drama anymore.