Is Ted Lasso's New MVP, Zava, Based On A Real Player?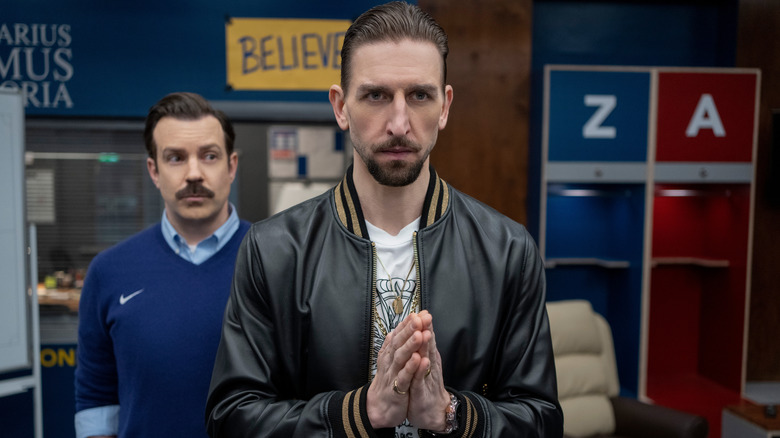 Apple TV+
Contains spoilers for "Ted Lasso" Season 3, Episode 3
Jamie Tartt's (Phil Dunster) reputation as Richmond's golden boy was already rocky with the arrival of Danny Rojas (Cristo Fernández) in the first season of "Ted Lasso." Now it's officially hit the post and dinged off into the crowd with the unexpected appearance of someone that didn't make our predictions this year — the brand new, eccentric, and ethereal striker, Zava (Maximilian Osinski). Initially eyeing a contract with Chelsea, it took a stern talking to from Rebecca (Hannah Waddingham) for him to be swayed away from his original option and the temptation from Rupert (Anthony Head) to join West Ham to change his mind. Deemed a living legend for his talent on the pitch, even Richmond's team sees him as an idol that will no doubt be what they need to help the Greyhounds climb the board in the premiership.
But with "Ted Lasso" giving some viewers their first insight into the beautiful game, does this new addition to AFC Richmond represent an actual image of some soccer players that have taken to the pitch over the years? Are there soccer stars that dribble with as much charisma and grandiosity as the one and only Zava? Well, as fans of the sport will notice without even looking at the VAR, there might be only one Zava, but there are two footballers that share characteristics with him: Zlatan Ibrahimović and Eric Cantona.
Zava seems to take inspiration from Zlatan Ibrahimović and Eric Cantona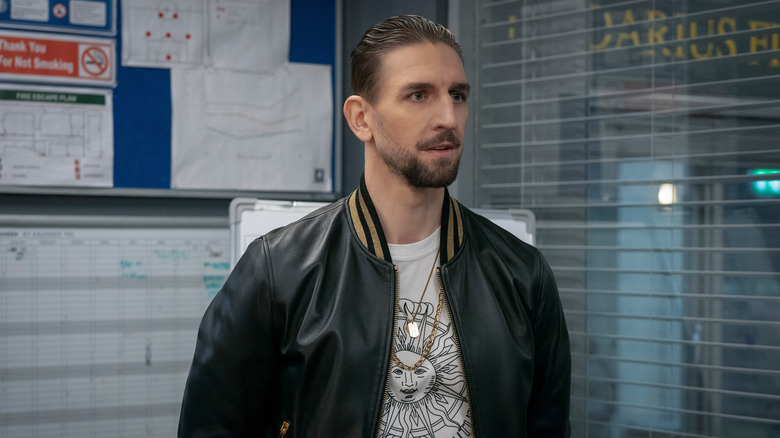 Apple TV+
The hair, the build, and the occasional instances of referring to himself in the first person — these traits were made notorious by Swedish-born striker and AC Milan player Zlatan Ibrahimović. Known for his ego backed up only by his incredible skill on the field, some of his most legendary moments included taking out an ad in the Los Angeles Times when he joined the LA Galaxy in 2018, which read, "Dear Los Angeles, you're welcome." With this in mind, could Trent Crimm (James Lance) pull some strings and have Zava do the same at The Independent? 
While Ibrahimović is undoubtedly the model that Zava has been molded from, there might be a few splashes of another soccer legend included too. With his stoic breaks of silence and thought-provoking contributions to the team, there are shades of Manchester United icon Eric Cantona in Zava. A French soccer player, actor, and film director who once played himself in one of the essential soccer movies, "Looking for Eric," Cantona joined Manchester United in the early '90s — notably playing alongside Roy Keane, the inspiration for Roy Kent (Brett Goldstein). He was known for his philosophical musings and odd pre-match rituals, in addition to being a notoriously aggressive player toward both players and fans. While we haven't seen him lose it against those in the stands just yet, Zava's other characterizations are likely another fun nod (or, shall we say, header) to another one of the greats in the sport. We can only wait to see how the egos of Zava and Jaime Tartt will collide as "Ted Lasso" Season 3 plays on.