Ted Lasso Season 3 Episode 1: What's The Song Playing In Nate's First Scene?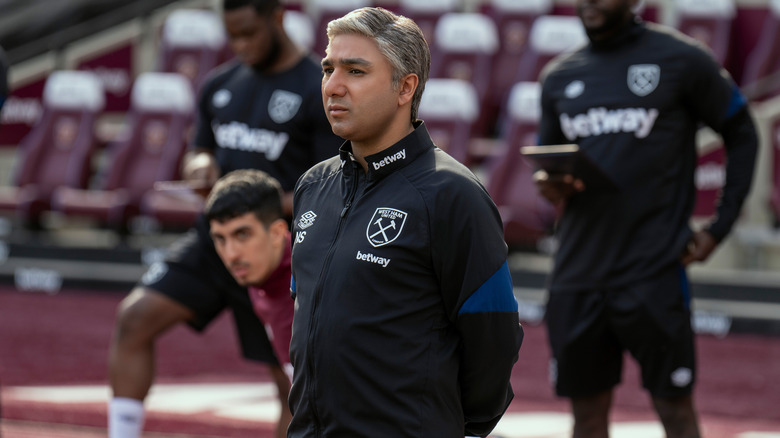 Apple TV+
Contains spoilers for "Ted Lasso" Season 3, Episode 1 — "Smells Like Mean Spirit"
Nate the Great, how far you have fallen. Nathan Shelley (Nick Mohammed) is an endearing figure when audiences first meet him on "Ted Lasso," but the events leading up to the end of Season 2 show that the character has been fostering a dark side. From the beginning, Ted (Jason Sudeikis) welcomed Nate with open arms, helping him earn the team's respect and a promotion along the way. Despite the camaraderie he finds at Nelson Road, Nate still decides to betray his friends in favor of working for Rebecca's (Hannah Waddingham) ex-husband and rival team owner Rupert Mannion (Anthony Head). It is a surprising turn of events, though Season 3, Episode 1 doesn't take long to show the audience what he's been up to since he severed ties with AFC Richmond.
When we see Nate again, his hair color isn't all that's changed. He's a far cry from the character who charmed viewers back in Season 1. Now he's a secondary antagonist who's primed for a possible redemption arc, so thematically, his entrance makes an impact. The song that's playing in the background of Nate's first scene, "Follow the Leader" by Eric B. & Rakim, highlights what's going on in the story and lays the foundation for the character's trajectory this season.

Follow the Leader by Eric B. & Rakim reflects Nate's mindset
Even though Nate now has his own office and a new job as head coach of West Ham United, it's clear that he's still struggling with the transition. He's flippant and rude to his coworkers, though he reserves the brunt of his anger for his players. In the absence of his family's support, he relies on praise from strangers on the Internet. Without the Diamond Dogs, his confidence wavers from moment to moment. These doubts are made clear in Nate's first scene. Theoretically, he's in a more powerful position now, but he still acts like he has something to prove.
Like the scene, the lyrics of "Follow the Leader" by hip-hop duo Eric B. & Rakim are layered. On one hand, the song is about reveling in one's own brilliance and artistry. On the other hand, the lyrics convey a desperation for approval. It fits perfectly with Nate's first appearance following his fall from grace, offering the viewer a glimpse into his frame of mind.
So far, Nate has stayed true to his alliance with Rupert, a character who's known for his lack of loyalty. However, there's plenty of story left to tell, and audiences can't wait to see whether or not Season 3 will end Ted and Nate's rivalry.