Yellowstone's Kelly Reilly Details The 'Artistry' That Went Into Beth's Burn Scars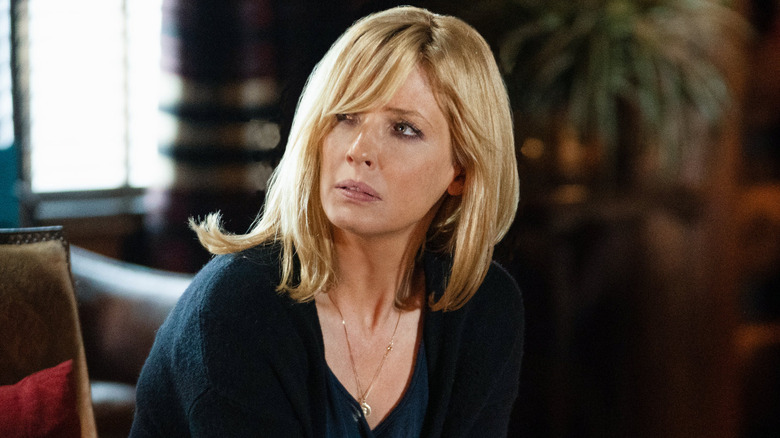 Paramount Network
When it comes to characters on "Yellowstone," it is difficult to think of anyone more polarizing than Beth Dutton (Kelly Reilly). Beth is intensely smart, fiercely loyal to her father John (Kevin Costner) and the family's ranch, and will go to any lengths to protect them. She is also highly manipulative and takes actions that often feel rash, extreme, or just downright cruel. 
None of this, however, is to minimize the extreme trauma she suffers — both physical and emotional — throughout the series. Beth has been attacked several times and is beaten almost beyond recognition in Season 2. Season 3 of "Yellowstone" goes even further by having her survive a bomb attack on her office. She is left with third-degree burns over much of her body, leaving permanent scarring. 
Most of it is on her back, meaning that the bad scars aren't visible in most episodes. When she does have to show her back, however, it's a fairly involved process. Speaking in a video interview with Entertainment Tonight, Reilly recounted that on days that required her to show Beth's scars, she normally had a 3 a.m. call to start makeup so that she could be ready to shoot at 7 a.m. 
Becoming Beth can be a brutal experience for Kelly Reilly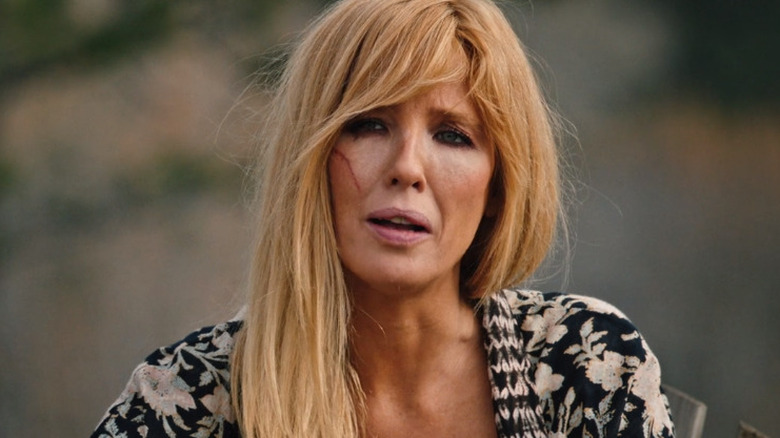 Paramount Network
"Abby, who does the makeup is phenomenal at her job," said Kelly Reilly, "and she literally laid on every single burn. There are literally, like, 45 pieces of individual burns she would paint on me. So it was a real artistry with it." Reilly is referring here to Abigail Steele, who was the special effects and prosthetics makeup artist on "Yellowstone" from 2018 to 2022. She has also provided makeup for the "Yellowstone" spin-off "1883," and has worked with horror director Ari Aster, having worked on makeup for both "Hereditary" and "Midsommar." 
Reilly generally finds it difficult to fully embrace the character of Beth. This isn't just a physical task but an emotional one, given the complexity of her injuries and traumas and how they affect her behavior. Reilly evidently has to put herself in a fairly brutal headspace to really accurately portray Beth. In fact, Reilly will often watch back her scenes when they air with a sense of surprise, having completely forgotten filming them.
It's no wonder then that, having played such a tormented and haunted character for five seasons, Reilly hopes, perhaps against all hope, that Beth's story will ultimately have a happy ending, one where she and her husband Rip (Cole Hauser) can finally find some peace. It's a wonderful sentiment. How likely it is in the cutthroat world of "Yellowstone" is another matter entirely.