Woody Harrelson And Matthew McConaughey To Be Co-Stars Again For New Apple TV+ Comedy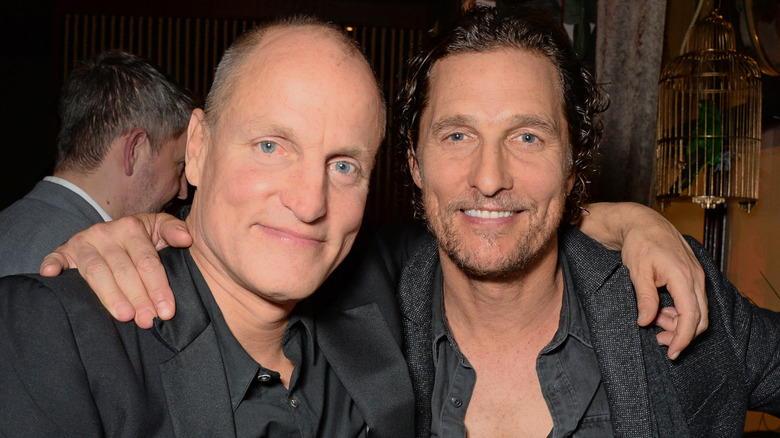 David M. Benett/Getty Images
Woody Harrelson and Matthew McConaughey began their eclectic acting careers within a few years of one another. Harrelson's first credited role was as that of a young football player starring alongside Goldie Hawn's Coach Molly McGrath in 1986's "Wildcats," and McConaughey's breakout performance came in the 1993 stoner comedy "Dazed and Confused" — "alright, alright, alright."
Both actors have left their own uniquely indelible marks on Hollywood during a pair of storied careers. And now the co-stars of the HBO crime series "True Detective" are joining forces once more for a new project from Apple TV+ and Skydance (per The Hollywood Reporter). The duo will also serve as executive producers on the upcoming project, which is a comedy from the mind of David West Read ("Schitt's Creek").
McConaughey and Harrelson share a special rapport that extends far beyond the confines of their professional lives, and they met back in 1997 while doing a wardrobe test for Ron Howard's "EDtv." The 1999 film allowed both performers to show off their comedic chops, which will serve them both nicely in the upcoming Apple TV+ series.
McConaughey and Harrelson reunite on Apple TV+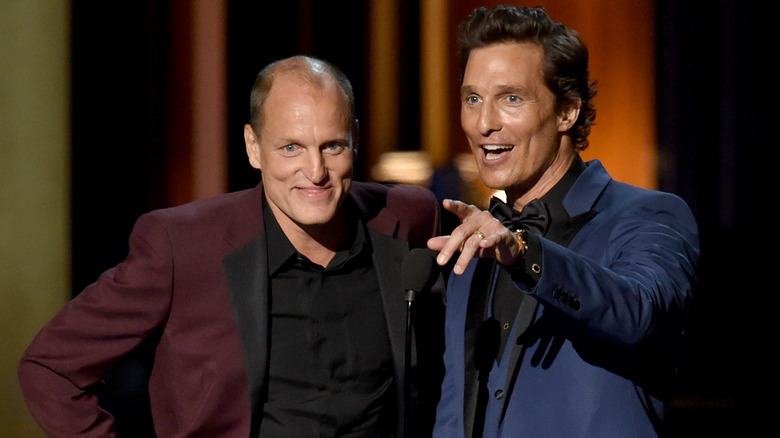 Kevin Winter/Getty Images
Woody Harrelson and Matthew McConaughey's new Apple TV+ comedy will consist of 10 episodes (per The Hollywood Reporter), but no release date has been announced as of yet. The untitled project is a vastly different animal than that of the acting duo's "True Detective" collaboration for HBO, but both thespians have proven that they each possess their own extensive acting range to pull off any roles thrown their way.
"[The upcoming Apple TV+ show is] a heartfelt, odd couple love story revolving around the strange and beautiful bond between Matthew McConaughey and Woody Harrelson. Matthew and Woody's friendship is tested when their combined families attempt to live together on Matthew's ranch in Texas," according to THR.
Harrelson's character Marty Hart and McConaughey's Rust Cohle were mainstay detectives in Season 1 of "True Detective," but they'd worked together three times prior to appearing on the HBO series. Both actors had small parts in 1998's "Welcome to Hollywood," and then they played dysfunctional brothers a year later in the grossly underrated comedy "EDtv." Finally, the performers worked together in 2008's critically lambasted "Surfer, Dude."