Yellowjackets: Christina Ricci Claims The Cast Was Terrified Coming Back For S2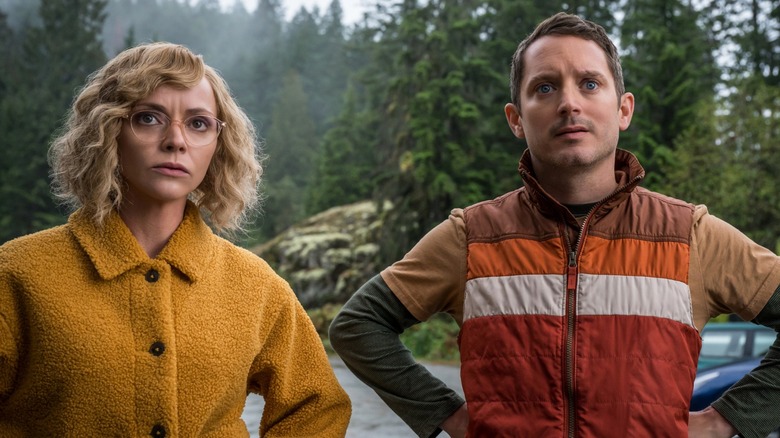 Kailey Schwerman/Showtime
Depending on who you ask, Christina Ricci's "Yellowjackets" character is the most terrifying element of the Showtime series. Sure, there is cannibalism, murder, and implications of the occult, but Misty Quigley is one in a million.
Stranded in the Canadian wilderness with the rest of the Yellowjackets soccer team, Misty grows from an insecure teenage outcast to an adult with even more uncomfortable — albeit relatable — neediness. Her attempts to continue and ingratiate herself into Shauna's (Melanie Lynskey), Taissa's (Tawny Cypress), and Natalie's (Juliette Lewis) lives are only made more disturbing by her lack of empathy and her knowledge of criminal enterprises. As the new season is on the horizon, the Season 2 trailer has more Misty than ever, and audiences can expect even more chilling shenanigans. But the content of the series was not the scariest element, according to Ricci. While speaking to Stephen Colbert on "The Late Show," she confided in him why Season 2 had higher stakes than the first.
"It was really scary," Ricci admitted. "It's been so wonderful to be so well received in the accolades and everything. But then you have to go back and do it again." Season 1 of the series became a breakout hit, earning seven Emmy nominations. Ricci didn't want to let down the fans, but settling back into Misty's skin wasn't the easiest — and she admittedly struggled with her character's more subtle attributes.
Replicating Misty was not a walk in the park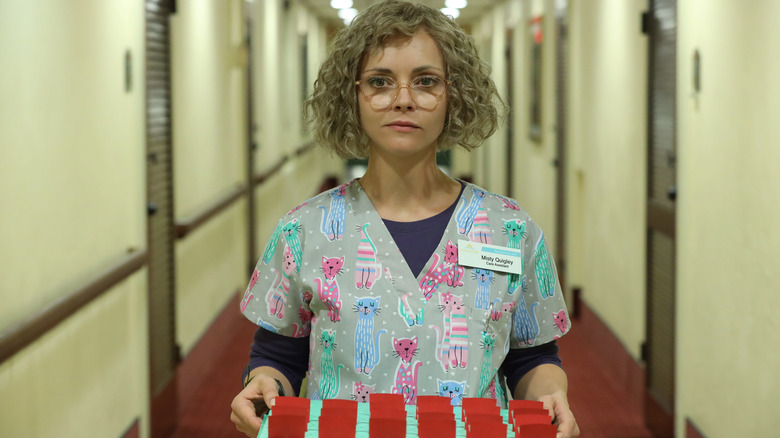 Kimberley French/Showtime
In many ways, Misty is one of the most tragic characters in the series. Being a lonely teenager is an identifiable trait, and maybe if things had been different, she would have healthily come into her own. Instead, she goes through one of the most traumatic experiences someone can and is probably damaged for life. All these facts make Misty the unique person she is. And as a constant professional, Christina Ricci wanted to ensure she could bring that back for the second season.
"For me, I was like: 'okay, she's so specific, this character I play.' People picked out little things like the way I walked," Ricci noted. Stephen Colbert agreed that Misty's walk was memorable, but therein was a problem. Recovering her Season 1 idiosyncrasy wouldn't be so easy.
"I was pregnant at the time," Ricci explained, "so my walk was because I had a baby inside of me. So when I went back to do Season 2, I was like: 'why can't I do the walk?'" Now without the help of her pregnancy, the experienced actor would have to rediscover her character. If anything, audiences and actors alike can cling to the familiar themes of the shocking content matter. Season 2 appears just as intense — if not more so — than the first. And maybe we will finally find out if Shauna actually eats her baby or not.