Yellowjackets Season 2 Will Be Even More Intense Than You Might Expect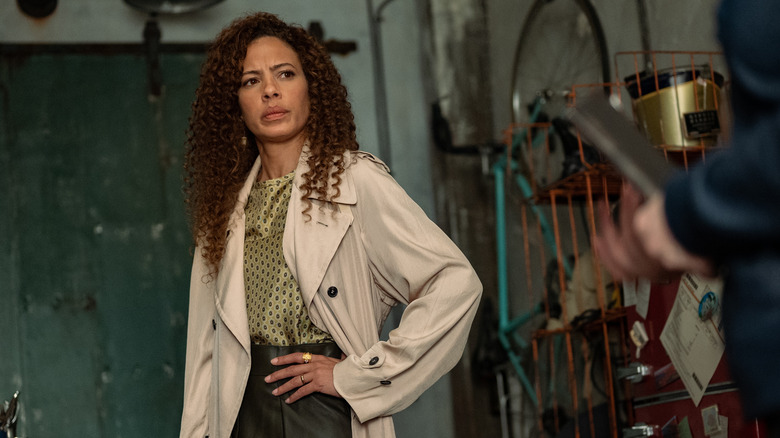 The first season of "Yellowjackets," to paraphrase "Saturday Night Live" fixture Stefon, has everything. You've got creepy cults. You've got an "antler queen." There's a shrine that includes a headless dog and several other creepy idols. There's a lady who sneaks around in the middle of the night and, in the process, climbs trees, eats dirt, and scares the crap out of her son. A mom skins and kills a rabbit in her backyard and serves it to her family for dinner, a group of teenagers accidentally ingests hallucinogenic mushrooms during a party in the deep woods, and a husband is shocked to find out his wife isn't going to book club like she said she was. There's a lot going on in this show, in case you weren't aware!
Apparently, this is just the start; fans of "Yellowjackets" can expect even more craziness as the series heads into its sophomore season. With season two on the horizon, the cast and creative team opened up about how insane the second season will be — and how it affected the actors involved.
Season 2 of Yellowjackets is going to up the ante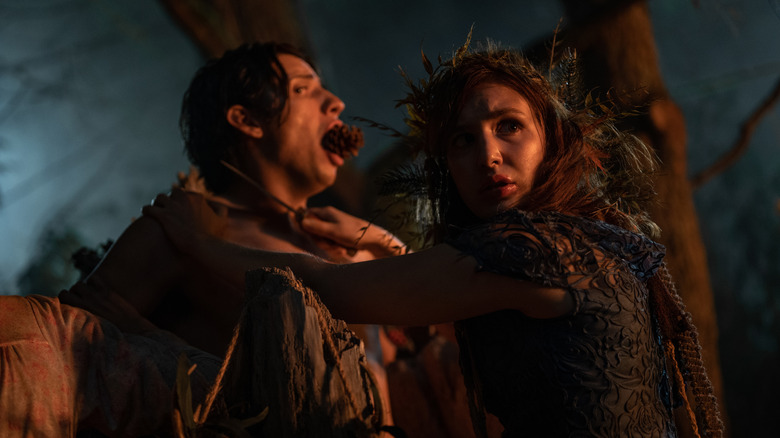 Kailey Schwerman/SHOWTIME
In a cover story for Entertainment Weekly, cast members and showrunners revealed that if you thought the first season was crazy, you'd better buckle up. As the debut season drew to a close, the 1996 timeline sees the team grieving over Jackie (Ella Purnell) after she freezes to death in the woods, as well as the beginning of Lottie's (Courtney Eaton) apparent cult. Over in the 2021 timeline, Taissa's (Tawny Cypress) wife finds a disturbing shrine in their basement, Misty (Christina Ricci) poisons and probably kills a reporter she was previously holding hostage, and Natalie (Juliette Lewis) is kidnapped by a group working with an adult Lottie (who will be played by Simone Kessell in season 2).
There's a looming threat of cannibalism in "Yellowjackets," as fans know, but we haven't seen the progression into full-on people eating just yet. With that said, there's even more in store, as co-showrunner Jonathan Lisco told EW. "If we do our jobs right, the eating of a person will not be the most transgressive thing that these young women do in the wilderness," he said. "That's just the tip of the iceberg."
The cast of Yellowjackets were shaken up by season 2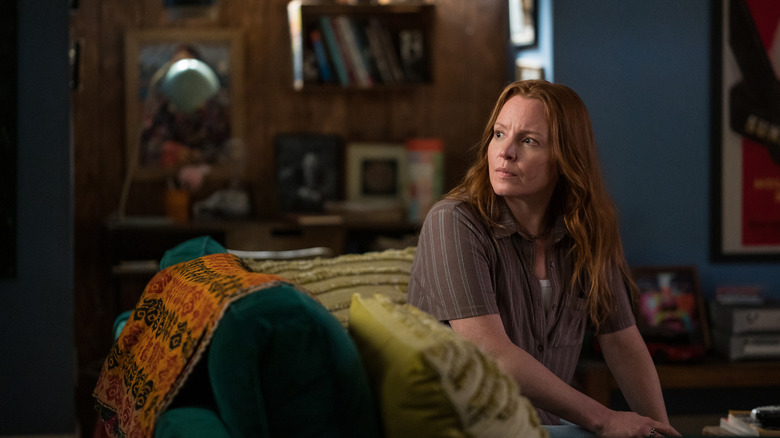 Kailey Schwerman/SHOWTIME
Even the actors working on "Yellowjackets" season 2 were pretty shaken up by whatever happens during those nine episodes. Lauren Ambrose, who's new to the cast as an adult Van (played by Eve Hewson in the 1996 timeline), told EW that, shortly after filming the season 2 finale, she was still affected by the goings-on. "It was just so intense," she revealed. "How are we ever going to recover from that?"
Ambrose's fellow newbie Kessell agreed, telling EW, "I feel like I've been in a car accident. I'm still, like, shaking from it. It's insane." With all of this in mind, fans can definitely prepare for a completely insane second season of "Yellowjackets," which, truthfully, makes sense. The first season made it quite plain that this show isn't going to shy away from anything shocking, and the creative team behind it is willing to take big risks to see its narrative all the way through. When the second season kicks off on March 26, it's clear that fans will be in for a wild ride — and they expect nothing less from this wonderfully wild, weird, darkly funny show.