Night Court's India De Beaufort On Walking A Fine Line Between Nostalgia And Revision For The Revival - Exclusive Interview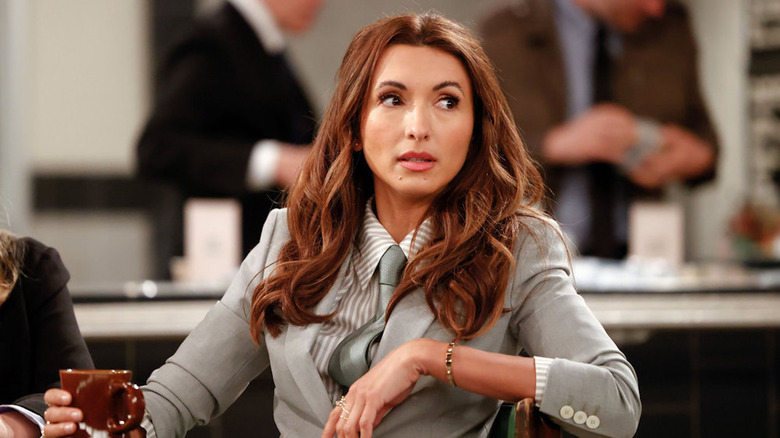 Jordin Althaus/NBC/Warner Bros.
The "Night Court" revival has been a runaway hit since it premiered on NBC in January 2023, when it raked in 7.39 million viewers, the highest viewership of any sitcom launch since ABC's "The Conners" in 2018 and NBC's best since "Will & Grace" in 2017 — and it's all thanks to the perfect combination of nostalgia and revision.
A reimagining of the 1980s original of the same name starring Harry Anderson, the "Night Court" revival pays tribute to the past while updating the series for modern-day audiences. With "The Big Bang Theory" alum Melissa Rauch playing judge Abby Stone, daughter of the late Harry Stone (Anderson), and John Larroquette reprising his role as lawyer Dan Fielding, the series — which airs new episodes on Tuesday nights — makes you both laugh and feel sentimental at the same time.
One of the show's updated characters is Olivia, a self-serving prosecutor played perfectly by India de Beaufort ("One Tree Hill," "Veep"). The rising "Night Court" star sat down exclusively with Looper to discuss her spirited character, the evolution of the franchise, and what it's like to work with Rauch and Larroquette.
De Beaufort was attracted to Olivia's mischievous side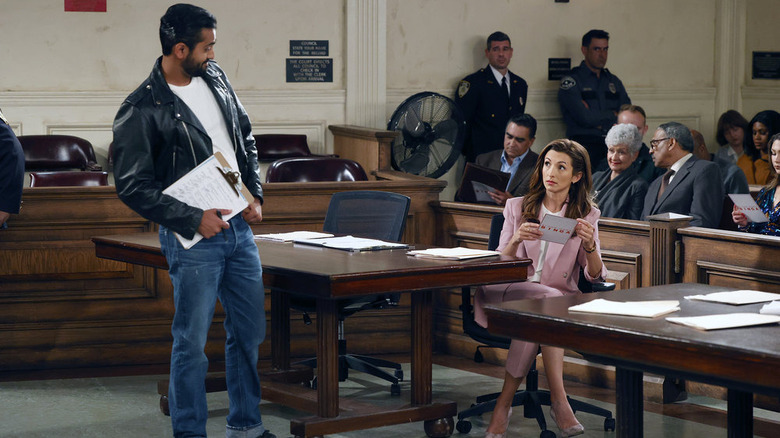 Jordin Althaus/NBC
What drew you to Olivia, and how hard — or easy — is it to get into character?
I've always loved playing characters that allow me to say and do things I don't say and do as myself. Personally, as India, I'm a people pleaser who is very self-aware and aware of others and empathetic, and probably too overly sensitive to my surroundings. I never say boo to a goose, whereas Olivia is much less concerned about what most people think of her unless there's someone who can help her get ahead, so she comes out with all kinds of crazy stuff. It's fun to say things and know you're not going to hurt anybody's feelings, so that is a fun little bit of mischief. But there's also discovering that this character has a shield and a wall up, so finding her humanity is a lovely challenge to have as an actor. I've really enjoyed exploring that.
Where do you think your character fits into the original narrative? Is there someone from the original series you think Olivia represents? A case can be made that your character is somewhat picking up where Markie Post's Christine Sullivan left off, but you can also be called a female version of the old-school Dan Fielding. What's your take?
I have heard both. It's interesting because technically, I stepped into Dan Fielding's job. I am now the ADA. But I can see why people would think that there would be more of a Markie Post connection because of the male and female counterparts in the courtroom who are always vying against each other.
There's something unique about the 2023 version in that we have brought in cast members that have reflections of times gone by but who step into their own shoes. For example, there's some Harry Stone in Abby for sure. There's that light, sunshine, and joy that Harry Stone brought to being a judge. But at the same time, Abby brings her own things to the table. She's got this sobriety story that we're tracking, and the relationship between her and Dan Fielding, which is one of my favorite things on the show, is so fascinating.
Then we have Lacretta stepping into [the bailiff role that was played by] Marsha Warfield, and Kapil [Talwalkar] stepping into our clerk shoes. Everybody honors a little bit of something that's gone before but brings their own fresh take.
Melissa Rauch provides motherly love to everyone on set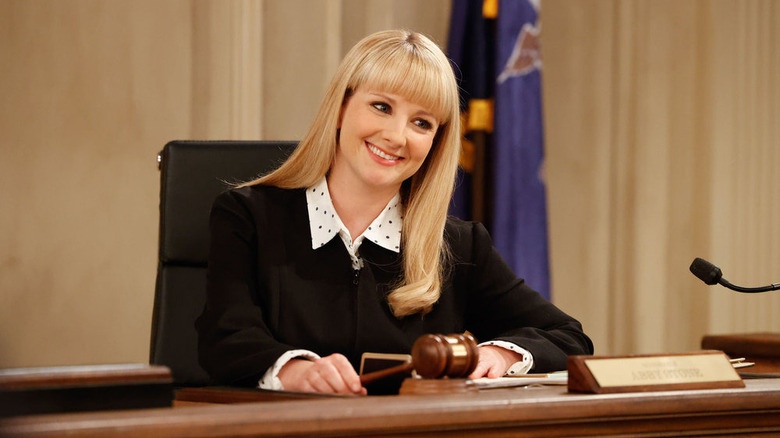 Jordin Althaus/NBC/Warner Bros.
Why do you think it was important for your character to take over as prosecutor while Dan became the public defender?
The only way to pull the character of Dan Fielding into 2023 is to show him in a new light. What better way to do that than take him from prosecutor to defense? It forces him to show parts of his character that we never really got to see before. Also, it's fascinating to see a guy go from wanting to win — even at the expense of a person going to jail in order to get that result — to a person whose main job is to go to bat for these kooky characters that come through our courtroom and doing the legwork of finding out what about them makes them worthy of being given a second shot. It's sort of Dan Fielding 2.0, which is a feat for John Larroquette to craft and figure out what that is and revisit this character 35 years later. He does such a beautiful job with it. I can't think of anyone else who would've done it the phenomenal justice that he has done.
What's it like working with him? Has he told you any good stories from the original set?
So many stories — and what's lovely is that we have the original green couch in the judge's chambers, and some of the chairs in the cafeteria are originals. Plus, there are pieces dotted throughout the set that call back to days gone by. For him, the entire set looks identical to the one that he worked on for 10 years, so he talks a lot about moments that he shared while he was filming the original, and we listen with wide eyes, open ears, and a whole lot of heart.
What's it like working with Melissa? Is she funny in real life?
My god, she's hilarious. She started out in stand-up, so she is sharp as a whip. But more than anything, she's like [a] mom to all of us. She is the most caring person I've ever met. She and [John] are the two kindest, sweetest number ones on the call sheet I have ever had in my career. She's such a ray of light, and she cares so wholeheartedly — not just about the show, but about each person who works on it, all the way up and all the way down, every single person who touches our set. Working with somebody like her is a really fine example of what a leader looks like.
Any funny or memorable stories from the set involving either of them that you can share?
It's all a hoot. A lot of ridiculousness happens. Some things that have happened, I don't think we'll be able to discuss, because it's from an upcoming episode — but let's just say there were accidents and comedic moments and ridiculousness. Most of it happens while we're filming, but I can't tell it to you without spoiling.
Her favorite part is performing in front of a live studio audience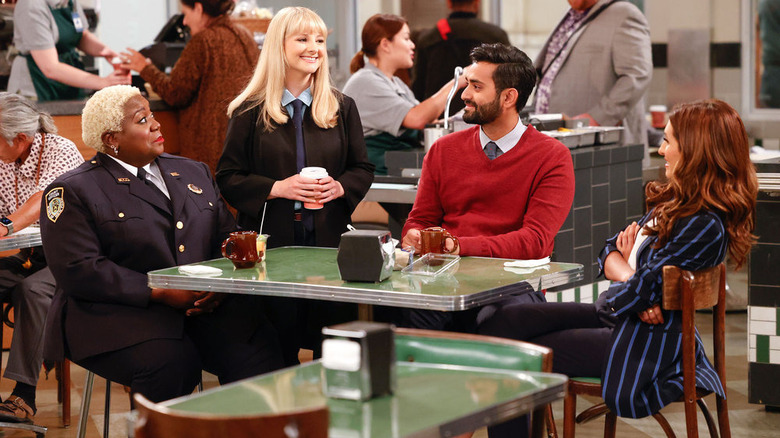 Jordin Althaus/NBC
What's been the most enjoyable aspect of being part of this "Night Court" revival?
The live audience. It's so neat to have people come in week to week and see their response to the show. The one thing that I'm so excited about for our second season is that now they will hopefully be people who've seen the show. With the first season, we had a lot of original "Night Court" fans come in, but they have to pick up on whatever episode we're shooting, and they didn't get to [see anything air yet]. I'm excited to have an audience come in that hopefully has been watching the show and see how they respond to whatever we do on a particular night ... [The cast and crew] jumped through a lot of hoops [because of the COVID-19 pandemic] to get that audience there, and it makes a world of difference.
Were you surprised by the series' out-of-the-gate success? It has garnered some of the biggest viewership numbers network TV has seen in years. What do you think the secret to its success is?
We all were floored. But I think the secret to the show's success is John Larroquette and Melissa Rauch, and NBC promoting the show as if we were still in the '80s. They held nothing back. It was on every billboard and bus and subway stop and magazine and commercial break. People knew we were there. In an ocean of streamers and 50 billion networks and shows — where it's impossible to find things these days — they didn't take any chances. They threw everything at it, and it worked. I'm so grateful to them for that, because I have been on great shows before that nobody ever saw because nobody knew we existed. I am thankful to NBC for supporting us the way that they have.
The "Night Court" revival airs Tuesdays at 8:00 p.m. ET/PT on NBC and streams the next day on Peacock.
This interview has been edited for clarity.