Taylor Sheridan Says Yellowstone's Story Could Have Happened Anywhere At Any Time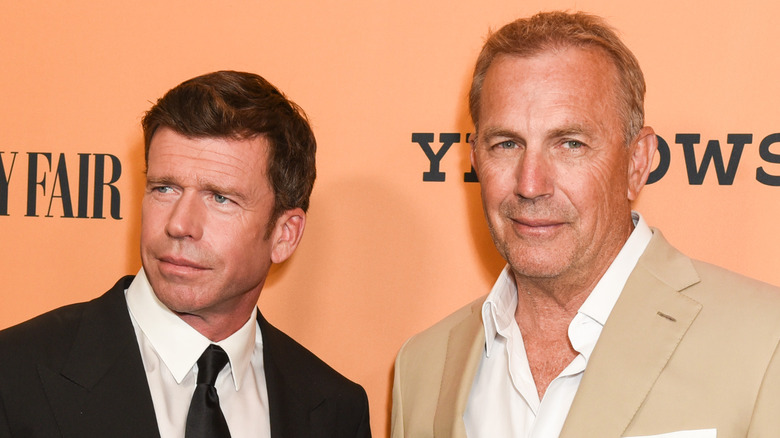 Presley Ann/Getty Images
Despite the fact that there's been some reported tension behind the scenes of "Yellowstone," the show remains as popular as ever, if not actually more. In fact, even as the series may be nearing its end, it remains one of the most watched in all of television, having become both a legitimate cultural touchstone and a full-fledged franchise starter.
The series' almost unfathomable relatability is a big part of its success — and that's something even series creator Taylor Sheridan probably couldn't have anticipated. But during a 2019 interview with Deadline, he pointed to the relative simplicity of the story as a likely reason for it. "Plot wise...I mean, this is kind of a plotless show," he said. "It's basically, I own a bunch of stinkin' land and a bunch of people want to take it."
More specifically, he thinks the story being told is one that, "has happened since whoever came up with the notion of ownership 8000 or 12,000 years ago." Timelessness aside, Sheridan also believes the same story could happen anywhere in the world. He explained, "You could drop this show in Spain, in Eastern Europe or Northern Africa. Anywhere, and someone is experiencing a similar circumstance to some degree."
Sheridan says Yellowstone is as much about legacy as it is about land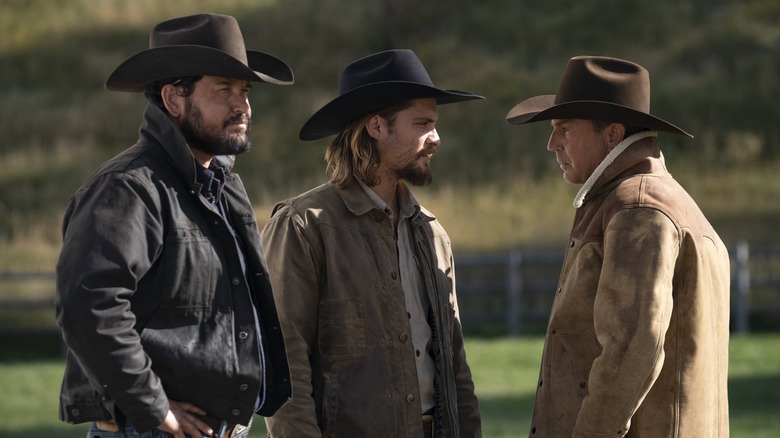 Paramount Network
The fact that "Yellowstone" is a relatively classic Western grounds it squarely in the realm of North America. And Taylor Sheridan makes no bones about how much he enjoys exploring the world of these cowboys through a modern lens. "The rest is purely exploring the relationship between characters and a lifestyle," he told Deadline, adding, "and also having a lot of fun peeking at the real world of modern day cowboys. Because absolutely nobody but modern day cowboys knows what that is."
That hyper-specific element aside, Sheridan admitted earlier in the same Deadline interview that the central themes of land ownership and legacy are beholden to no specific time or place. In briefly paraphrasing renowned travel author and journalist Gretel Ehrlich, Sheridan noted, "With ownership comes a moment where you stop walking the land and you are patrolling it." He continued, "We refer to a man's house as his castle. That nature of kingdom and morality exists. If you're a king, your morality is only tethered to your kingdom, it's not really morality. It's protecting and preserving the thing that you own."
Whether that be land or legacy, Sheridan added that such a storyline is present at some point in virtually every person's life — though he went on to admit the stakes are obviously higher in "Yellowstone" than most mere mortals experience. While the series' own legacy will surely depend on how things play out on the show, for now, viewers clearly continue to see their own struggles reflected in those of the Duttons.