O'Shea Jackson's Reaction To Losing His Solo Role Is A Little Over The Top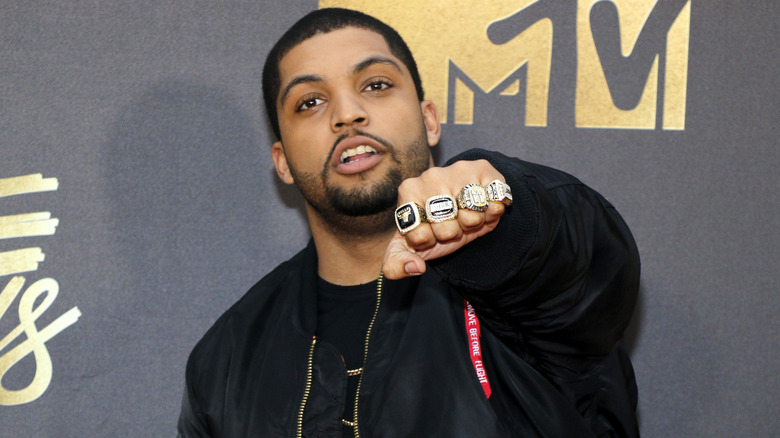 Tinseltown/Shutterstock
People love to talk about nepotism in Hollywood these days. While it's almost comically absurd how many actors and entertainers get ahead in showbiz based purely on family name, few forge actual careers unless they prove themselves worthy in their own right. And that's precisely what O'Shea Jackson Jr. has been doing in recent years.
Jackson is indeed the son of O'Shea Jackson, better known as hip-hop icon and actor Ice Cube. Jr., of course, got his first big Hollywood break portraying his dad in the 2015 biopic "Straight Outta Compton." But he's delivered standout work in projects like "Ingrid Goes West," "Den of Thieves," and "Long Shot" in the years since. And just last year, he turned up alongside Ewan McGregor in the "Star Wars" galaxy streamer "Obi-Wan Kenobi."
Turns out, "Kenobi" was not Jackson Jr.'s first dalliance with the Force. The actor has spoken often, and candidly, about auditioning for "Solo: A Star Wars Story," and recently told Marc Maron on the "WTF?" podcast he's still over the top upset he didn't get the role. "So when the Han Solo movie was coming out, I auditioned to be Lando Calrissian," he told Maron, adding, "And I got four callbacks. I've never had this happen, I thought this sh** was in the bag." Unfortunately, Jr. found out at the last minute he didn't get the role and freely admits he may never get over it.
Jackson claims he will never watch Solo after losing out on the role
O'Shea Jackson Jr. made abundantly clear to Marc Maron that neither time nor a top role in "Obi-Wan Kenobi" have healed the wound of missing out on playing Lando Calrissian in "Solo: A Star Wars Story." And it seems the rising star was all the more stung about getting passed over when he learned Donald Glover had landed the part.
That's in no small part because Jackson Jr. has been a big fan of Glover's work as both an actor and a rapper since he ran the Derrick Comedy YouTube channel, admitting, "I love Donald Glover." But Jr. went on to add that he completely shut anything Glover-related out of his life once the "Community" star scored the coveted "Solo" gig, noting, "but I hated that motherf***** for like three months straight. No music of his. F*** that 'Atlanta' show. I'm done." Jackson later claimed his misplaced feelings toward Glover have cooled considerably over the years, eventually marveling alongside Maron at his boundless talent, saying, "That dude is exactly where he's supposed to be. A creator."
It seems, however, Jr's bitter feelings toward "Solo" have only grown stronger with time, with the actor hilariously noting at one point, "I'm petty as f***." So sharp are Jackson Jr.'s feelings on the matter, he admitted he didn't see "Solo" when it was released and likely never will, quipping, "And to this day, I'm not watching 'Solo.'"
Honestly, Donald Glover's turn as Lando Calrissian would've been tough to top
With O'Shea Jackson Jr. declaring he'd never watch "Solo: A Star Wars Story," Marc Maron seized on the chance to poke fun at the film's middling reception from critics and audiences with, "I don't think you're alone, unfortunately." While it's admittedly a trip to hear the stars take their jabs at "Solo," one can't help but think Jackson Jr. might do himself a service to actually watch it at this point, if only because he might find the film is far better than its dodgy reputation would seem to signal. Heck, if nothing else, watching the movie might even help him shed the grudge he's been carrying for nearly a decade now.
More to the point, it would undoubtedly do Jackson Jr. some good to see what Donald Glover actually brought to the role of Lando Calrissian. 'Cause with all the issues critics and "Star Wars" super-fans had with "Solo," Glover's performance was the one thing pretty much everyone agreed was fantastic. It wouldn't be a stretch to say Glover stole the entire film with his swaggering but not quite swash-buckling turn as the galaxy far, far away's most stylishly legit playa. And with all due respect to the immensely talented Jackson Jr., it's hard to imagine he — or anyone not named Bille Dee Williams, for that matter — would have been able to upstage Glover's show-stopping performance. 
As it is, we'll never actually know. And that's all the more reason for O'Shea Jackson Jr. to get over it and watch "Solo" already.