Fire Country Fans Aren't Convinced That Jake Is The Arsonist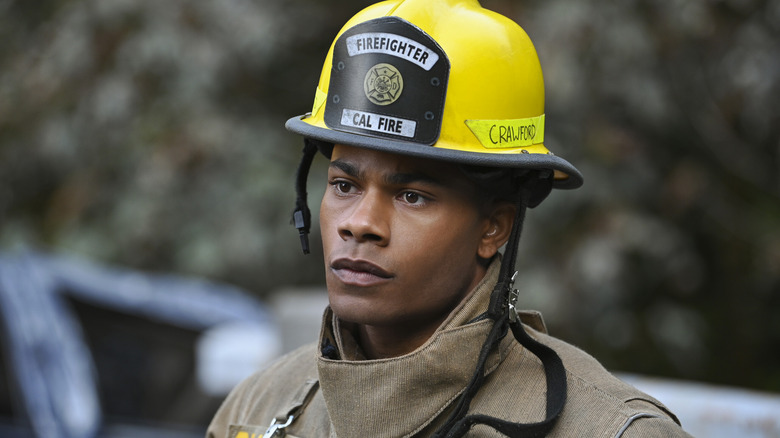 Sergei Bachlakov/CBS
Contains spoilers for "Fire Country" Season 1, Episode 16 — "My Kinda Leader"
This week's episode of "Fire Country" saw the characters putting out fires, both literally and metaphorically. Titled "My Kinda Leader," the installment follows the inmates at Three Rock and the Cal Fire squad as they face a fire blazing its way across Drake County. As Vince (Billy Burke) and Eve (Jules Latimer) try to evacuate inmates from a nearby prison, Manny's (Kevin Alejandro) team is working to cut off the fire's path. Meanwhile, back at the station, Sharon (Diane Farr) is knee-deep in another problem. As it turns out, this raging fire is no accident. An investigator named Erika Snow (Crystal Balint) is on the case and she tells Sharon that all the evidence points to someone at Station 42.
Fans are a complete wreck over that shocking death in Episode 15, but so are the characters. Sharon isn't about to go around accusing her own people right after they've been hit with a big loss, but she does some digging and realizes that Jake doesn't have an alibi. Jake has been like a son to Vince and Sharon, though that proves to be a disadvantage in this case. Apparently, Jake has a history of setting fires. At the end of the episode, Jake revealed that he purposely set fire to his childhood bedroom. Vince responded to the call, so Sharon is already aware of Jake's history and it hits her that he could be the culprit. However, fans aren't quite buying the narrative that Jake is the arsonist.
Fire Country fans have suspicions about Collin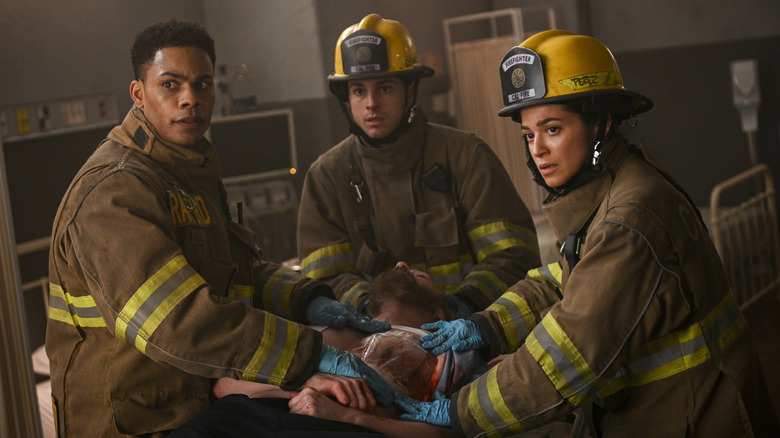 Sergei Bachlakov/CBS
Jake's fire story is chilling considering the circumstances, but "Fire Country" fans are more concerned about the person Jake was talking to. 
Probie firefighter Collin O'Reilly (Zach Tinker) listens intently as Jake explains his past, although earlier in the episode, Collin revealed that he's already familiar with Jake's life. He openly admitted to researching Jake on the internet, perhaps signaling that there's more to Collin than meets the eye. Needless to say, fans are on high alert.
"Collin has got to be the arsonist. He's just seemed odd from the start. No way they make Jake the arsonist. That fire story of his as a kid is just the show's weak misdirect," theorized Reddit user u/ViperFive1. Even with evidence mounting, some viewers still don't believe that Jake could be the criminal. "I don't care what happened on @FireCountryCBS last night, I'm just not convinced Jake is the arsonist. I still think it's Collin," said Twitter user u/@MtotheC21. Twitter user @VperVero couldn't help but agree, writing, "I don't believe Jake is the arsonist! It's the new guy, they just wanna confuse us!"
Jake has been characterized as a stand-up guy, so it would be surprising if the narrative flipped the switch on his character now.