The Sad Origin Behind Morgan Freeman's Glove He Wore To The 2023 Oscars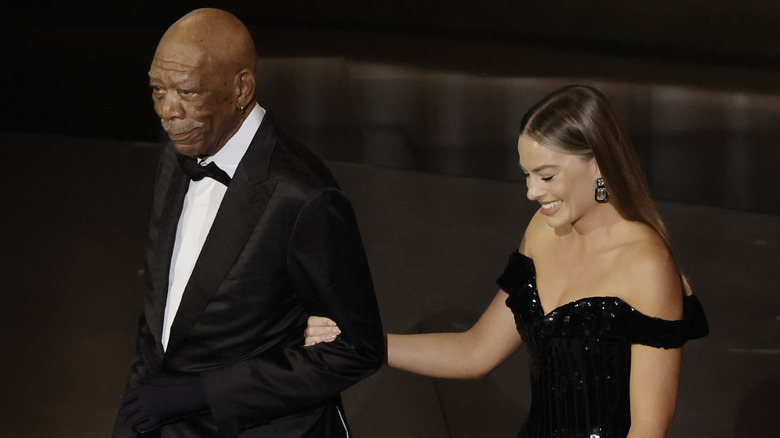 Kevin Winter/Getty Images
The 2023 Oscars ceremony had a stacked guest list, with plenty of legendary actors attending the event as audience members, award nominees, and even presenters. However, few big names of the night could match the sheer star power of acting superstar Morgan Freeman, who made an appearance at the event and joined with Margot Robbie for an interlude on stage to commemorate Warner Bros.' 100th anniversary.
Freeman was certainly dressed for the occasion, sporting a fresh new bald hairstyle and a dapper black tuxedo, but there was one additional element of his wardrobe that may have left some viewers curious. As could be seen throughout the event, the actor sported a black glove exclusively on his left hand. As it happens, this article of clothing was actually not any sort of fashion statement on the celebrity's part. Rather, it's the result of an ongoing health necessity for Freeman due to his enduring condition of fibromyalgia after suffering a car accident roughly 15 years ago.
An accident badly damaged Freeman's hand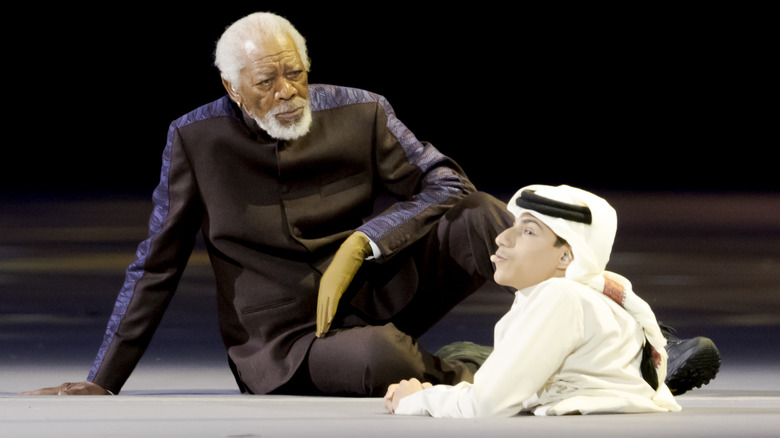 Soccrates Images/Getty Images
Back in 2008, Morgan Freeman was involved in a serious car accident, in which his vehicle flipped multiple times on a highway in Mississippi. First responders promptly took an injured Freeman to the hospital before the situation could worsen and the actor survived. Though he mostly recovered, however, he was left with some lasting physical damage from the incident. Specifically, he suffered catastrophic nerve damage in his left hand, rendering it paralyzed and leaving the actor unable to use or even move the appendage.
Though there was initially hope that the condition of Freeman's hand would improve with time, it has remained the same since. In fact, the actor developed a severe case of fibromyalgia shortly after the accident that still causes him pain to this day. "Up and down the arm. That's where it gets so bad. Excruciating," the actor described to Esquire in a 2012 interview.
Some viewers may still be wondering about how Freeman's glove plays into his fibromyalgia condition. It's actually not any ordinary glove, but rather a compression glove. Since the celebrity can't move his hand, this specialized tool is necessary to keep his blood circulation regulated and stop blood from unnecessarily building up in the extremity. As such, most of the actor's public appearances since 2008 — even beyond the Oscars — have seen him sporting a single glove.
Freeman is still living his best life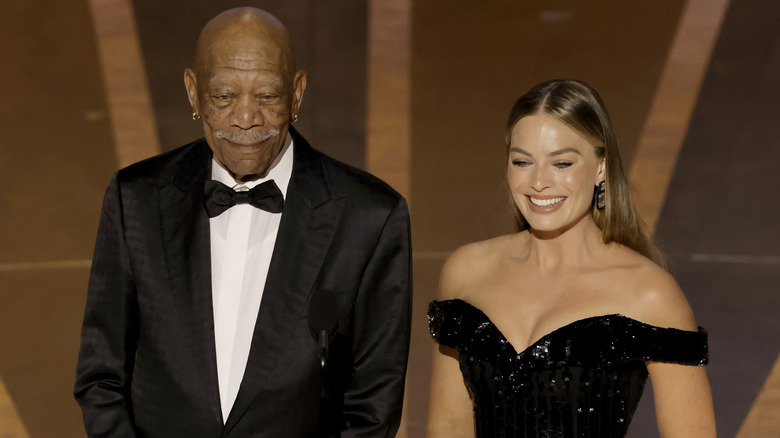 Kevin Winter/Getty Images
Despite the unfortunate tragedy that led to Morgan Freeman having to wear a glove for his fibromyalgia, the actor's condition hasn't stopped him from continuing to navigate a positive life for himself. As it turns out, Freeman actually has a pretty strict health regimen to keep himself in good shape. "I eat as seldom as I can," he explained to Today. "If they made a pill, I'd just take the pill. I wouldn't bother with the other stuff. I take a handful of vitamins and supplements in the morning and wash it down with an antioxidant drink."
Even past the age of 85, Freeman is still actively appearing in new productions across film and TV such as 2023's "The Ritual Killer," as well as serving as a major behind-the-scenes creative force for productions like "Madam Secretary." That's unlikely change, too, as Freeman thinks retirement isn't in the cards for him. His leisure time is also fulfilling — Freeman has indicated on multiple occasions, including his Esquire interview, that he's a major fan of golfing. All told, the actor seems to be doing alright despite his lasting injury. As he's been quoted by United We Care as saying, "I only get one life, and I will not let fibromyalgia take the joy from living it."