TLOU Creators Explain Their Reasoning For Saving Ellie's Mom For The Finale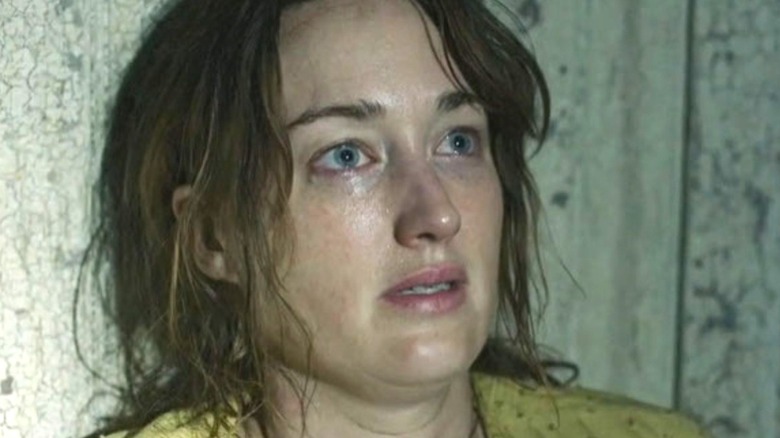 HBO
Warning: This article contains spoilers for "The Last of Us" Episode 9.
Besides breaking hearts and leaving viewers very torn about their stance on Joel (Pedro Pascal) and Ellie (Bella Ramsey), the finale of "The Last of Us" was mostly in line with the ending of the 2013 game. Still, this version leveled up with the addition of a familiar face that expanded on the origins of one of the series' most beloved characters. Kicking things off in a fashion we'd not seen since the first two episodes, we are introduced to Anna, Ellie's mom, in a cold open. More importantly, she was played by none other than Ashley Johnson, the star who played Ellie in the original iteration of the game.
It certainly made for a hair-raising watch to see a mother fight for her unborn child — and have it be the woman who had already breathed life into one of the most iconic video game characters in history. Besides being a wonderful homage to the franchise's legacy, it was just a flawless performance from Johnson, who brought a character she'd invested in for a decade to a new audience. But why hold off until the end of this season to reveal the beginning of Ellie's story and how she came to be? When Craig Mazin and Neil Druckmann were asked about the choice of "The Last of Us" podcast, the response was brutally to the point. Brace yourself — this is going to hurt.
They always planned to show the beginning at the end
HBO
When asked by OG Joel, Troy Baker, why Anna made an appearance so late in the game (pun intended), master of cold-hearted disaster, Craig Mazin, said, "Hurts more. It hurts more." Both he and original game creator Neil Druckmann agreed that a cold open would come back into play from the start because the audience needed time to meet Ellie and see where she was going before learning where she came from. "We identify with Joel from the start," Mazin explained. "He feels like the main character, the protagonist. We see him prior to all of this with his own daughter, and then there's this kid. He has to take her somewhere." From there, of course, we ended up on a journey of puns, "Mortal Kombat," and finding new purposes in life that could make or break the human race.
"It was important, I think, not to short-circuit that by showing us stuff about her that he didn't know and giving her unnecessary context," explained Mazin. "It's better to watch her becoming who she is with him and let that relationship be its own thing." Then that's it, right? Everything's fine and happy, right Mazin? Nope. Instead, the gut punch was lined up in the finale, and it made a dent not just on the audience but also on a character that made a difficult choice — one, it could be argued, that Joel didn't have the courage to.
Adding in Ellie's origins explains a deeper connection with Marlene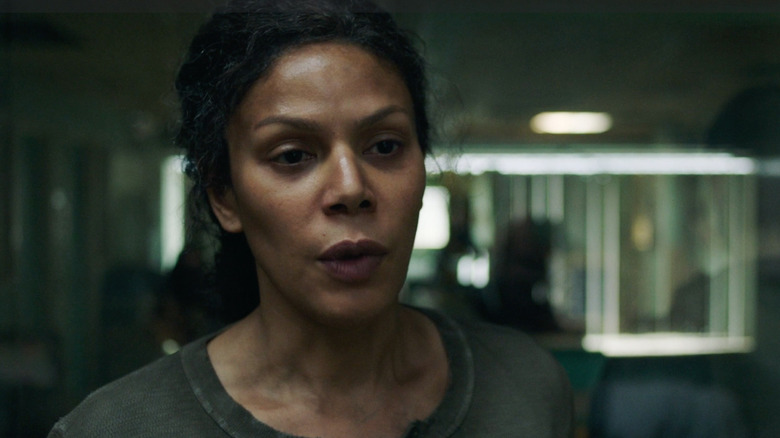 HBO
Besides giving us a glimpse into how Ellie's immunity came to be, "Look for the Light" also revealed how far back her connection with Marlene (Merle Dandridge) went and showed that this wasn't the first tough decision the Firefly leader had to make in Ellie's life. Described as a "heavy right hook," Craig Mazin said that the cold open did two things. "First, it contextualizes Ellie in a moment where we are the most concerned about her because when we came off of the episode prior, she had just killed a man in the most brutal way and had clearly been traumatized by her experience with him. And the other thing it does is it connects her birth to the choice Joel has to make at the end of the episode. Marlene is there."
This insight makes Joel and Marlene's decisions so much more impactful — particularly those of the latter, which had been teased since the beginning with Ellie and Marlene's first meeting ("What are you, my mother?"). "So, when we get to the end, and there's Marlene saying, 'I was there when she was born,'" Mazin said. "And Marlene leaves out this fact, 'And I was the one who killed your mother.' It all makes sense here at the end. It could not have been done anywhere else." Ultimately, it's another brave breakaway from the original game that works wonders in all the best soul-crushing ways.