Why Was John Travolta Crying At The 2023 Oscars?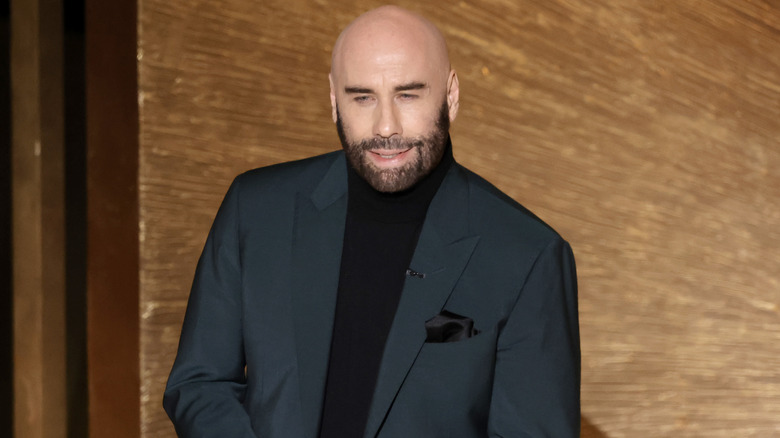 Kevin Winter/Getty Images
John Travolta's recent appearances at the Academy Awards over the last decade have been without question entertaining and even cringe-worthy by most accounts. For instance, at last year's Oscars, Travolta had the "honor" of presenting Will Smith his best actor statue for "King Richard" following the infamous Chris Rock slap that transpired earlier that evening. Travolta hugged Smith during the exchange, and he even praised Smith after the actor's unconscionable behavior. And then it's nearly impossible to forget the time Travolta butchered actress Idina Menzel's name before she performed the song "Let it Go" at the 2014 ceremony.
But during the 95th edition of the Oscars, Travolta took the stage to introduce the evening's "In Memoriam" segment. And he was visibly shaken. The Hollywood A-lister seemed to struggle reading the copy off the event's teleprompter, but this wasn't another cringeworthy on-stage moment for Travolta. No, the actor seemed to be in real pain at the Academy Awards because he was obviously remembering his good friend and colleague, Olivia Newton-John.
Newton-John died in August of 2022 after a long battle with breast cancer, and Travolta's "Grease" and "Two of a Kind" co-star was ever-present in his mind when he stood before the crowd gathered at the Dolby Theatre at Ovation Hollywood.
Travolta remains 'hopelessly devoted' to Newton-John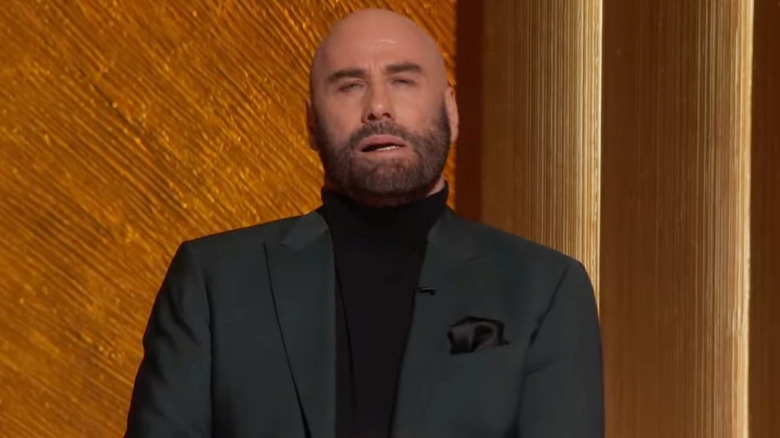 ABC/YouTube
John Travolta chalked up another watercooler-worthy moment at the 95th Oscars, but it wasn't because of some untoward, embarrassing moment like he's been a part of at past Academy Award ceremonies. No, Travolta was clearly heartbroken over the loss of his friend and fellow performer, Olivia Newton-John. And poor Travolta has been through an emotional wringer recently in his personal life.
First, his wife of nearly 30 years, Kelly Preston, died in 2020. And another friend and colleague, Kirstie Alley, was sadly featured in the 2023 "In Memoriam" with Newton-John. But it's no secret that it was Newton-John who was in the forefront of Travolta's thoughts.
As he finished the memorial segment, just before Lenny Kravitz took the stage to honor those the industry lost in 2022, Travolta saluted his "Grease" co-star with an emotional tribute. "They've touched our hearts," Travolta said of those who passed away (via YouTube). "They've made us smile and became dear friends ... who we will always remain 'hopelessly devoted to.'"