Here's How The Academy Awards Plans To Avoid Another Slap Incident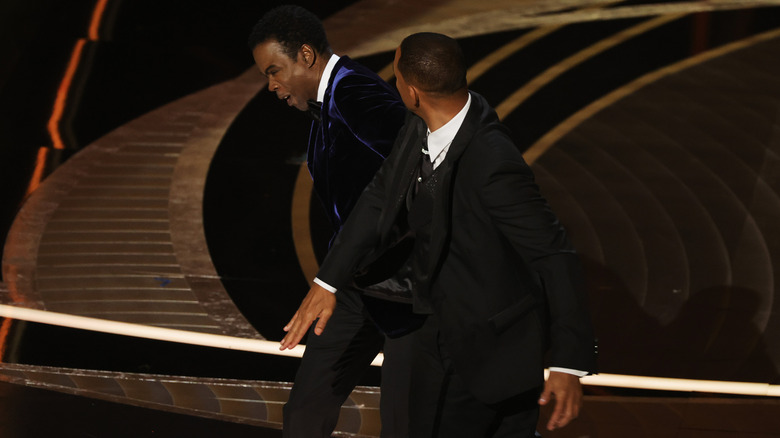 Neilson Barnard/Getty Images
In 2022, during the 94th Academy Awards, Will Smith slapped Chris Rock. The latter insulted the former's wife on live TV, and Smith responded with violence on live TV. Rock addressed the slap with jokes, Hollywood addressed the slap by removing Smith from a wide slate of projects, and the Academy Awards addressed the incident by banning Smith and creating a new task force. In a Time Magazine interview, shared by Variety, the Academy of Motion Picture Arts and Sciences CEO Bill Kramer explained how a new crisis team has been formed to combat any future events.
"We have a whole crisis team, something we've never had before, and many plans in place," said Kramer. "We've run many scenarios. So it is our hope that we will be prepared for anything that we may not anticipate right now but that we're planning for just in case it does happen."
Per Kramer's comment, the new crisis team is prepared to respond to a situation should one arise. It's important to note that this team's scope seems to be reactive rather than preventative.
Jimmy Kimmel's got a plan, too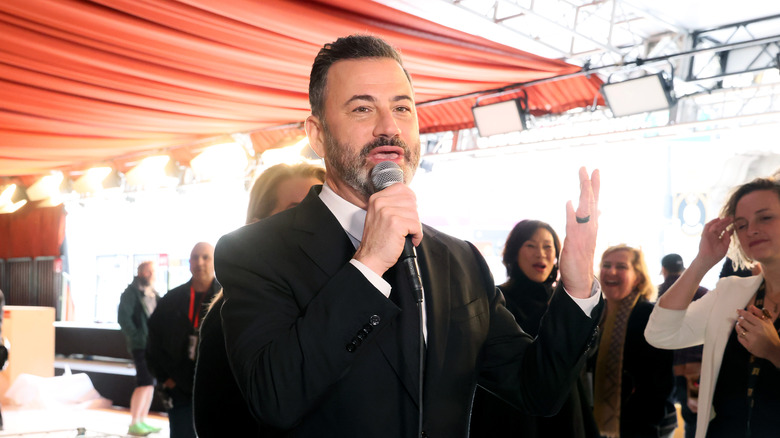 Rodin Eckenroth/Getty Images
As previously noted, Will Smith will not be in attendance for the 95th Academy Awards. Less concrete is information regarding Chris Rock's desire to attend. In late 2022, as shared by the Arizona Republic, the standup comedian revealed that the Academy Awards asked him to host again, but he refused. Rock joked that returning to the hosting position would be like returning to the scene of the crime, that it was simply a bad idea.
Instead, the 2023 event will be hosted by Jimmy Kimmel. As shared by Vanity Fair, Kimmel understands the additional attention the position will experience during his time hosting, if only for the incidents that came before. When asked what his personal strategy for responding to an event like the slap was, Kimmel replied, "Well, I size them up, and if I'm bigger than they are, I beat the s*** out of them on television. And if it's The Rock, I run."
Well, that would certainly be one way to garner an audience. That said, viewership might hold solid for Kimmel alone. However, as a host, Kimmel is not without controversy, albeit not as great as the Rock-Smith slap. In 2022, he hosted the Emmy Awards, and his stunts were quickly branded as disrespectful toward Quinta Brunson.