Here's How Chris Rock Addressed 'The Slap' In His Netflix Special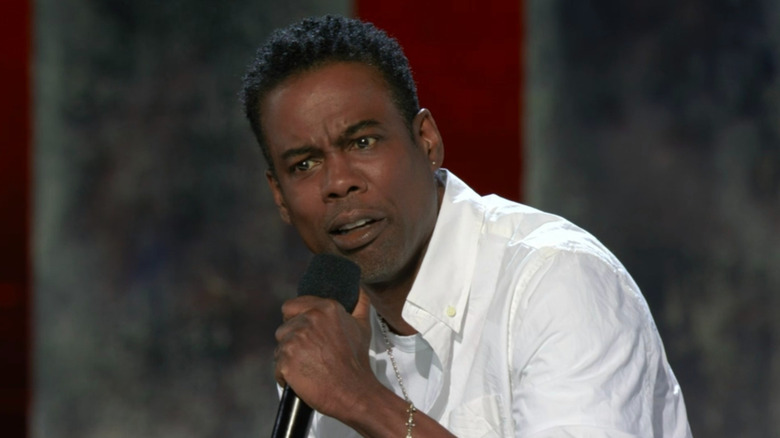 Netflix
Chris Rock's first standup special since Will Smith smacked the crap out of him at the Oscars finally aired, and he had... a few things to say.
The comedian made headlines when he announced that he would be performing his brand-new special, "Selective Outrage," live on Netflix — a first for the streaming giant. To celebrate the occasion, Netflix tapped a slew of comedians for a live pre and post-show. Some of the heavy-hitters brought in to comment on Rock's special included "SNL" alum Leslie Jones,  "Coming to America" star Arsenio Hall, and the Master of Disguise himself: Dana Carvey. 
"Selective Outrage" marked Rock's first special since 2018's "Tamborine," which was directed by fellow comedian Bo Burnham. After spending most of the special railing against expensive yoga pants and his own daughters, Rock finally addressed the elephant in the room, or "the slap heard 'round the world." Last year at the Academy Awards, when Rock referred to Jada Pinkett Smith — who, due to her struggles with alopecia, is bald — as "G.I. Jane," Smith stormed the stage in one of the ceremony's weirdest moments in its history and slapped Chris Rock right across the face. That slap immediately became infamous, going down in Oscar history... and until now, Rock hasn't really talked about it.
While the Smiths have publicly addressed the infamous 'slap,' with the "Fresh Prince" star even apologizing to Rock, the comedian largely decided to keep quiet about the debacle until he found the perfect platform. And thanks to a $20 million dollar cheque from Netflix (via IndieWire), Rock got the chance to finally address the now-famous slap, and he waited until the very end of his special to tackle this wild story. Here's what Chris Rock said about the Oscars slap during his standup special.
Chris Rock had a lot to say about 'the slap'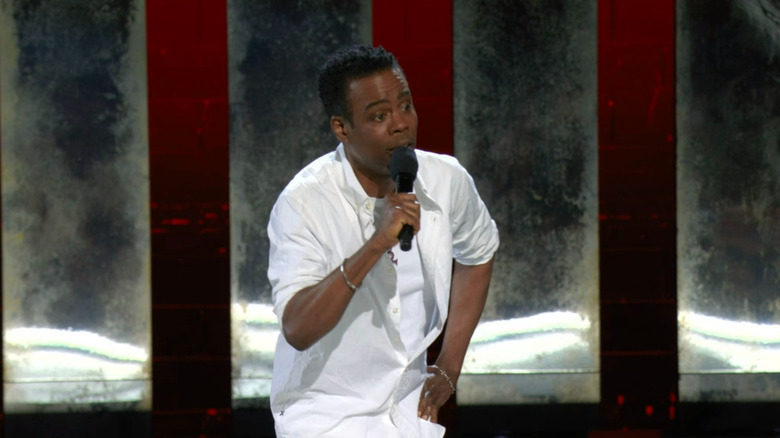 Netflix
Chris Rock waited until the very end of his special to get to the slap, but when he got there, he got heated. "Y'all know what happened to me," he said, to raucous applause. "Getting smacked by Suge Smith. Everybody knows. Everybody f**king knows." The comedian continued by expressing how the slap "still hurts," saying that he has "Summertime" ringing in his ears. Despite getting slapped, Rock insisted in the special's final minutes that he doesn't consider himself to be a victim, saying he took the hit like a champion. "I took that hit like [Manny] Pacquiao, motherf***er," Rock repeated twice. 
Rock also addressed that Smith is significantly bigger than him physically, noting that Smith played Muhammed Ali in a movie (which, to be fair, is a decent point). Noting that Smith frequently does shirtless scenes in his movies, Rock had this to say about his own physique: "If I'm in a movie getting open heart surgery, I'm wearing a sweater."
The comedian continued his rant by reminding viewers that Smith's daunts him physically in animation. "I'm a zebra, he's a shark!" Rock exclaimed, throwing a nod to his appearances as Marty the Zebra in the "Madagascar" franchise. As for Smith's stint as a shark, Rock is referring to the actor's voice role in "Shark Tale." It should be noted that in the DreamWorks flick, Smith plays a small fish who claims he can kill sharks. That clarification, of course, doesn't make for a compelling joke. Nevertheless, Rock received a cathartic series of chuckles from the audience. 
Chris Rock reveals why he didn't fight back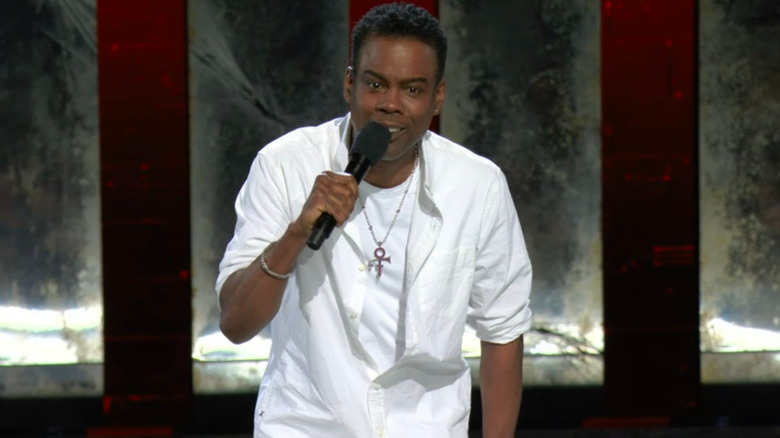 Netflix
Finally, he went after both Smith and Pinkett Smith, describing Smith as practicing "selective outrage" (referencing a point he made earlier his special and throwing a not so clever nod at the set's title). "I didn't have any entanglements," Rock said pointedly, not-so-slyly referencing Pinkett Smith's relationship with August Alsina, before saying that he tried to call Smith after that transpired only for the "I Am Legend" actor to not pick up the phone. Indicating that Smith felt publicly weak, Rock seemed to say that the Fresh Prince took his ire out on him: "And who's he hitting? Me. A [expletive] he knows he can beat!" 
After calling out Smith's behavior, Rock then turned Pinkett Smith. The comedian recounted how Pinkett Smith insisted that he quit his gig as the host of the 2016 Oscars because Will Smith wasn't nominated for his role in "Concussion." "She f***ing said 'He should quit because Will didn't get nominated for 'Concussion.' ... So then I do some jokes about her, who gives a f***? She starts it, I finish it." 
Rock closed off the special by saying he still "loves" Will Smith, expressing how he's always admired the entertainer. "I have rooted for Will Smith my whole life," he said. The comedian then answered why he remained cordial and calm after the slap, saying that he was "raised" by his parents. "And you know what my parents taught me? Don't fight in front of white people," he said, dropping his mic.  
As expected, Twitter naturally lost their collective minds over the special. While it remains to be seen just how popular Netflix's first-ever live event was, Rock's still clearly in his feelings about the whole 'slap,' and he certainly wasn't subtle. You can check out his special streaming on Netflix now.