Ted Lasso's Hannah Waddingham Fought Hard To Avoid Singing Let It Go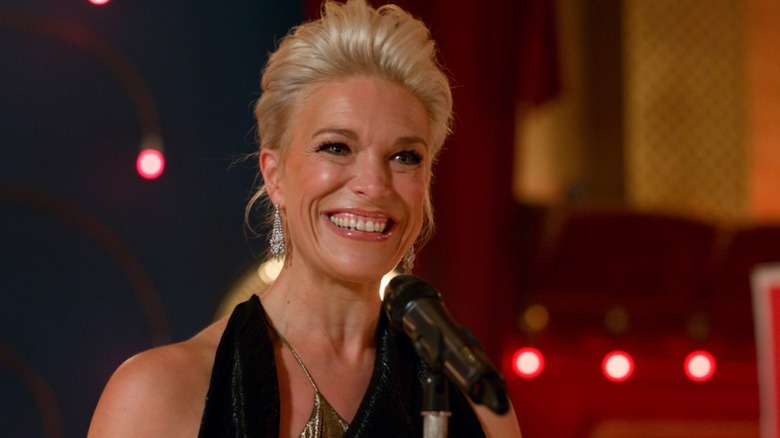 Is there a more wholesome combo than "Ted Lasso" and Disney's "Frozen"?
One of the most beloved moments in the first season of Apple TV+'s "Ted Lasso" is when Rebecca (Hannah Waddingham) sings "Let It Go" while out at karaoke with AFC Richmond. While the scene is certainly an exciting way for Waddingham to flex her prowess as a vocalist, there's quite a few narrative conversations happening in that pivotal scene.
For one, Rebecca is singing the song after reconnecting with her friend Flo (Ellie Taylor), and ends up using the Disney track as a way to pay tribute to her goddaughter Nora (Kiki May). And for "Let it Go," a song about leaving isolation and overcoming adversity, to be sung as Rebecca finally starts to become close to the team she (at that point) dreadfully despises, is nothing short of impactful. At the same time, "Let It Go's" captivating lyrics also lead to one of Ted's (Jason Sudeikis) first panic attacks. There's a lot at work here and it's quite commendable for team "Lasso" to find a track that fits so many requisites.
But Waddingham wasn't having it at first.
While appearing on Yahoo's "White Wine Question Time," Waddingham revealed that she fought hard to avoid singing the Oscar-winning "Let It Go." "As a professional singer I've avoided that song ever since it came out," Waddingham explained on the podcast. "If there's been a concert where they've asked me to sing it, I've gone: 'No I'm not doing that.'"
How was she convinced to sing the iconic track? Well, it was Ted Lasso himself who came to the rescue. 
Jason Sudeikis convinced Hannah Waddingham to sing Let It Go
Hannah Waddingham continued by pointing out how original singer Idina Menzel perfected the song and how it has been a part of our culture since its striking debut in 2013. To get out of singing the song, which was inescapable in the 2010s, Waddingham directly took her issues to Jason Sudeikis, who produces, writes, and stars in the series.
Sudeikis then asked Waddingham to think of a better song that perfectly hit all the notes necessary for the scene. "'And if you can find me a better song that's the perfect Venn diagram moment for your character, for [Ted], for Nora your goddaughter being reintroduced, the song that you and she would have sung together when she was younger, all of that...'" Waddingham explained. She took to the challenge and tried to find a replacement song, even flirting with a cut off of Disney's "Mulan," but ultimately realized the best song was chosen by Sudeikis. 
Waddingham's rendition of "Let It Go" wasn't just a hit with "Ted Lasso" fans. While appearing on EW's "The Awardist" podcast, the star revealed the writers behind the Disney track approved of it. "[They] said that they loved it and that's how they imagined it!" the Rebecca actress said. "Which, as a musical theater girl, was just insane."