Missing Apparently Contains An Easter Egg So Well Hidden It Requires Code Breaking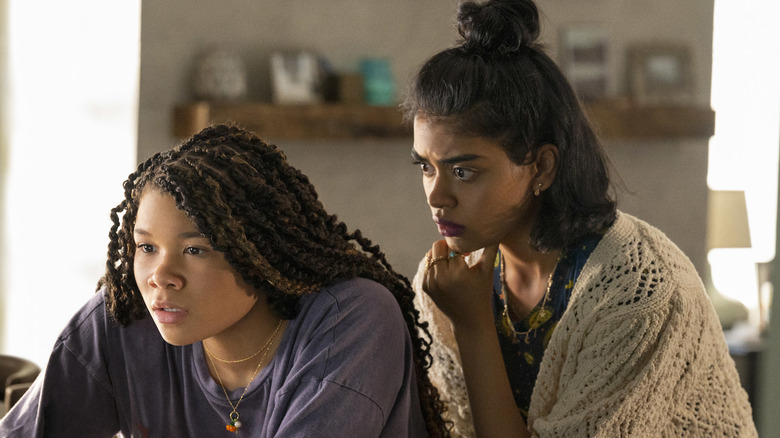 Temma Hankin/Sony Pictures Releasing
Following the success of 2018's "Searching," the pressure was certainly on the creative team for its standalone sequel, "Missing," to top what they managed to accomplish before. And in doing so, the team might have crafted some elements a bit too well. 
Speaking to Collider, producer Sev Ohanian, who also co-wrote the film's story with Aneesh Chaganty, discusses the rich details hidden throughout "Missing." The "Creed III" producer goes on to pinpoint one detail that viewers might have missed. "Our directors, Will Merrick and Nick Johnson, they incorporated an Easter egg in 'Missing' that I don't feel at liberty to talk about yet," he commented, adding that one would have to view the film like a video game to pick up on it. " ... there's moments where you have to pause and you have to deduct a code and then apply that code to another moment and apply ... I did not even understand the depths of this Easter egg until the night of the premiere ..." 
For those who now feel a rewatch is in order, Ohanian told Collider that the first major clue begins when June (Storm Reid) visits the secret messaging website, GUISE. Such ambitious storytelling elements are not only what helped "Missing" become another financial and critical win, but could also spell big things for the screenlife genre as a whole. 
This could spell ambitious new roads for screenlife horror
While the video game-inspired Easter egg in "Missing" is a nice touch, screenlife horror films are nothing new. The idea of setting a horror-type setting through the tools and tech we use every day was one that filmmakers have been playing around with for some time. Such films as 2002's "The Collingswood Story" became natural extensions of found footage horror films such as "The Blair Witch Project," both using their deliberately amateurish-looking style to create an unsettlingly relatable sense of dread. 
However, it's been an uphill battle for the horror subgenre to fully find its footing. Many screenlife horrors such as "The Den," the "Unfriended" films, "Profile" and "Spree" have garnered moderate critical success at best. Meanwhile, others such as "V/H/S," "Open Windows" and "Dashcam" have been far more ridiculed. While screenlife movies are far from the most hated in the horror genre, there certainly seems to be a more negative stigma towards this style of storytelling. 
In recent years, such films as "Searching," "Host" and "Missing" have done a lot to improve the subgenre's reputation and showcase just what screenlife horror is capable of. Perhaps as the world grows more dependent on social media, video chats, and just about everything else the online world has to offer, so does finding fresh — and scary — ways to depict the digital world and its evolving relationship within our society.