Stunning Fan Art Imagines Austin Butler As Fantastic Four's Johnny Storm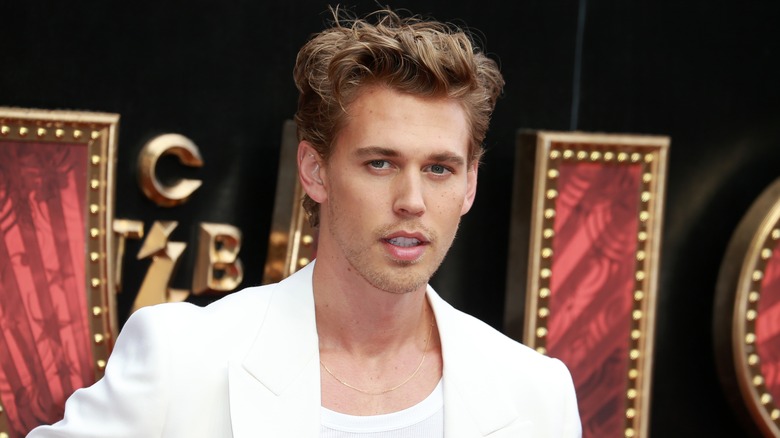 Fred Duval/Shutterstock
It seems there's no stopping Austin Butler's reign in Hollywood. The "Elvis" star has not only received an Oscar nomination for his performance in the 2022 biopic, but is also set to star in anticipated productions such as "Dune: Part Two" and the miniseries "Masters of the Air." But there might be a super-powered family in the actor's future. 
The year 2025 will see a new version of the iconic superhero team, the Fantastic Four, hit the big screen for the first time in a decade since the disastrous 2015 film. This time, they will be under the Marvel Cinematic Universe's Phase Six, accompanied by other anticipated titles such as "Deadpool 3" and "Avengers: Kang Dynasty." As can be imagined, casting rumors are already spreading like wildfire, with The Hot Mic podcast mentioning that Butler's team is reportedly campaigning for the actor to star as the team's youngest member, Johnny Storm — also known as the Human Torch. 
Instagram artist @arifinity_ went as far as to even craft a fan art piece that gives us an idea of what Butler might look like in the role. And from the looks of it, the piece might be what helps melt away fan concerns. 
Butler might fully earn fans' trust with this stunning piece
Not even Austin Butler's proven talent in such films as "Once Upon a Time in Hollywood" and "Elvis" can fully convince some fans that the actor is right for the part of Johnny Storm in the upcoming Fantastic Four film. Many, such as u/CollarOrdinary4284 on Reddit, are concerned by the actor's age, with the user noting, "He's 31 right now and by the time the Fantastic Four movie is out, he'll be 33 (turning 34 later in the year)." Of course, there's no word on what point in the team's history the film will focus on, but nevertheless, not all fans are sold on Butler as of yet. 
However, this fan piece by @arifinity_ may help change some minds. It's hard to not find Butler's appearance in the piece absolutely on point. The look doesn't do much to divert from the classic style, with the iconic blue Fantastic Four suit and Butler's rich blonde hairdo fitting quite well. The flame and fire effects surrounding the actor add a nice touch that could translate perfectly on the big screen. 
While the piece hasn't seemed to turn everyone around yet, it has still received positive comments on Instagram from such users as @bbymyaustin_ who says, "It's so good omg" and @raphyart who calls the piece, "Iconic." Whether or not Butler gets to star alongside the fantastic family, there's no question that this piece brings the heat.