Yellowjackets Season 2 Will Be Darker By Highlighting Female Rage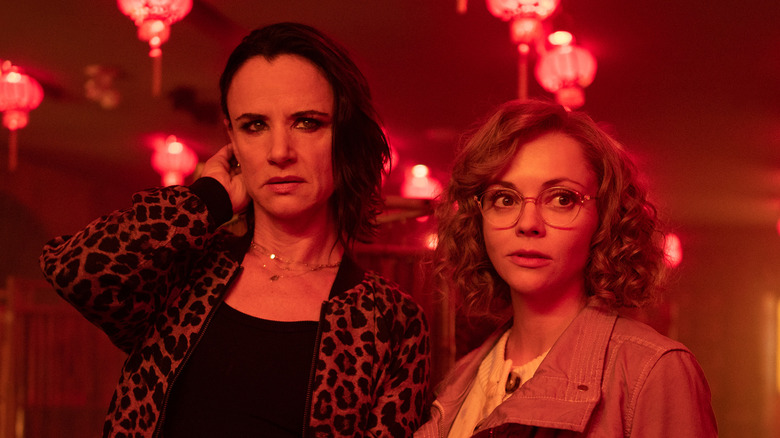 Kailey Schwerman/SHOWTIME
Showtime's "Yellowjackets" Season 2 is set to return on March 26, and one of the show's executive producers, Jonathan Lisco, is already teasing what Season 2 will look like. Currently, the dual-timelined "Yellowjackets" is fueled by two overarching mysteries. In the past, how exactly did the Yellowjackets descend into cannibalism and deer worship? In the present, who are the mysterious figures who apparently killed Travis (Andres Soto) and kidnapped Natalie (Juliette Lewis)? 
Lisco didn't shed light on any of those questions, but he did have a lot to say about Season 2's themes. "Now we're really exploring female rage," Lisco told Empire. "In the past, it's about the falling away of social constructs, even more than last season. In the present, I think each of these women is being forced to reckon with who they really are, which they've been able to deny most of their adult lives." Lisco also added that the present-day storyline will introduce the goalkeeper Van, who will be played by Lauren Ambrose of "Servant." Just like she did in the past, she'll provide levity and comic relief for the show. 
The big takeaway, though, is the remark about female rage. This is a central theme of the show, and it sounds like that theme will be expanded upon going forward.
Yellowjackets has always been about female rage – but the suppressed kind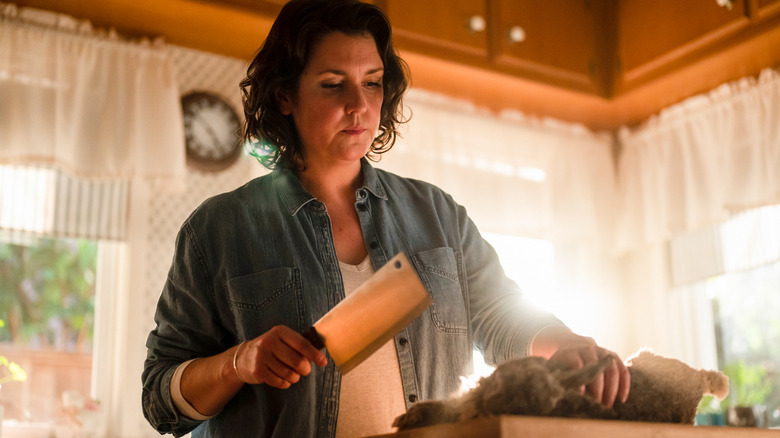 Kailey Schwerman/SHOWTIME
"Yellowjackets" has always been how women are socially conditioned to suppress their feelings, particularly rage. Even before their ordeal in the Canadian wilderness and its aftermath, the Yellowjackets had plenty to be angry about — like the fact that their town barely acknowledged them when they qualified for the national championships. In the present day, all of the surviving Yellowjackets have different ways of coping with these unexpressed feelings. Taissa's (Tawny Cypress) rage fuels her relentless desire to succeed in politics. Natalie has fallen into addiction. Misty (Christina Ricci) plasters a smile on her face while dealing with difficult patients at her job. Finally, Shauna (Melanie Lynskey) rebels against her unsatisfying life as a mother and wife by having an affair with a man she met in a car accident. 
For Melanie Lynskey, Shauna's rage, in particular, is something she personally relates to. "The way I was brought up was to not show a ton of emotion and not get angry," she told Rolling Stone when discussing "Yellowjackets." "I'm trying to get better at letting the anger come out at all." Shauna's inner (and soon-to-be outer) rage is partly what drew Lynskey to the role. 
Just like the past storyline has been building towards a violent climax, the present-day storyline should be building towards a similarly explosive moment, or several of them, when the Yellowjackets finally get to let it all out. Of course, these moments might not all come in Season 2 since creators Bart Nickerson and Ashley Lyle have plans for a five-season story arc. More will be revealed in a few weeks, but here's the "Yellowjackets" Season 2 trailer to curb your hunger pangs.