Where Was Adam Driver's 65 Actually Filmed?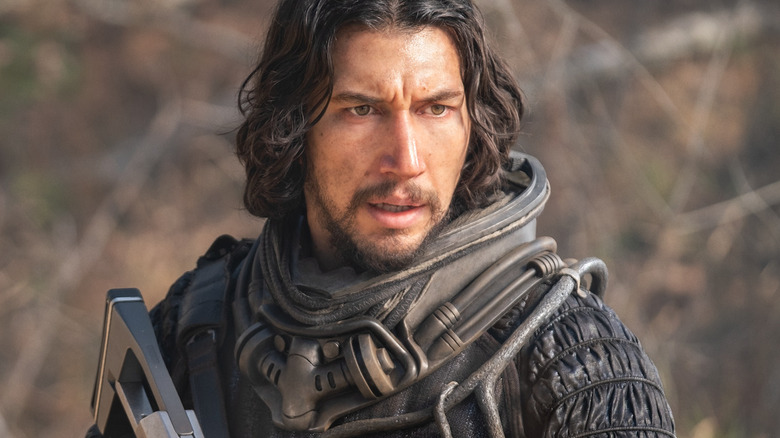 Patti Perret/Sony Pictures
Adam Driver is no stranger to the sci-fi genre, having starred as Kylo Ren in the most recent "Star Wars" trilogy. He'll appear next in "65," the space travel-meets-prehistoric thriller from "A Quiet Place" scribes Scott Beck and Bryan Woods. In an exclusive interview with Looper, the Academy Award-nominated actor explained why he's drawn to sci-fi. "I like the world-building that's involved in them," said Driver. "It's really escapist and entertaining and imaginative."
The bait-and-switch of "65" is that that world-building happens on Earth, with Louisiana, Oregon, and Ireland cherry-picked to serve as the backdrop for the ancient planet. When a spaceship on an exploratory mission is hit by an errant asteroid, the pilot, Mills (Driver), and a sole surviving passenger named Koa (Ariana Greenblatt) are marooned on a mysterious planet, which just so happens to be Earth 65 million years ago. As the stand-ins for a prehistoric Earth crawling with dinosaurs, the film's shooting locations needed to feel simultaneously otherworldly and familiar.
Louisiana, Oregon, and Ireland are stand-ins for ancient Earth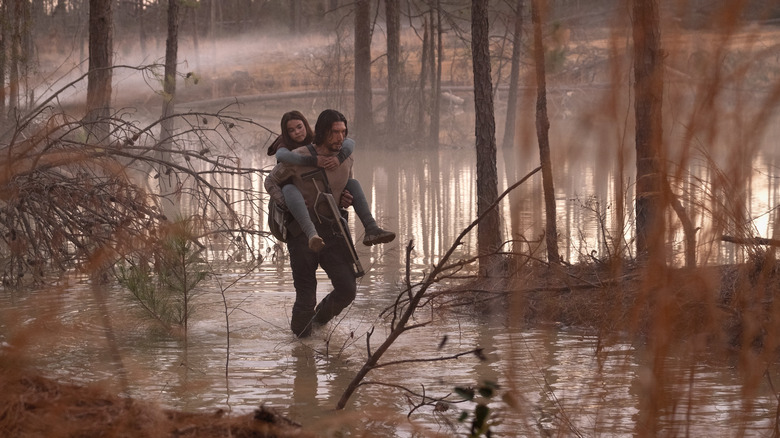 Patti Perret/Sony Pictures
In the trailer for "65," Commander Mills discovers that the atmosphere around the crash is breathable, the water is potable, and the landscape is riddled with dinosaurs. "65" necessarily had to be shot in remote, lush locations. With its creeping, moss-covered trees and swampy bogs, Louisiana feels uniquely ancient and well-equipped to be the home of dinosaurs. Principal photography began in Louisiana in December 2020, with some shooting occurring at the Kisatchie National Forest, as well as nearby Cravens, Covington, and New Sarpy. Some sequences were also shot in New Orleans, and a behind-the-scenes Instagram post shows the exhausted filmmakers at a NOLA soundstage.
Additional filming was completed in Coos County, Oregon, and Curry County, in the southwest corner of the state, where dense forests scatter the landscape. Appropriately, the Beaver State is home to multiple dinosaur fossil sites. 
The "65" cast and crew didn't just stay stateside, and some parts of the film were filmed in County Wicklow in Ireland's eastern coastal region.
Finally, having a lush, green environment wasn't always a shooting prerequisite for "65," and some sequences were shot at Sony Pictures Studios' massive soundstage facility in Los Angeles.