Adam Driver Is Caught In A Sci-Fi Nightmare In The Trailer For 65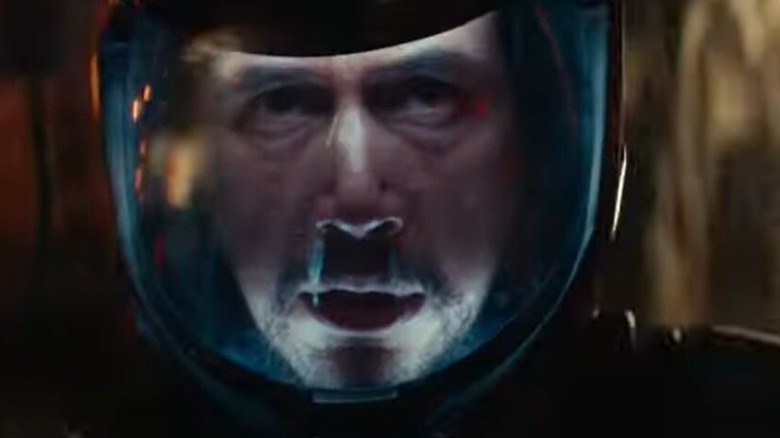 Sony Pictures Entertainment/YouTube
Adam Driver's movie and TV roles have been unpredictable thus far, but that's what makes him such an exciting talent in the eyes of many film fans. From blockbusters like the "Star Wars" franchise to romantic dramas such as "Marriage Story," the 39-year-old's oeuvre is diverse and littered with gems. However, "65" is probably going to be more terrifying than those movies, unless Sith Lords and relationships falling apart are considered scarier than monsters.
While there are many actors who balk at the thought of starring in horror movies, Driver has embraced them with open arms. In recent years, he's displayed a knack for horror comedies like "The Dead Don't Die" and "White Noise." That said, "65" looks set to be more nightmarish and intense than those efforts, with some action-packed thrills and sci-fi twists thrown in for good measure.
"65" sees Driver play an astronaut who crash lands on a mysterious planet and discovers that something "alien" is lurking around. However, as the first trailer shows, the creatures in question might be more prehistoric than extra-terrestrial.
65 pits Adam Driver against a prehistoric beast
"65" comes from the minds of Bryan Woods and Scott Beck, otherwise known as the co-writers of "A Quiet Place." Like that movie, "65" is another terrifying sci-fi horror tale about humans being hunted in brutal terrains and having to rely on their wits and instincts to survive. Instead of aliens, however, the hunters in "65" are dinosaurs that seem intent on having human beings for supper.
The majority of the footage shows Adam Driver and Ariana Greenblatt's characters trying to navigate their new surroundings and figure out what type of threat they're dealing with. By the end of the trailer, the threat has made its presence known, trapping the humans in the darkness with seemingly no escape in sight. It also seems that the creatures on this planet are impervious to bullets, so the heroes will have their work cut out for them.
Fans of "A Quiet Place" and "Jurassic Park" will undoubtedly get a kick out of the trailer for "65." Furthermore, if the movie lives up to the promise of the trailer, it will be another worthy addition to Driver's impressive filmography.