Misha Collins Says Gotham Knights Tried To Get Jensen Ackles To Appear As Batman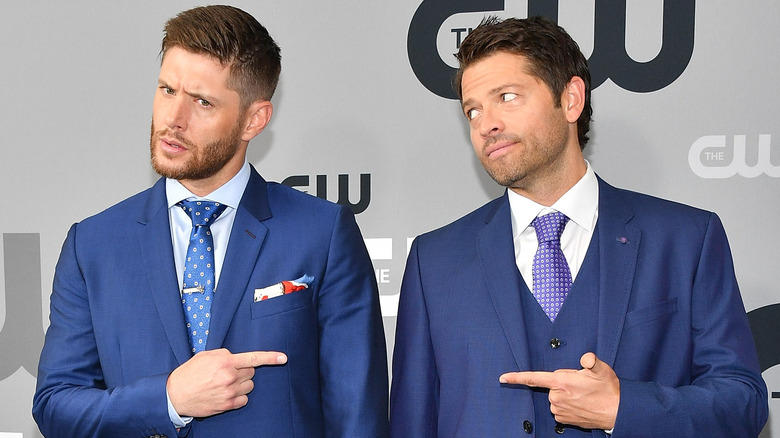 Dia Dipasupil/Getty Images
"Supernatural" fans have been clamoring to get Dean Winchester star Jensen Ackles in a Batman suit for ages. While we have yet to see him play the Dark Knight onscreen, fans sort of got their wish when Ackles voiced him in "The Long Halloween" animated movie. Though Ackles' gravelly-voiced Batman is a good enough gift, there's still that nagging desire for the actor to play Batman onscreen. And as it turns out, his "Supernatural" co-star Misha Collins almost made it happen on his new series "Gotham Knights." 
On the one hand, if it actually happened, the fandom would likely permanently break the internet and we'd never get to doom scroll on Twitter again. On the other hand, it would have been one of the most epic cameos of all time — even though Batman's death at the beginning of the show kicks off "Gotham Knights." But we want it. However, both Ackles and Collins had jam-packed shooting schedules this year, making it impossible for Ackles to cameo on "Gotham Knights" and likewise, for Collins to appear on Ackles' "Supernatural" prequel "The Winchesters." Yet knowing that both actors tried to make it happen is solace in its own right, and if fans show up in droves, we could be looking at potential storylines for Season 2 of both shows (fingers crossed). 
Collins' role as Castiel in "Supernatural" took a dark turn more than a few times — between Godstiel and Casifer. As such, fans are pumped to see the actor play another chaotic villain. This time, he's gearing up as Harvey Dent (aka Two-Face) in "Gotham Knights." 
The CW invited Looper to a roundtable interview with Collins, where we asked him if he had any DC roles in mind for any of his former "Supernatural" co-stars to play in "Gotham Knights." Naturally, he didn't disappoint. 
The Batman that almost was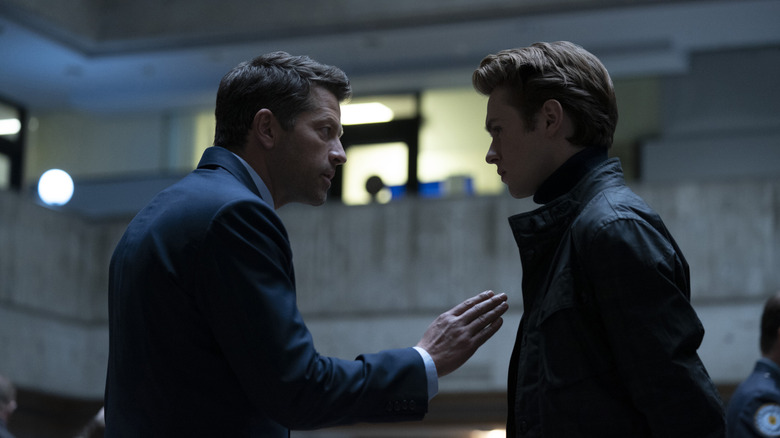 The CW
In case it wasn't completely obvious by now, Misha Collins wants to see Jensen Ackles in a Batman suit just as much as the fandom. "I don't know if I'm supposed to reveal this, but what the hell," he began. You always know a story is going to be good with that kind of opener. "We were having conversations midway through this season about bringing Jensen Ackles in to play Batman," Collins revealed. "We thought we might be able to work that in a flashback and maybe even re-shoot the opening scene where we had an actor who, I guess he, was essentially a non-speaking role, but he played Batman. We were talking very seriously about that. It didn't work out."
Sadly, it was another great idea lost to the sands of timing. Collins added, "Jensen was working on another show, and the timing and the scheduling didn't work out, but that would've been awesome. I was super excited about it." Well, he's not the only one. But we'll always have Dean Winchester's "I'm Batman" one-liner on "Supernatural" to get us through this tragedy. 
A series of unfortunate Batvents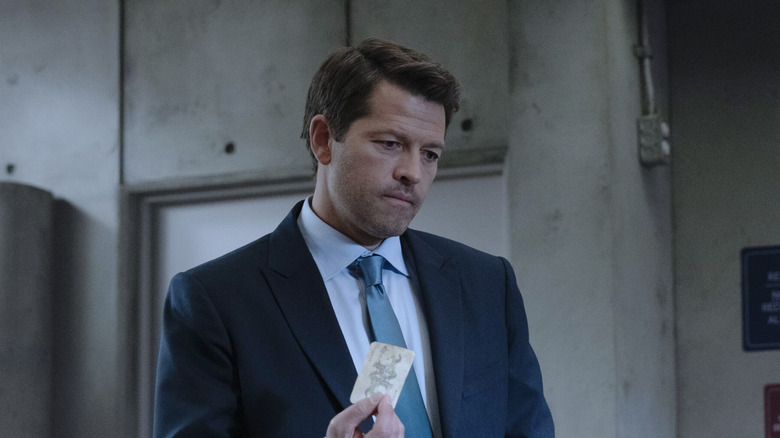 The CW
Yet having Jensen Ackles put on the Batsuit to die would have been a bit savage to the actor they hired to play the show's deceased Bruce Wayne. "The guy, this is a little factoid, the guy who played Batman in 'Gotham Knights' in the opening scene, one shot where we have him seen from behind and slight profile, and then we find his dead body," Collins explained. "That guy had played Batman before. He had played the dead body of Batman in some other thing 15 years ago and told his kids like, 'Kids, I get to be Batman. I mean, it's not a speaking role, but it's like the dead Batman.'"
Sadly, that role ended the same way this one almost did. Collins continued, "Then they cut him out of whatever that was. So he was back, finally getting to reprise this role by some weird cosmic coincidence. He almost got cut out again because we were actively pursuing the possibility that Jensen would play Batman. So there you go." But hey, there's no saying whether or not Ackles might appear in flashback form (and not a dead body). And the best way to make that happen is by watching "Gotham Knights" on March 14 — and subsequent Tuesdays. Episodes also stream for free on The CW app and website the next day.
Okay, so who's starting the petition to get Ackles in a Batsuit for "Gotham Knights"? Any takers?