Ted Lasso's Jason Sudeikis Changed Rebecca After Meeting Hannah Waddingham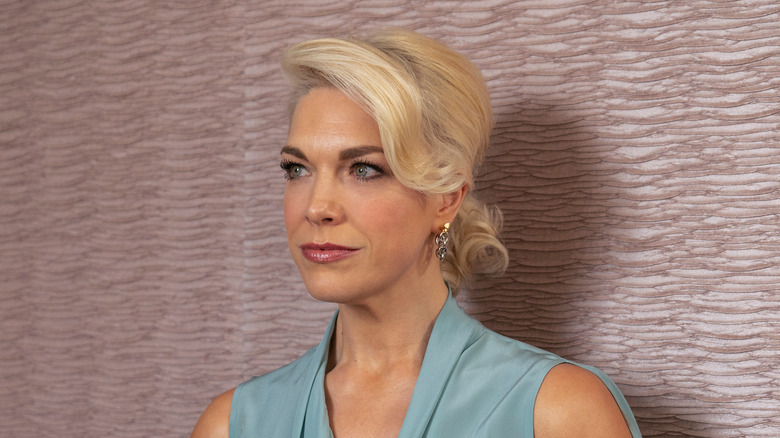 Apple TV+
By now, it is difficult for any real fan of "Ted Lasso" to imagine anyone playing Rebecca Welton other than Hannah Waddingham. Rebecca is among the first to be transformed by Ted's (Jason Sudeikis) infectious optimism, not to mention a daily delivery of biscuits. Over the course of the first season, she goes from deceitfully and spitefully trying to ruin her ex-husband's football club to a sincere and enthusiastic owner, dedicated to getting the team out of their slump and letting Ted's positivity lift a sinking boat, as well as letting something other than anger and fear guide her choices in life.
Waddingham's performance has been a hit not just with fans but with critics too, winning her an Emmy, a Screen Actors Guild Award, and a handful of other wins and several other nominations. Clearly, casting Waddingham as Rebecca was the right choice for "Ted Lasso." It was apparent to the show's star Sudeikis within minutes, so much so that he lobbied hard to cast her, even shifting Rebecca's characteristics to match Waddingham's own talents. 
During an appearance on Kate Thornton's podcast "White Wine Question Time," Waddingham recounted the process of auditioning for the part of Rebecca. What she described is an excellent example of how the show, much like her character, remembered it's always best to be open to change. 
Rebecca sings now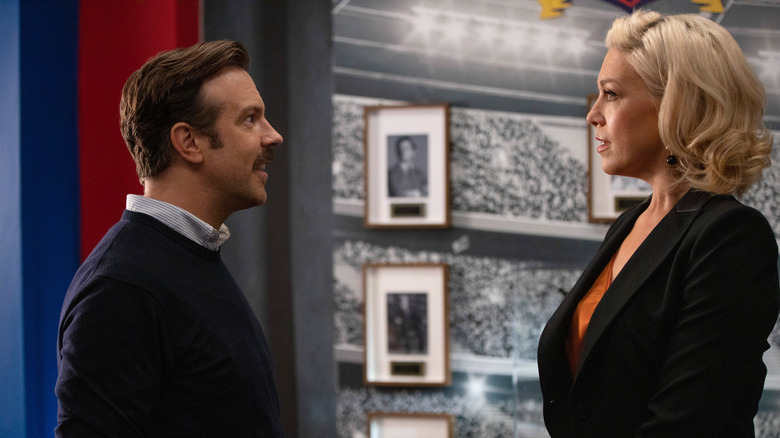 Apple TV+
After being brought in for a chemistry test with Jason Sudeikis, Hannah Waddingham started to realize how badly she wanted the part of Rebecca. "We just immediately got on like a house on fire in a very low-key way," she told Kate Thornton. Waddingham said that after the reading was over, she went home and waited for the call. No call came. 
Waddingham just chalked it up to another part she didn't get, assuming they cast someone more famous than her. "I felt the character really rippled through my bloodstream," she said, and was certainly disappointed not getting cast. Then, after what seemed like ages to her, she got the call and the part. "He [Sudeikis] had just gone: 'I knew it was her when she walked in the room and why do you need to go for someone else when she is how I imagined her sounding, how I imagined her looking?'"
The kicker came when, not long after, Waddingham expressed a bit of concern to the casting director. "'But Rebecca doesn't sing, does she?' And Jason was walking in front of us and under his breath, he went: 'She does now.'" Though Waddingham's profile in television is fairly recent, she has been known in musical theater circles for over twenty years, having performed in "Into the Woods," "Spamalot," and other productions. 
And, as we also know, Rebecca does indeed sing. Season 1 saw her celebrating with the team at a karaoke bar in Liverpool after a win against Everton, singing "Let It Go" from Frozen. Not only is she decisively on Ted's side at that moment, but she's also revealed to have a remarkable set of pipes.