Stranger Things Fans Shouldn't Take Millie Bobby Brown's Finale Comments Too Seriously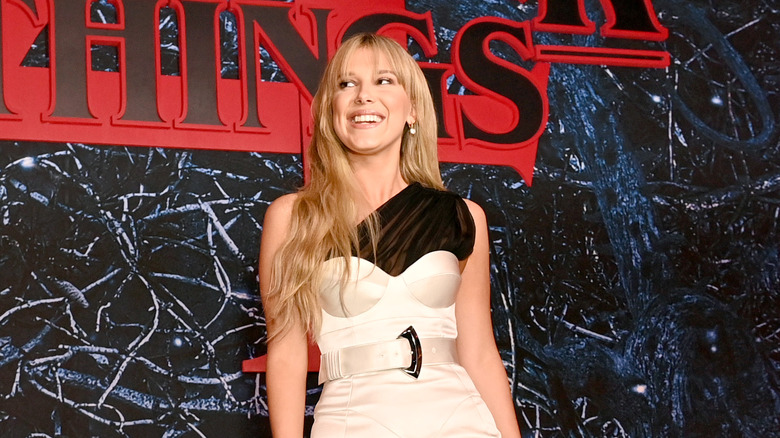 Bryan Bedder/Getty Images
It's been a few months since Netflix dropped the epic fourth season of their hit sci-fi series "Stranger Things." And we're likely still more than a year away from finding out how creators Matt and Ross Duffer will end the saga. That fact has left the series' legions of super fans to pontificate endlessly about what's to become of Team Hawkins during their final showdown with big, bad Vecna and his army of Upside Down dwelling beasts.
As it is, the series' stars have been besieged with finale questions since the news broke that Season 5 of "Stranger Things" would indeed be its last. They're pretty much doomed to continue fielding such inquiries until the series finale finally makes its way onto Netflix. With any luck, they'll do so with the free-wheeling aplomb of series star Millie Bobby Brown. The actor has indeed set the internet ablaze in recent months by offering her own left-field theories on the possible fate of her telepathic heroine Eleven as the series nears its end. But Brown also believes fans should take her comments with a grain of salt because she has no idea how the final season will play out.
Brown claims she's all talk when it comes to Stranger Things fates
Part of the problem is, of course, that many "Stranger Things" fans believe Mille Bobby Brown has an inside track on what's in store for the series' final run of episodes. That isn't entirely unreasonable, as her character will undoubtedly be at the center of whatever chaos is set to come. But as Brown recently told GamesRadar, she's really only spitballing ideas at this point because the Duffer Brothers have not let her in on what's ahead. "I know as much as you know. I really, really am clueless," she said, adding, "And, also, they [the Duffers] don't want to tell me. I've got a huge mouth."
Given how freely Brown has spoken of the final season of "Stranger Things," the Duffers may be wise to keep playing those cards close to the chest. As for Brown, she doubled down on her grain-of-salt mentality when GamesRadar brought up one of her more hotly debated Eleven theories. "I say things like this, but then I also said I want her to die," she said, continuing, "I really don't know. And also, it's not my choice." The actor added, "I say all these things really just under my breath, and then people take them and print them. And I'm like, no, no, no — I said that as a joke, that I wanted her to get married and work at a Target."
All joking aside, "Stranger Things" could do much worse than shipping Eleven off to a nice, normal life as a Target greeter. But even Brown has no idea if such a fate awaits.