Where You've Seen The Cast Of Boston Strangler Before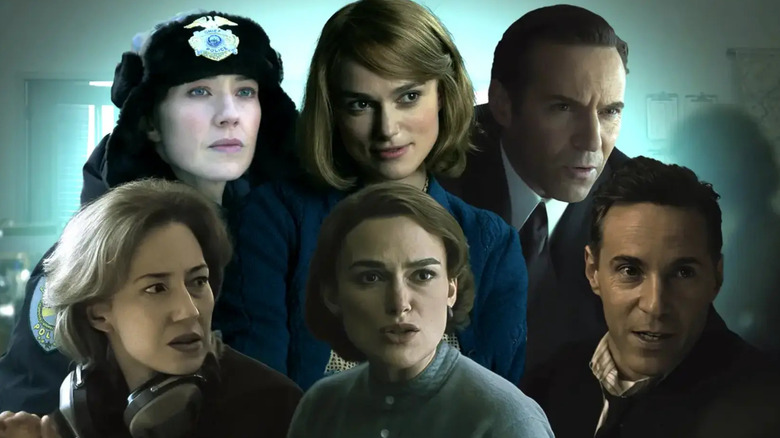 Static Media
Hulu's latest thriller adapts the true story of one of the most intriguing unsolved mysteries of the 20th century. In "Boston Strangler," Keira Knightley plays Loreta McLaughlin, a journalist from the newspaper Record American who tried to solve a series of murders in the 1960s that appeared to be connected. Loretta had to face a variety of challenges, from a sexist society that didn't consider women skilled enough to handle such a story, to the police who saw her as a threat to their livelihoods. Luckily, the writer had a few allies on her side, like experienced crime reporter Jena Cole (played by Carrie Coon) and editor Jack MacLaine (Chris Cooper), who tried to protect her from political backlash.
Given the movie's delicate subject matter, its ambitious interpretation of the events benefits greatly from the nuanced performances of award-winning actors such as Knightley, Coon, and Cooper, but they're not alone. The cast includes several skilled character actors with experience in playing struggling parents, clever detectives, and eerie criminals across TV and film, as well as emerging talent known for ambitious streaming productions or playing secondary characters in extremely popular projects. And while viewers might not immediately recognize all of these actors, they will when they learn about their more prominent appearances. Here's where you've seen the cast of "Boston Strangler" before.
Keira Knightley (Loretta McLaughlin)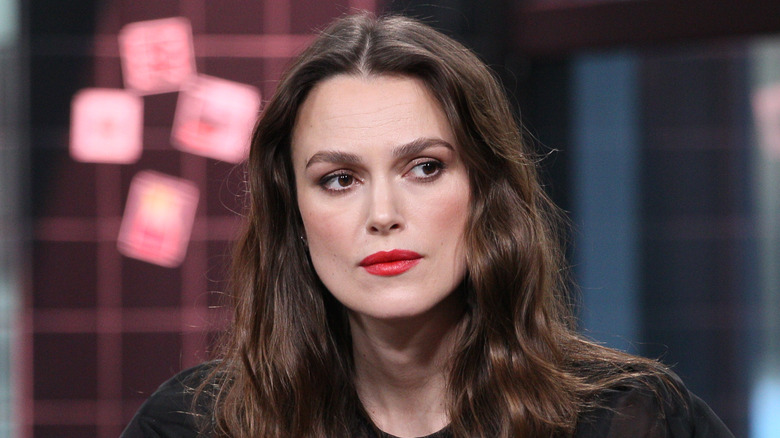 SD Mack/Shutterstock
The story of "Boston Strangler" revolves around Loretta McLaughlin (Keira Knightley), an aspiring journalist working on the lifestyle column of Record American. When Loretta discovers that several murders have been carried out with a similar modus operandi, she decides to start her own investigation, but she faces multiple challenges. Her editor won't assign her the story due to her lack of experience, while detectives and police officers refuse to disclose any information. At home, her husband, who initially supports her work by taking care of her kids during her working hours, starts to resent the investigation when the increasingly demanding job and threats begin to take a toll in her family. This is where Knightley's performance really shines.
The actress famous for her role in the Pirates of the Caribbean" franchise and acclaimed performances in movies like "Anna Karenina," "Atonement," and "The Imitation Game" does splendid work portraying a journalist who struggles with the demands of her work and her private life. Despite some criticism regarding her accent, Knightley manages to communicate Loretta's worries and her passion for uncovering the truth with subtlety — see the way her eyes express fear when she finds herself alone with a suspect in his apartment, or how she energetically gestures to Cole to answer the phone when DeSalvo finally contacts her. Interestingly, it might have been her work in period pieces that prepared her for this role, as playing anything from a small-town girl to an aristocrat in more conservative societies requires a variety of emotions simmering under a somewhat reserved demeanor.
Carrie Coon (Jean Cole)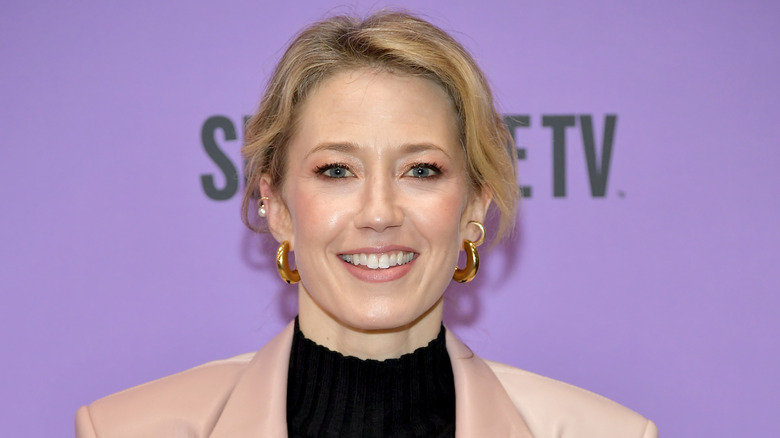 Neilson Barnard/Getty Images
Jean Cole becomes Loretta's most important ally during her time covering the Boston Strangler case, and her assistance goes beyond sharing notes. Carrie Coon portrays Jean as a more experienced journalist, who is more respected by both her colleagues and the detectives following the case. She uses this to grant Loretta access to crime scenes and official documents she wouldn't be able to see under normal circumstances. But she's also not afraid of expressing her anger when they're being treated unfairly, something made evident during a scene in which Cole demands that their editor remove her and Loretta's pictures from the papers to prevent people from stalking them.
Coon may seem familiar to viewers, but it might be hard to identify her most recent and praised roles. Most people will recognize Coon from her captivating performance as Nora Durst on the critically acclaimed series "The Leftovers," playing a woman who has to cope with the disappearance of her husband and children during a global supernatural event. The actress also gives a realistic (if less emotionally intense) performance in Season 3 of "Fargo," in which she portrays a police officer trying to solve the murder of her stepfather. Interestingly, "Boston Strangler" isn't the first time Coon has portrayed a journalist, as she plays editorial writer Meg Greenfield in "The Post," the newspaper drama about the release of the Pentagon Papers, acting alongside legends like Tom Hanks and Meryl Streep. Curiously, her most prominent role is also the one you might not know her from, as she was unrecognizable providing the motion capture and voice for Proxima Midnight, Thanos' loyal follower in "Avengers: Infinity War."
Chris Cooper (Jack MacLaine)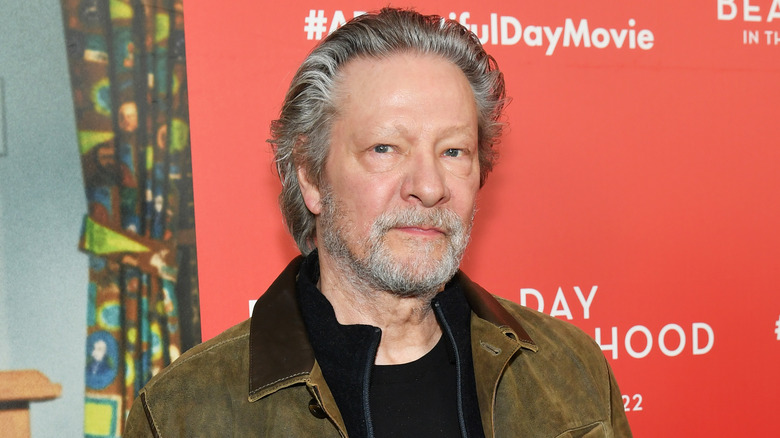 Mike Coppola/Getty Images
The editor of Record American responsible for assigning and supporting Loretta's investigation is played by none other than Chris Cooper. The actor does an excellent job portraying Jack MacLaine, the highly demanding but loyal boss, who tries to balance the risks of angering the police department with the attention brought by the new journalist's work. Cooper instantly conveys the image of a more knowledgeable man who initially discredits McLaughlin's proposal of investigating the murders not because she's a woman, but because of her inexperience. As soon as both reporters start delivering exclusive clues and building a compelling story, though, he's willing to stand between them and anything that tries to threaten their work, whether it's the police or the higher-ups at the newspaper.
Taking on the role of the experienced but sometimes stubborn MacLaine might not have been that difficult for Cooper, who's mostly known for playing authority figures. He played a Sheriff investigating the death of his predecessor in "Lonesome," an army officer motivating new troops in "Jarhead," and a strict father trying to understand his son in "October Sky." He first drew critics' attention with his role as Colonel Frank Fitts, a war veteran who was abusive towards his son in "American Beauty." However, it was his role as the uniquely passionate orchid hunter John Larchoe in the critically acclaimed film "Adaptation" that earned him an Academy Award. This brought a lot of positive attention to Cooper, who started to get cast in bigger films like "The Amazing Spider-Man 2," while continuing to work on dramas like "Little Women."
Alessandro Nivola (Detective Conley)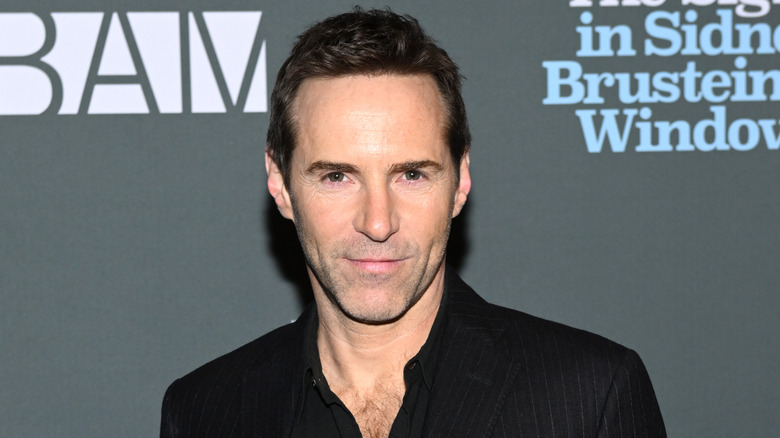 Noam Galai/Getty Images
The biggest obstacle to Loretta's investigation is the lack of collaboration from the police. The entire force seems to see her as a threat to their jobs ... except for Detective Conley. Played by Alessandro Nivola, Conley is willing to answer some of Loretta's questions, off-the-record, in exchange for her own leads. The detective is genuinely interested in uncovering the killer's identity, but he's frustrated by the constant flow of promising leads that end up being dead ends, and the impatience of the media towards the work of the police.
Interestingly, Alessandro Nivola is mostly famous for playing characters on the other side of the law. He played the brilliant and eccentric brother to Nicolas Cage's character in John Woo's "Face/Off," but audiences might also recognize him from "Jurassic Park III," in which he plays a careless graduate student who endangers his party by stealing velociraptor eggs from a nest. He's also been featured in prominent films like "American Hustle" and "Amsterdam," though his most notable role in recent years is likely that of young Tony Soprano's uncle Dickie Moltisanti in "The Sopranos" prequel "The Many Saints of Newark."
Rory Cochrane (Detective DeLine)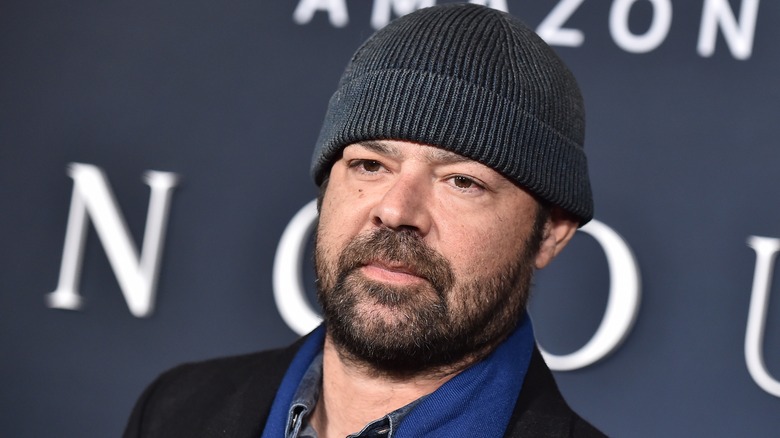 DFree/Shutterstock
Part of the appeal of "Boston Strangler" is that the movie brings to light different theories about the identity of the serial killer. A key character in this is Detective DeLine, who discovers the potential sixth victim in the strangler's case. Rory Cochrane portrays DeLine as a man who is collaborative but cold towards McLaughlin, as he knows the consequences of leaking information to a reporter. However, his desire to catch the strangler (or stranglers) pushes him to confirm Loretta's suspicions.
Rory Cochrane has had some experience portraying people who investigate crimes. While he had already appeared in movies like "Dazed and Confused" and "Empire Records," during the early days of his career, fans of "CSI: Miami" might have seen him as Tim Speedle, a carefree but efficient Trace and Impressions analyst working in the city's crime lab. He went on to appear in films like "A Scanner Darkly," "Public Enemies," and "Black Mass." But it was his role in "Argo" as Lee Schatz, an American who has to be rescued from the U.S. Embassy in Tehran, that would earn him his first nomination for a Screen Actors Guild Award.
Morgan Spector (James McLaughlin)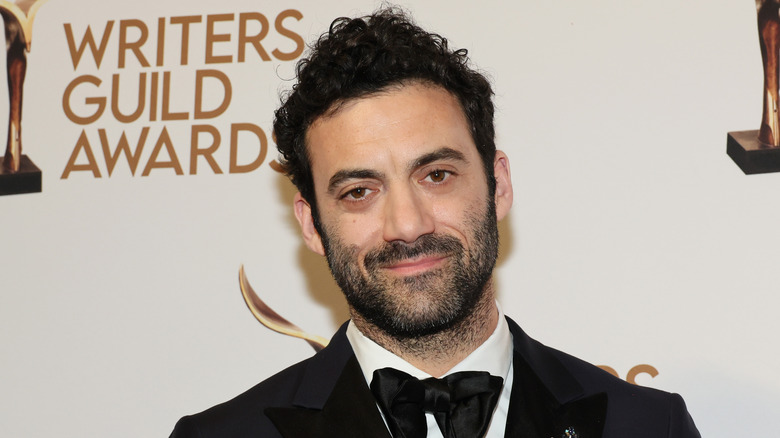 Dia Dipasupil/Getty Images
At first glance, Morgan Spector's role as Loretta's husband may seem relatively unimportant, but the character of James McLaughlin is essential in portraying her struggles to balance the demands of her investigation with taking care of her family. Loretta seems to have a husband who understands the importance of her journalistic work, doing his part by taking care of the house and kids. Spector plays the role perfectly as a man who starts as an ally to Loretta but becomes progressively frustrated as her focus on the investigation makes it feel like she's taking her family for granted. Her home life becomes tense but Loretta's sense of duty forces her to continue her work, pushing their relationship to its limit.
Spector is perfect casting, as he has already played family men facing overwhelming challenges. His first important roles were on series like the political thriller "Homeland" and the TV adaptation of Stephen King's horror novel "The Mist". More recently, though, he's given an outstanding performance as the father of a Jewish family dealing with increasing anti-Semitism in the critically acclaimed "The Plot Against America," which takes place in an alternate history version of the United States where political forces are trying to prevent the country from entering World War II. He also gave an intense performance as a rich businessman with a dubious reputation in 19th century New York in "The Gilded Age."
David Dastmalchian (Albert DeSalvo)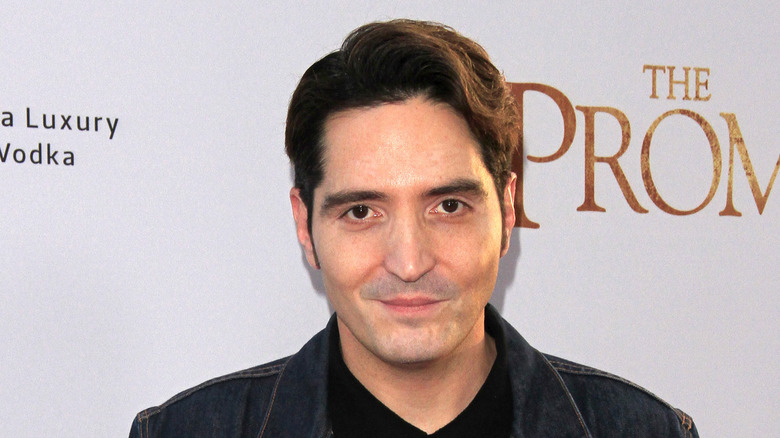 Kathy Hutchins/Shutterstock
The most important suspect in the case, Albert DeSalvo, was a very peculiar character. The man who was guilty of entering women's homes, assaulting them, and murdering at least one of the victims is introduced as someone with a calm persona. Although physically unthreatening, Dastmalchian's DeSalvo is a socially awkward man, something that contrasts with the confident behavior the victims describe the perpetrator using to gain their trust. He's also surprisingly open about the murders and seems to understand that what he did was wrong, even though he appears mostly guiltless, adding to the feeling that he wasn't working alone.
Dastmalchian is no stranger to mentally disturbed characters. One of his first performances was a short but memorable appearance in Christopher Nolan's "The Dark Knight" as a mental patient who's been manipulated by The Joker. He went on to appear as a hacker who helps Scott Lang in "Ant-Man," and as the disturbed Bob Taylor in the acclaimed thriller "Prisoners." He would later be cast in more colorful roles like Polka Dot Man in James Gunn's "The Suicide Squad" and Baron Harkonnen's cybernetically enhanced advisor Piter De Vries in Denis Villeneuve's "Dune." 
Interestingly, his role in "Boston Strangler" isn't the first time Dastmalchian has played a serial killer. In the animated film "Batman: The Long Halloween," based on the celebrated graphic novel of the same name, Dastmalchian voices the Calendar Man, a criminal who commits murders based on important dates and who serves as an occasional advisor to the police in a similar way to Hannibal Lecter in "The Silence of the Lambs."
Ryan Winkles (Daniel Marsh)
The story of "Boston Strangler" takes an unexpected turn when Loretta discovers that a man dismissed as a suspect by the police was in the area where the sixth victim was found. Daniel Marsh, played by Ryan Winkles, gives the police and Loretta clever answers without ever incriminating himself, despite his own violent history. Winkles gives an excellent performance, making it clear that Winkles is smarter than the other suspects and leaving a viewer uneasy. This is particularly evident during a tense scene in which Loretta tries to interview him in his apartment, but quickly apologizes and leaves when she realizes how close she's come to being alone with a potential serial killer.
A talented newcomer, Ryan Winkles has only appeared in a few roles before "Boston Strangler." He had small parts in the relatively unknown Comedy Central movie "Time Traveling Bong," as well as in shorts like "Paper Birds," "Off Beat," and "Pennybrook Rd." Despite his apparent lack of experience, Winkles gives a memorable performance that makes it clear he's a mature actor, and it wouldn't be surprising if he gets cast in increasingly bigger roles after the release of Hulu's thriller.
Greg Vrotsos (George Nassar)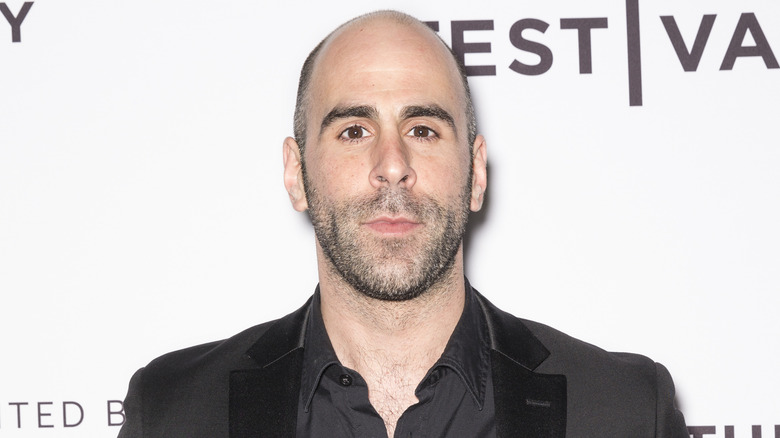 Ovidiu Hrubaru/Shutterstock
During her investigation, Loretta interviews George Nassar, a man identified as being present during one of the murders. The character is played by Greg Vrotsos, an actor with an imposing figure giving an even more intimidating performance during a scene in which he's interviewed by Loretta. Nassar reveals that he and Marsh helped DeSalvo prepare for his confession in exchange for getting paid by his lawyer when the rights for a book were sold. As Nassar says in the chilling scene with the reporter, everyone trusted the confession because they wanted to believe that one man was responsible for the murders, where in truth these were just a symptom of the much more systemic threat that so many men pose to women.
Vrotsos' portrayal of Nassar is very effective, realistic in how terrifying the man is. It's a surprise that the actor hasn't been cast in bigger roles yet. "Orange is the New Black" fans might recognize Vrotsos as the guard Greg Hellman from Seasons 6 and 7, but he has also appeared in episodes of TV series like "Parks and Recreation," "New Girl," and 2017's "Twin Peaks". He played another prison guard on the big screen in "Horrible Bosses 2," and more recently, he played a fictional second unit director in the mockumentary "Killer Whales," about a filmmaker recording a commentary for his film about the death of an artist.
Christian Mallen (Paul Dempsey)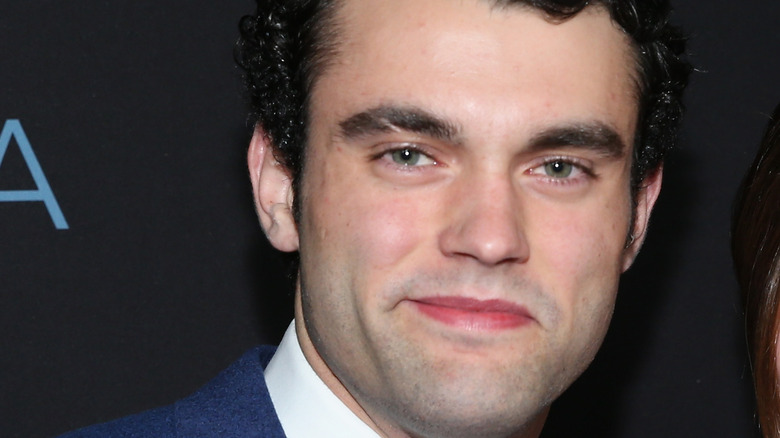 Phillip Faraone/Getty Images
Christian Mallen's appearance could be mistakenly interpreted as an unimportant cameo, as he appears for one shot after confessing to strangling a woman in New York. But the character Mallen plays, Paul Dempsey, is based on a real man named Charles E. Terry, and his case is important because it proves to Loretta that the Boston police weren't collaborating with officers from other states, even when they were offering an important lead. He was also a suspect in a murder similar  to those investigated by Loretta which happened years before, leading some to think that he might have been the original Boston Strangler.
Christian Mallen is a young and talented actor who's yet to accumulate many roles in his filmography. Regardless, he's managed to get cast in a few big Hollywood movies like "Manchester by the Sea" starring Casey Affleck and Michelle Williams, and "Mother/Android" led by Chloe Moretz. He's also done some work in short films and, more significantly, an episode of "Law & Order" as Daniel Garret, a man accused of catfishing and murdering an influencer.
John Lee Ames (Harrison)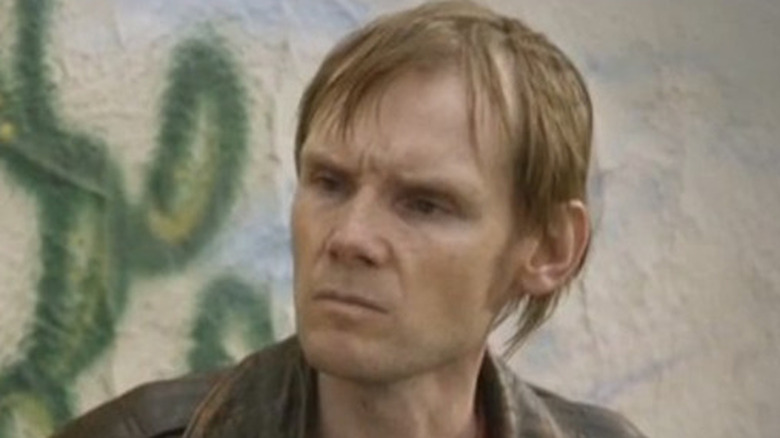 20th Television
Perhaps the most significant plot twist in "Boston Strangler" comes not from a suspect or a detective, but from the man who leads Loretta to discover the collaboration among the three main suspects. Knowing that she couldn't get any sort of information from the doctor who treated the men while they were committed because it was confidential, she tracks down a man who spent time in the same institution during the same period. Known only as Harrison in the movie and portrayed by John Lee Ames, he's a man who has visibly gone through a lot. He reveals to Loretta that DeSalvo, Marsh, and Nassar spent a lot of time together working on DeSalvo's confession. But in order to find out why, the reporter would have to find a member of the trio who's willing to talk.
John Lee Ames may not be a household name, but he has a talent for playing eerily intimidating roles. He demonstrated this during his appearance in the episode "In the Blood" from the TV show "Criminal Minds." He has also worked on popular TV shows such as "Heroes," "Agents of S.H.I.E.L.D.," and "Shameless," usually playing eccentric but likable characters. His most important role yet has been that of Grady in David Fincher's Oscar-winning biopic "Mank."