The X-Files: Fox Has 'No Plans' For More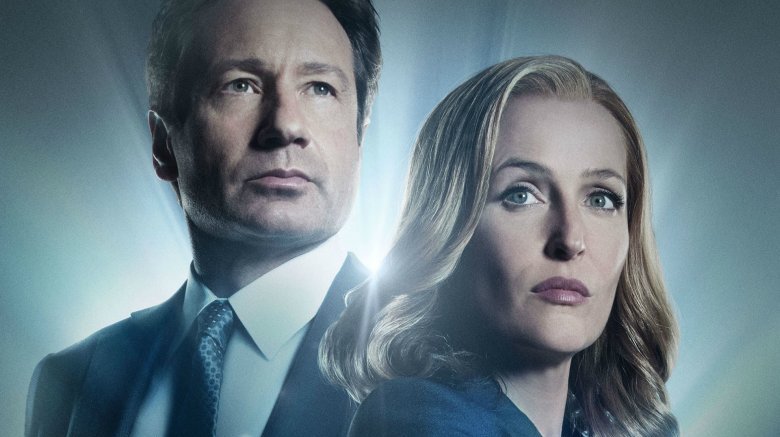 FOX
We want to believe... that Fox could pick up additional episodes of The X-Files. Sadly, however, that doesn't seem to be a possibility — at least not for now.
Over the weekend, television networks rolled out their schedules for the 2018-2019 broadcast schedule, with Fox dropping Brooklyn Nine-Nine (before NBC swooped in to save the beloved series) and failing to so much as mention The X-Files. Though it was unclear why the network canned Brooklyn Nine-Nine, there's a reason The X-Files is missing from its blueprints: Fox doesn't currently have any intentions of making future episodes. 
Asked whether more X-Files is something the network is interested in pursuing, Fox Television CEO and chairman Gary Newman relayed to reporters, "There are no plans to do another season at the moment" (via Entertainment Weekly). 
Though Fox isn't focusing on The X-Files, the network is hard at work on new iterations of Prison Break and 24. As Fox Television CEO and chairman Dana Walden explained, "We are developing around the 24 franchise, which frankly we have [been developing] almost since the show went off the air. [Producer] Howard Gordon is working with a team of writers. They're working on one idea we're pretty excited about. For Prison Break, it's in the early stages of development, and we're just focusing on getting the next iteration night. Don't anticipate there would be any kind of significant announcements for months."
While disappointing, Fox turning its cheek on The X-Files for the time being is understandable. When the sci-fi drama returned for its 11th season, ratings weren't as stellar as many had expected. An imperfect situation turned even darker when star Gillian Anderson, who has portrayed Agent Dana Scully opposite David Duchovny's Agent Fox Mulder since The X-Files premiered in September of 1993, announced that she would be leaving the series after season 11. 
"There's lots of things I want to do in my life and in my career," the actress said during a panel at the Television Critics Association's press tour earlier this year. "It's been an extraordinary character, but there's lots of things to do and I don't want to be tied down doing one thing ... It wasn't suggested that now [The X-Files] is a new series. But I'm serious. I'm finished."
Anderson previously stated that she has "said from the beginning" that season 11 of The X-Files was "it" for her, and that she was slightly taken aback by fans' response to her departure. "I was a bit surprised by people's [shocked] reaction to my announcement," she said, "because my understanding was that this was a single season."
Before that, Anderson explained that she felt The X-Files "wasn't over" before season 11, which is why she wanted to reprise her role as Dana Scully. "It didn't feel like we necessarily deliver[ed] everything the fans were expecting of us last time, and so it was that," the actress stated, adding that she wasn't sure if she would miss playing her character in the future. "You may need to talk to me in a few years about that once I finally shut the door. You know, there's always been this may[be] one more thing hanging over, but when the door is finally shut, call me up and ask that question again."