Grinds' Shark Tank Deal Fell Through But Their Chewable Coffee Still Made Bank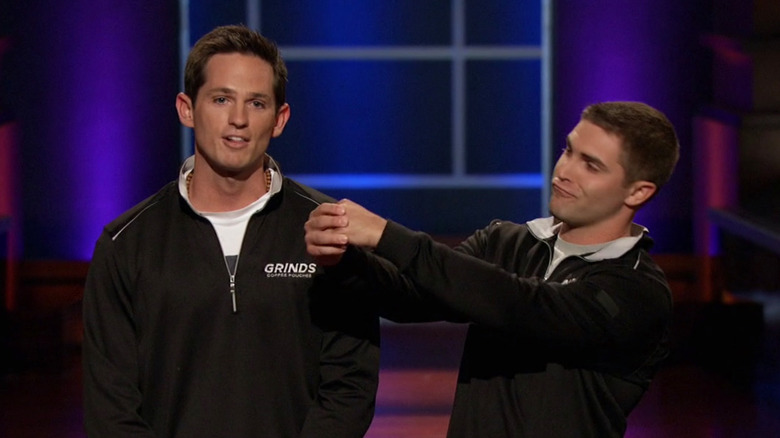 ABC/Hulu
"Shark Tank" likes to suggest that it helps struggling businesses reach the next level thanks to key investments from one or more of its sharks. In reality, there are many different outcomes that can result from a "Shark Tank" pitch. Sometimes businesses succeed or fail for entirely different reasons than whether or not a shark gave them some money. The show is filled with examples of companies that turned down deals with the sharks but went on to success anyway, like Proof Eyewear, Rumpl sleeping bag-style blankets, or Grinds.
Simply put, Grinds is a chewing tobacco alternative made from coffee grounds that are flavored and fortified with vitamins. It was originally marketed toward baseball players, but Grinds is a good substitute for anyone trying to kick a chewing tobacco habit. Entrepreneurs Matt Canepa and Pat Pezet went into the tank to pitch Grinds during Season 4, with their episode airing in February 2013.
Canepa and Pezet asked for $75,000 in exchange for a 10% equity stake in Grinds. Kevin O'Leary made the first offer, a $100,000 loan in exchange for a .25 cent royalty fee on each can sold until that loan was paid back–and in an uncharacteristic move, O'Leary didn't ask for equity. Robert Herjavec and Daymond John combined to offer $75,000 for a 15% equity stake. On camera, Canepa and Pezet accepted Herjavec and John's offer thanks to John's expertise in distribution. 
However, in 2016 Canepa and Pezet told Forbes that the deal never materialized. Even so, Grinds was able to grind out some success.
Grinds' sales saw a huge jump without that sweet shark money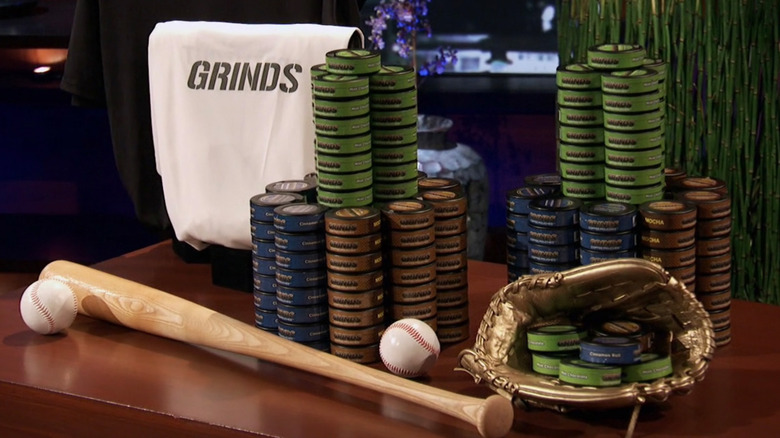 ABC/Hulu
As Canepa and Pezet explained to Forbes, the deal they agreed to on the show fell apart later in negotiations, although they didn't specify what the sticking points were. "Pat and I went on the show 100% wanting to get a deal," Canepa said. "Regardless of whether or not you get the deal, there are a lot of success stories."
That turned out to be the case for Grinds. The company was already seeing steady growth in its first three years. In 2010, it made $3,500. In 2011, that figure jumped to $135,000. The following year, it jumped again to $300,000. The year they appeared on "Shark Tank," their revenue skyrocketed to $1.35 million, and by 2016 they were expecting to sell $4 million worth of Grinds. In 2019, Grinds announced that it was moving its headquarters from Oakland, California to Westfield, Indiana, and would be investing $6.7 million in its new headquarters.
Today, Grinds are still a popular choice both with elite athletes and with people who just want an extra jolt. It's yet another example that proves how valuable "Shark Tank" is in terms of exposure, even if no deal is struck.