What Happened To Proof Eyewear After Turning Down An Offer On Shark Tank?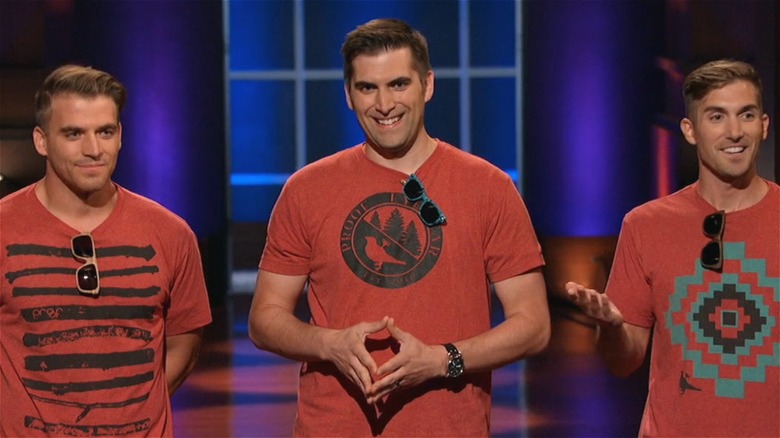 ABC
Getting a business off the ground and to a state that proves fruitful can be a rather daunting task for any entrepreneur. There are tons of different variables to consider, like employees, logistics, and marketing, and that doesn't even address one of the biggest issues involving starting a business — pure unadulterated capital investment. One might have the best idea in the world, but without the proper financial backing, even a revolutionary product or service might be left to wither on the vine. Of course when there is a show like "Shark Tank" around, one can always plead their case before a group of investors.
Proof Eyewear is one such company that had a novel concept and business model that focused on sustainable glasses. This means that Proof Eyewear's mission statement was to create frames out of materials that are either easily recyclable or don't harm the planet in their construction like so many plastic glasses these days. Appearing in Season 4, Proof Eyewear definitely attracted some attention from the aptly named "Sharks" and an offer for investment, but Proof Eyewear spurned them and decided to chart their own path without the aid of "Shark Tank." So, what has the company been up to and are they still around?
Proof Eyewear turned down two offers from Shark Tank
Proof Eyewear made its debut on "Shark Tank" in Episode 17 of Season 4. Showing off their product and pleading their case before the assembled investors, Proof Eyewear was represented by brothers Tanner, Brooks, and Taylor Dame. Hailing from a family of woodworkers, the Dames made their pitch by explaining that they originally started their business by crafting frames out of wood, and since then, have grown to include recycled items like skateboards. This makes each pair of frames unique, and the brothers noted that several celebrities have been spotted wearing them. This statement, as well as the brothers' obvious drive and commitment, got Kevin O'Leary and Robert Herjavec interested, and they both made offers.
Proof Eyewear asked for $150,000 for 10% equity, but O'Leary offered $150,000 for 25% equity as well as $2.50 for each pair of glasses sold until he recoups his investment, at which point his royalty would drop to $1 per pair. This investment deal caused Herjavec to scoff at such a cutthroat maneuver, and he simply offered $150,000 for 25% equity. The brothers then talked among themselves and called their father, and counter-offered $200,000 for 20% equity, but Herjavec stuck to his guns, which resulted in Proof Eyewear walking away from "Shark Tank." Luckily for the Dame family, it seems as if Proof Eyewear didn't need any investment from "Shark Tank" to succeed.
Proof Eyewear has succeed and grown since appearing on Shark Tank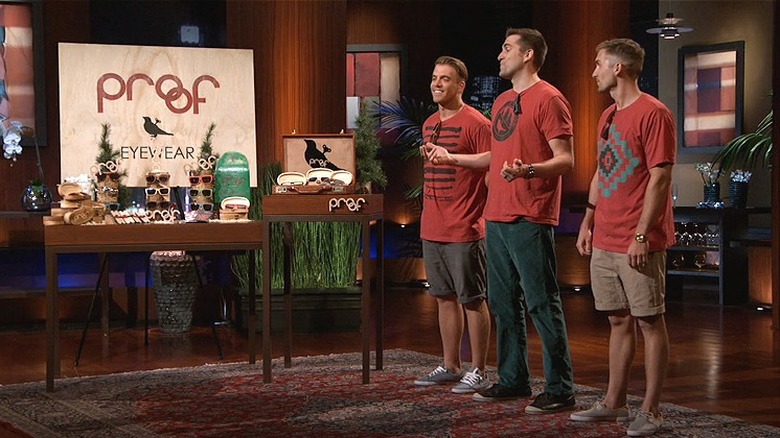 ABC
While appearing on "Shark Tank," Proof Eyewear claimed to have sales of around $400,000 in 2013. The company hoped to increase that number to around $800,000 in the next. Although they turned down the offers given on "Shark Tank," their sales still received a massive uptick after appearing on the show, which saw Proof Eyewear sales skyrocket to $1.4 million — way past their initial hopes. These days, Proof Eyewear has expanded its inventory even more, with a line of frames utilizing recycled aluminum. In other words, the company has definitely stuck with its original goal of creating sustainable and trendy glasses.
As of 2023, Proof Eyewear has estimated sales of around $6 million, which shows that the company hasn't fallen flat or disappeared from the face of the Earth. Considering the drive of the Dame brothers and their need to grow their family business, it makes perfect sense that a measly defeat on "Shark Tank" wasn't enough to derail their aspirations for Proof Eyewear, and the company appears to have continually grown ever since appearing on the show. Checking out the Proof Eyewear website, one can see the company offers many different collections of both prescription glasses and sunglasses, which highlights that the Dame family certainly made some savvy business decisions since "Shark Tank."