Remember Ellen Pompeo's Short Run On Law & Order?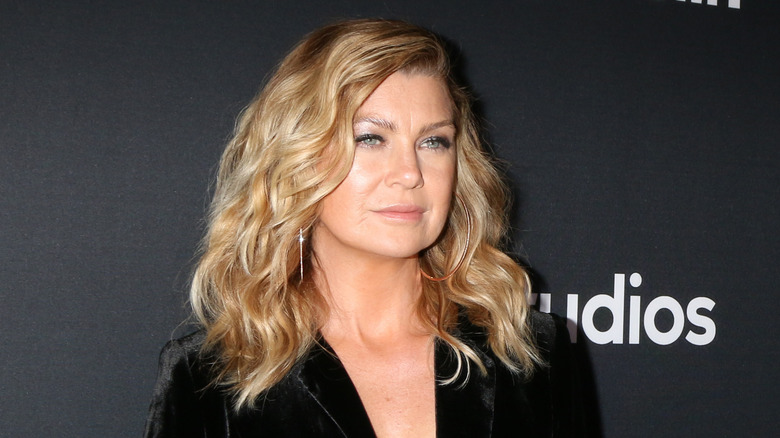 Kathy Hutchins/Shutterstock
Ellen Pompeo played Dr. Meredith Grey for so long; it can be easy to forget the actress had plenty of credits before she shot to superstardom as the "Grey's Anatomy" lead. The role originated back in 2005, and Pompeo's commitment as both the central character and a producer meant she didn't have the time to take on many non-"Grey's Anatomy" gigs.
On top of her "Grey's Anatomy" duties, though, Pompeo also appeared as Dr. Grey on ABC's "Station 19," another show she helped produce. Before the actress joined "Grey's Anatomy" though, she was hard at work building an impressive and lengthy resume. She worked for Steven Spielberg in 2002's "Catch Me If You Can," had a supporting role in 2003's "Old School," and even appeared as Karen Page in the 2003 "Daredevil," starring Ben Affleck as the blind hero of Hell's Kitchen. She also appeared on several popular shows, such as "Friends" and "Law & Order."
With such a diverse and celebrated filmography, Pompeo fans may have forgotten that the actress appeared on "Law & Order," not once, but twice. With well over a dozen seasons under its belt, plenty of famous faces have popped up on "Law & Order," and it's easy to forget they ever did in the rabbit hole of content, but few have guest starred multiple times as multiple characters.
Ellen Pompeo guest starred on Law & Order in 1996 and 2000
Ellen Pompeo guest starred in "Law & Order" Season 6 Episode 16 ("Savior") — only six years after the show's premiere in 1990 — and "Law & Order" Season 10 Episode 15 ("Fools for Love"). In both episodes, she portrays characters police suspect knows more than they're telling. Her appearance in the former episode, aired in 1996, actually stood as one of her first gigs as a young actress. Pompeo played Jenna Weber, a young woman whose father is accused of killing her brother and mother.
It was an impressive debut for Pompeo, where she even got to be questioned by Jack McCoy (Sam Waterston), a cornerstone character to the Dick Wolf-produced drama, in a tense and classic "Law & Order" courtroom scene. In her second appearance in 2000, Pompeo portrayed Laura Kendrick, the partner of a killer, Peter Williams (Samuel Ball), who murders her sister and one of her friends. Kendrick is suspected of luring the victims, and she ends up getting 25 to life. Williams, meanwhile, receives a death sentence. Both appearances by Pompeo are impressive, but it's the second, where as a more seasoned performer, she really dug her teeth into the deceptive nature of her character.