Why Mandy's Dad From Young Sheldon Looks So Familiar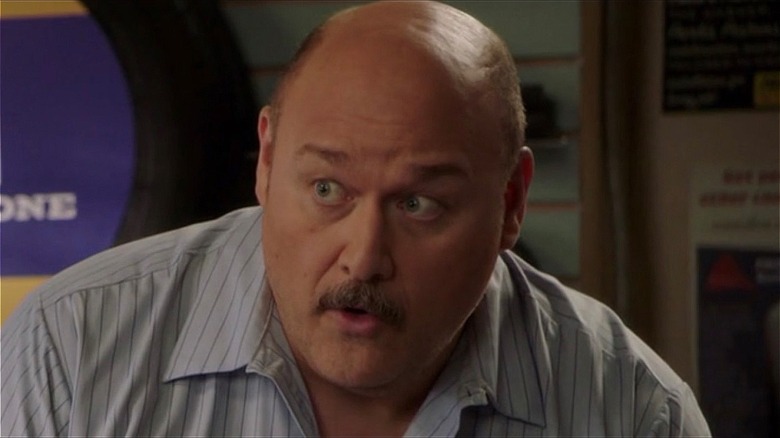 CBS/Hulu
When you're watching a movie or TV show, nothing's quite so distracting as when you recognize a particular performer but can't quite place where you've seen them before. Worse, a quick IMDb search only yields a list of credits without details on any of their previous roles. That's where we come in.
"Young Sheldon" is the CBS spinoff to "The Big Bang Theory," which stars Iain Armitage as the precocious, sassy, and highly smart Sheldon Lee Cooper, who's played by Jim Parsons on the original series. "Young Sheldon" is currently in its sixth season, and one of the new storylines this year involves Sheldon's older brother Georgie (Montana Jordan) getting into a relationship with the much older Mandy McAllister (Emily Osment)–a storyline that has admittedly given fans headaches. During the seventh episode of Season 6, we meet Mandy's parents, Audrey (Rachel Bay Jones) and Jim–in a classic sitcom premise, Mandy and Georgie try to go out to dinner only to run into her folks.
Jim McAllister probably looks familiar because he's played by Will Sasso, a veteran comedic actor with over 100 credits on his resume. Here are some of his most prominent roles.
Will Sasso was an original cast member on MADtv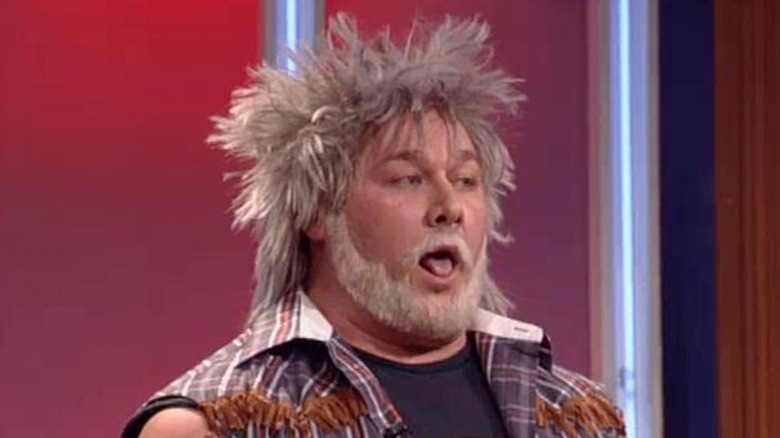 Fox
This is probably where most fans recognize Will Sasso from, since "MADtv" was his breakout role. The seminal Fox sketch comedy series that introduced performers like Artie Lange, Keegan-Michael Key and Jordan Peele debuted in 1997 and ran until 2009, with a revival on The CW that aired in 2016. Sasso was part of the show's inaugural cast and stuck around for the show's first five seasons,
Sasso was known for being the show's resident Bill Clinton impersonator. He also did impressions of celebrities like Randy Newman, Kenny Rogers, Steven Seagal, and Arnold Schwarzenegger, as well as his original character Paul Timberman, the accident-prone handyman. In 2016, Sasso returned for a guest appearance on the CW iteration of MADtv, along with fellow former cast members Bobby Lee and Nicole Sullivan. Sasso and company introduced the next generation of performers and guided them get through their first show with the help of a demonic prayer.
Will Sasso played Yanis on Shameless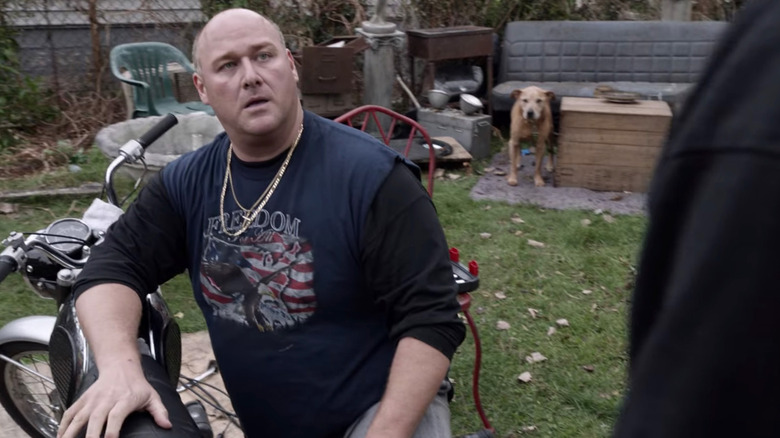 Showtime/Netflix
Will Sasso had one of the more darkly hilarious storylines in "Shameless" Season 6, which is saying something for that show. He plays Yanis, the annoying neighbor to Kev (Steve Howey), the local bartender at the watering hole where Frank (William H. Macy) likes to hang out. Yanis' defining characteristic is that he loves tinkering with his motorcycle and then revving the engine–he even removed the muffler to make it louder. Kev pleads with Yanis to quiet down in order to keep the peace in the neighborhood, but Yanis is defiant. So, Kev decides to cut the throttle on the bike when it's left unattended. Problem is, Kev mistakes the throttle for the brake line. Yanis crashes his bike and ends up partially paralyzed.
It only gets worse from there. Thinking another neighbor sabotaged his bike, Yanis attempts to torch their car with a box of Molotov cocktails. Kev finally comes clean to Yanis about what he's done and asks if they can still be friends. Yanis then tries to kill Kev but accidentally sets the box of Molotovs on fire, burning himself alive. Told you it was dark.
Will Sasso played Chris Sadler on Law & Order: Special Victims Unit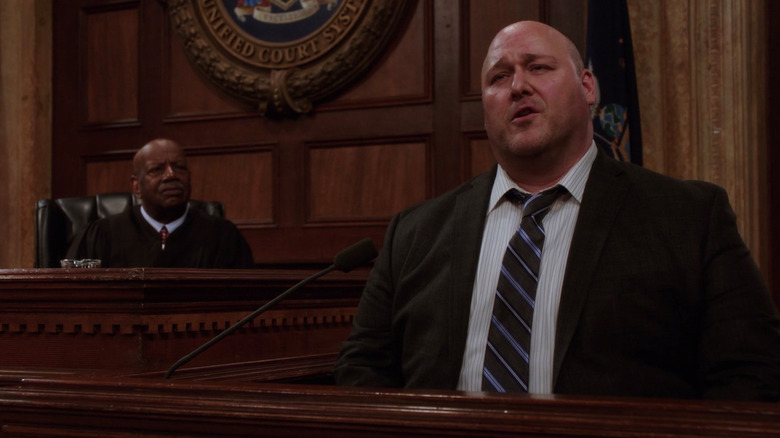 NBC/Peacock
Yes, Will Sasso joined the ranks of the dozens of comedic actors who have made a foray into dramatic acting on "Law & Order: Special Victims Unit." Sasso appeared on the show in 2018 during its 19th season, in the episode "Send in the Clowns." The storyline concerns a high schooler named Hadley Sadler (Mallory Bechtel) who's kidnapped during a school field trip to New York City by a man in a clown mask. 
Sasso plays Chris Sadler, Hadley's distraught father. At first, he's wracked with guilt because he let Hadley go on the field trip. When the detectives of the SVU find a suspect, and the suspect denies it, Chris badly wants some time alone with the guy. Finally, when the suspect is put on trial, Sasso delivers an emotional monologue about his daughter's prodigious piano skills. It's pretty standard "grieving parent" stuff, but it's quite the departure for Sasso given his other work.
Will Sasso played Mooska on The Orville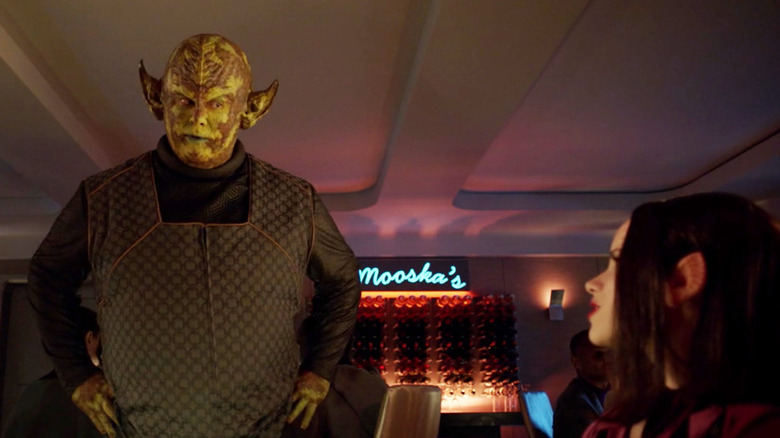 Fox/Hulu
Turning back to comedies, Sasso made two guest appearances on Seth MacFarlane's live-action sci-fi comedy series "The Orville." He plays Mooska, the brown-and-green skinned alien with long ears, and the proprietor of Mooska's, a fine-dining establishment aboard The Orville. He first pops up in the Season 2 premiere, titled "Ja'loja." Mosska has a brief interaction with Alara (Halston Sage) when she shows up at his joint early for a date, offering her an adult beverage to steady her nerves (she declines).
Mooska returns in the thirteenth episode of Season 2, titled "Tomorrow, and Tomorrow, and Tomorrow." This time, Ed (MacFarlane) and Kelly (Adrianne Palicki) wind up at Mooska's when a time distortion effect makes them relive their past relationship. Mooska stops by to offer them another round, which brings up some of their old baggage–Kelly always used to pressure Ed into drinking more.
Mooska is a smaller role for Sasso, but it makes sense that MacFarlane would cast him on "The Orville" after he's voiced roles on so many of MacFarlane's animated shows, like "Family Guy" and "The Cleveland Show."
Will Sasso played Ben Burns on Loudermilk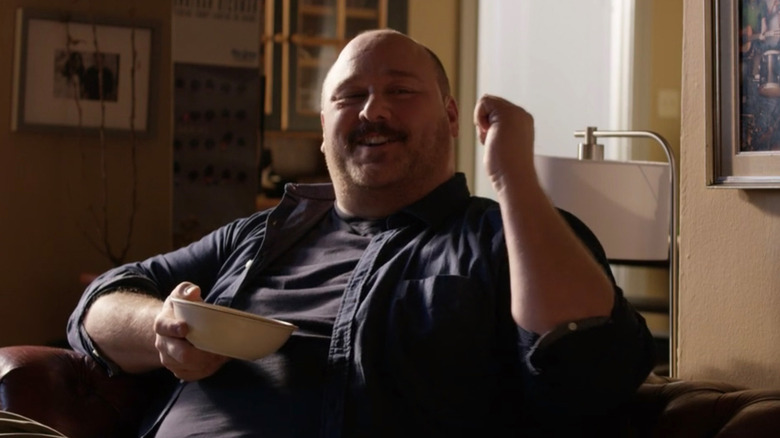 Audience Network
Here's a somewhat unusual role on Sasso's resume. "Loudermilk" is the series that starred Ron Livingston as Sam Loudermilk, a recovering alcoholic, former music critic, and substance abuse counselor who does everything he can to be as unlikable as possible. Despite this, he does have one loyal friend: Ben Burns, who's played by Sasso. A fellow recovering alcoholic, Ben guides Sam on his sobriety and tries to help him become the best version of himself–but of course Ben has demons of his own.
The first two seasons of "Loudermilk" ran on the now-defunct Audience Network in 2017 and 2018, with Amazon picking it up for a third season in 2021. Sasso appears in all 30 of "Loudermilk's" episodes. While he's appeared on dozens and dozens of sitcoms during his career, Ben Burns is one of the few series regular roles he's had. For the most part, he sticks to recurring roles or guest spots.
Will Sasso played Andy on Mom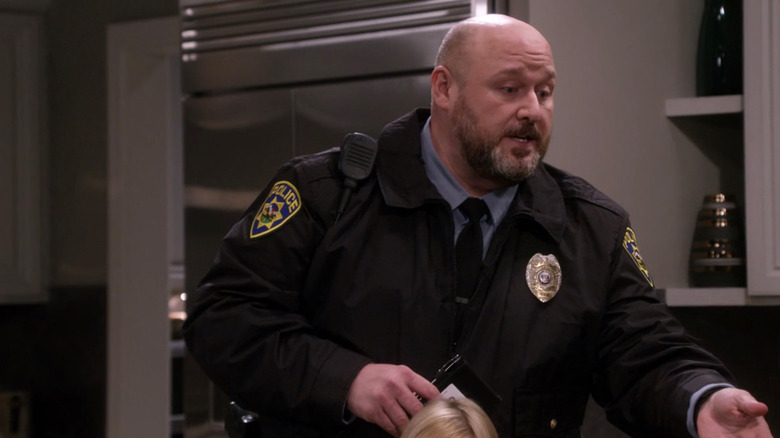 CBS/Hulu
In one of his more substantial acting roles, Will Sasso had a recurring character on the CBS sitcom "Mom," about a mother and recovering alcoholic named Bonnie (Allison Janney) who's reconnecting with her daughter Christy, played by Anna Faris. Sasso's character is Andy, a police officer in Napa Valley. His first appearance is in the Season 6 episode "Kalamazoo and a Bad Wedge of Brie." He shows up when Jill's (Jaime Pressly) house is broken into. In the next episode, Andy and Jill go on a date but decide to be friends. He pops up one more time in Season 6 for an awkward traffic stop with Jill and Christy. 
Andy and Jill do later begin a romantic relationship during Season 7, and at one point discuss having a baby. Altogether, Sasso appeared in twelve episodes of "Mom" over Seasons 6, 7, and 8.
Will Sasso played Vince Logan on FBI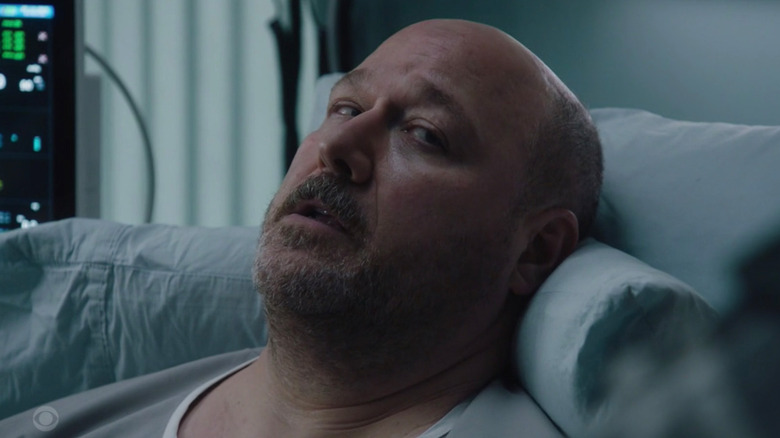 CBS/Hulu
Four years after his appearance on "SVU," Will Sasso made another guest-starring turn on a Dick Wolf-produced show, CBS' "FBI." He appears in the Season 5 episode "Fortunate Son," which aired in 2022. The episode starts with a bang: a teenager named Trevor Logan drives up to a hospital in a car full of bullet holes, then drops off his father, Vince, who's played by Sasso. Vince has sustained several gunshot wounds. Complicating matters, he also has a big bag of fentanyl stashed in the trunk and needs his son to keep it safe. 
Vince passes out after the initial scene, but does survive the shooting. The FBI then convinces Trevor to wear a chain with a hidden camera with the goal of secretly recording more information about the men who shot Vince. Trevor makes repeated attempts to get his father to open up to him, until Vince gets suspicious and tells him not to return to the hospital. Vince finally leaves the hospital and kills the two men who shot him, and then the FBI guns him down.