Young Sheldon Fans Are Getting A Headache Trying To Figure Out Mandy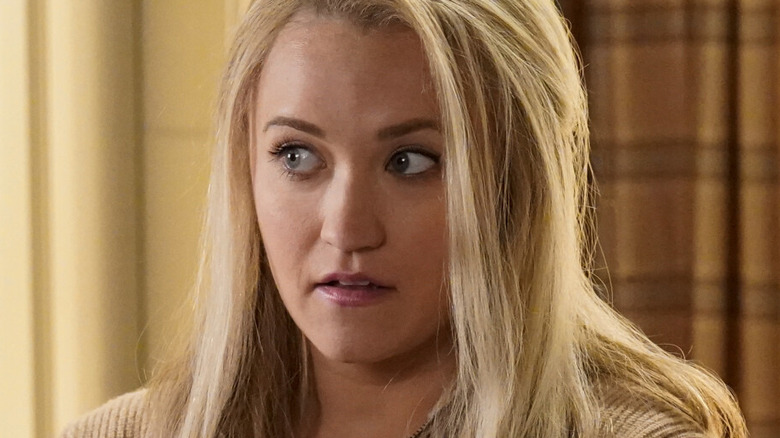 Robert Voets/Warner Bros. Entertainment
The most recent episode of "Young Sheldon," "Pancake Sunday and Textbook Flirting," hit the Cooper family with drama on all fronts. Mary (Zoe Perry) is adjusting to life without the church while the rest of the family busies about with their own lives. Meanwhile, romantic tensions are rising between Mandy (Emily Osment) and Georgie (Montana Jordan) as she urges him to date other women despite their growing baby.
As Sheldon (Iain Armitage) navigates adolescence, the series introduces more complicated and mature themes to the series, like George's (Lance Barber) foreshadowed love affair and even his impending tragic death. These are prevalent in Georgie's story when he unexpectedly gets Mandy pregnant, which is also a crucial factor in Mary's expulsion from the church. The two now have an unconventional relationship in which they're determined to be young co-parents together. However, Mandy doesn't want to be in a relationship with Georgie, though the signals are getting confusing.
Last season, fans were divided on how to feel about Georgie, which is a testament to his character development since then. They also have more sympathy for him following his recent shift in maturity. After Season 6, Episode 10, fans are expressing their opinions on Twitter and Reddit, where they feel Mandy's shifting feelings are inconsistent and frustrating. These interesting insights from audiences on the newest episode of "Young Sheldon" indicate that Georgie and Mandy's relationship may need some more defined parameters in the future, especially when the baby eventually arrives. 
Viewers are seemingly growing tired of Mandy and Georgie's 'Will they, won't they?' relationship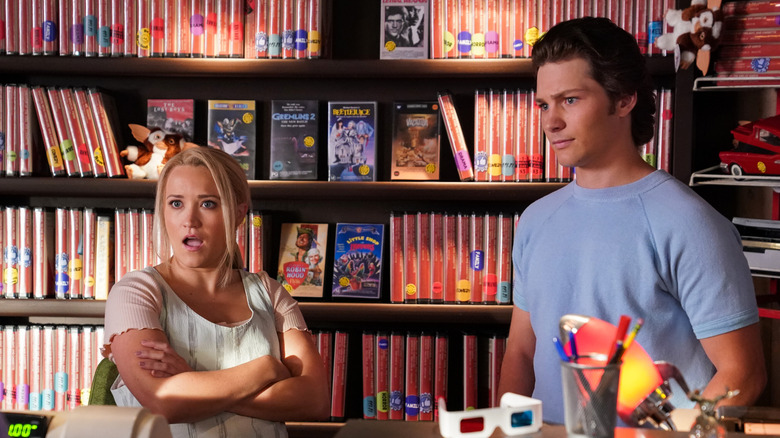 Adam Rose/CBS
Because of their wide age gap, Mandy, at nearly age 30, has understandably complex feelings for the teenage Georgie, especially as the father of her child. Soon after announcing her pregnancy, she sternly told Georgie she couldn't have a relationship with him. In a recent twist, the two intimately rekindled their passion for each other, leaving the couple even more confused. 
Some fans felt Mandy doesn't have a reason to be upset after pressuring Georgie. On Reddit, u/Street-Chef7204 wrote, "So suddenly, Mandy is hurt seeing Georgie with another girl. And who's fault is that?" Their rhetorical question does have a sharp point which is further echoed on Twitter. One user @OscarSm61194655 said the frustration was almost unbearable, writing, "Why am I suddenly getting a migraine over Mandy tonight?" Another user @09StephE supports their relationship, by urging Mandy not to let him slip away. "I knew Mandy liked Georgie! Don't push him away girl! He's a good guy!" 
Others pointed out the irony of Mandy's decision, like @EarthFae306, who noted that Mandy is responsible for Georgie moving on. Another connected the episode's dueling storylines through a confounding connection, as @tvcriticme pointed out, "Oh wow. George is jealous Brenda might have a boyfriend and Mandy is jealous Georgie went on a date." Fans seem to agree that both Mandy and George are responsible for their own unhappiness, which we'll hopefully see remedied in future episodes.