How The Women Of Yellowjackets Feel About Their 'Offbeat' Reputations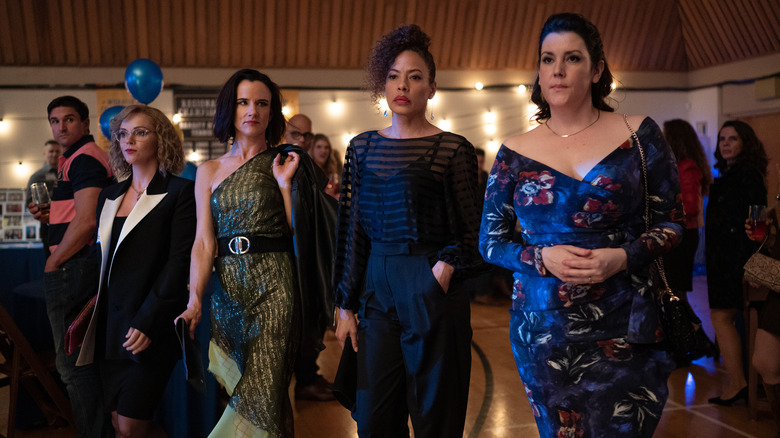 Kailey Schwerman/SHOWTIME
After the first season of Showtime's "Yellowjackets" premiered in the fall of 2021 to great ratings and glowing reviews, audiences managed to pinpoint one of the things they loved most about it: its core adult cast. Comprised of Tawny Cypress, Melanie Lynskey, Juliette Lewis, and Christina Ricci — who play Taissa, Shauna, Natalie, and Misty, respectively — this group, which plays the adult versions of teenaged soccer stars stranded in the deep wilderness after a plane crash, works beautifully together, and probably brings back some nostalgia for '90s kids (especially when it comes to Ricci and Lewis). 
With the second season on the horizon, the fearsome foursome sat down with The Hollywood Reporter to discuss their long careers in Hollywood, their work on the series, their characters, and their reputations in the industry. Here's what the stars of "Yellowjackets" thing about how they're regarded in Hollywood, and how it's affected the kind of roles they've been able to book throughout their lives.
Quirky and offbeat can be tough labels to shake in Hollywood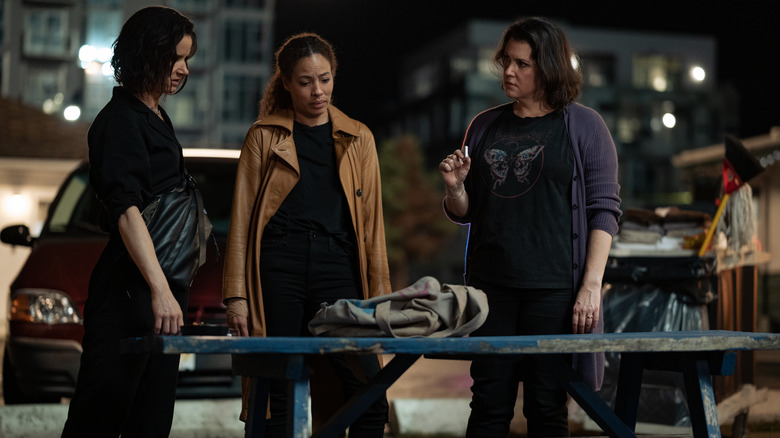 Kailey Schwerman/SHOWTIME
Speaking to THR, the outlet said that all four of them have Wikipedia entries that say they're known for playing "offbeat" or "quirky" characters... and some of these performers had some blunt truths about what those descriptors really mean. 
"Real people, specific and unpredictable," Lewis said, but Lynskey had a very different answer, remembering a situation where she booked a role in the movie where the girl was described as "beautiful." Then, at the table read, the description had been changed to "cute and quirky," which is... very different. "I was like, 'You don't need to change it,'" Lynsky recalled. Just keep it ..." They're like, 'We better change this description or people will be like, wrong actress.' So, sometimes it feels ... I don't know. I never liked that word, 'quirky.'" 
Ricci agreed, calling the terms "dismissive" and saying that they tend to pigeonhole a performer by dividing them into categories like "leading-lady ingenue" or "quirky and offbeat." While playing characters who are different in some way can be an incredible challenge for an actor, it certainly shouldn't put them into boxes about their physical appearance — though it too often does, clearly.
The Yellowjackets actresses are protective of the series' younger performers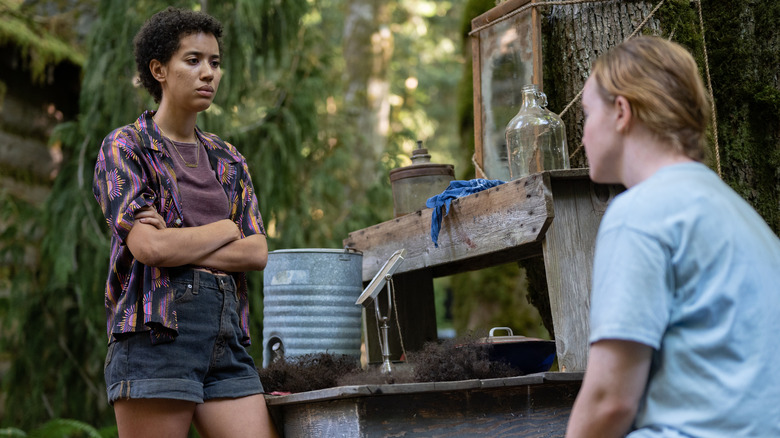 Kailey Schwerman/SHOWTIME
Whether it's labeling you or criticizing your physical appearance, Hollywood can be a rough place, which is why these four actresses also told THR that they try and keep an eye out for the actors playing their teenage counterparts on "Yellowjackets." According to them, though, the younger generation barely needs their help to redefine their stories and place in the industry.
"I feel very protective," Lynskey said, crying at the thought. "At the beginning of production, I sent them all an email, and I just was like, 'Whatever you need, if you need a voice, if you need someone to go to the producers for you, whatever you need,' and they were kind of like, 'Cool. Thanks.' They're fine." Cypress agreed, saying that her younger actor, Jasmin Savoy Brown, spoke up on set about how to style Black hair and insisted that it be done correctly for both performers of color. "They're very much of a different generation," Ricci added.
The second season of "Yellowjackets" kicks off on March 26, 2023 on SHOWTIME.