Indira Varma Could Not Pick Her Favorite Game Of Thrones Scene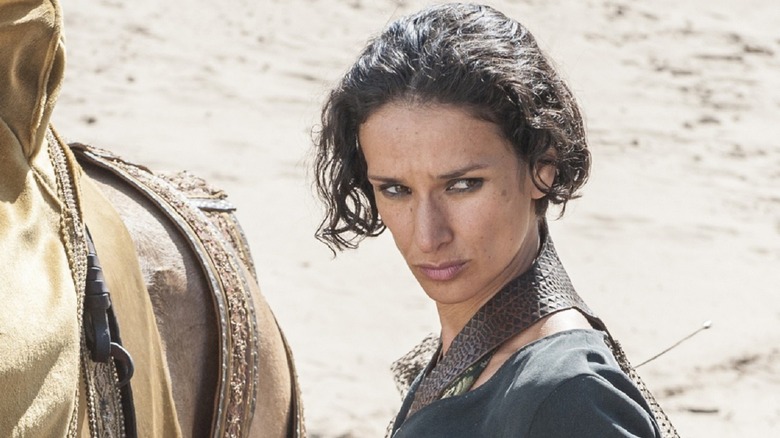 Helen Sloan/HBO
Sometimes an actor cannot pick their favorite scene in a movie or TV show they appear in — typically a positive sign. It could indicate that the performer took part in enjoyable segments throughout the experience, potentially highlighting the quality of the media in question. Indira Varma did not play a major character with countless scenes in "Game of Thrones" but her secondary role was nevertheless unforgettable.
Varma portrayed Oberyn Martell's (Pedro Pascal) lover, Ellaria Sand, a tenacious woman who got stuck on avenging his devastating and gruesome death after his defeat in a duel. Tragically, Martell did not manage to enact his revenge on those who murdered his sister and her children. In an interview with Entertainment Weekly, Varma responded to a question about her favorite "Game of Thrones" scene and she had a hard time picking one option. She also mentioned her time sharing the screen with Pascal.
"I loved all the work I did with Pedro," the actress told EW, "but I also loved working with the girls. I loved Pedro's big fight in season 4, it was wonderful to watch how brilliantly they make a fight and how each stage of it is covered. We were playing Scrabble behind the scenes, it was great fun." Varma was not alone in feeling this way. In a separate interview, Pascal himself earnestly said he "had the time of [his] life" while on the show, albeit for a shorter time than his on-screen paramour who lasted for a couple more seasons until her brutal off-screen demise.
There were many more memorable moments for Varma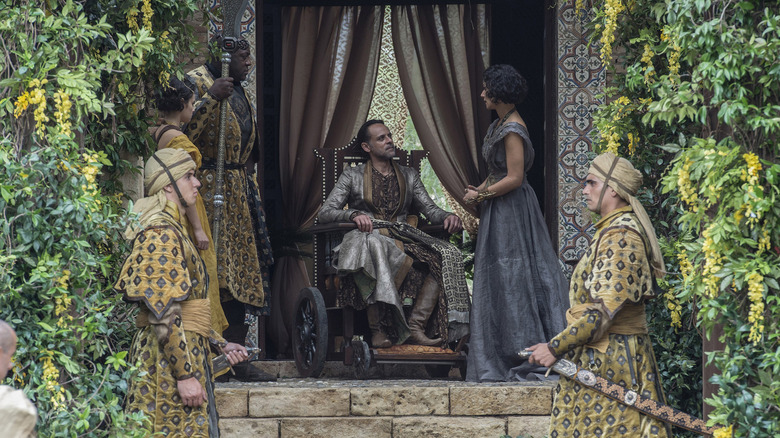 Macall B. Polay/HBO
In her response to Entertainment Weekly, Varma also mentioned the first scene she and Pascal appear in which takes place in a King's Landing brothel and in which Pascal gets into a little scuffle with some Lannister men. "[...] it was just so decadent — my life isn't like that." Later in the series, shooting in the astoundingly beautiful Alcázar Palace in Seville, Spain, deemed the oldest royal palace in Europe that is still being used to this day, was also a highlight of her time in "Game of Thrones." Varma loved the power dynamics of the moments filmed there.
On top of that, Varma appreciated some of the interactions she had with Ellaria's daughters. She mentioned a particular sequence wherein she had a hard time recalling her lines: "And the scene with the three girls with the character with the scorpion on his head when he was buried up to his neck — I just remember they wanted to do this extra shot of his head in the foreground with the scorpions all over him and I was so anxious about the scorpions I kept forgetting my lines."
Like many of the actors involved in the fantasy series, the experience was a high point in Varma's career. Not necessarily because of the production's scale, but because of the quality of the scenes: "With 'Obi' and 'Game of Thrones', there were moments where it did not feel like a monster machine." Varma told The Guardian, "It felt like doing something small and intimate."