Adam Driver Names The Sci-Fi Classic That Inspired His 65 Role - Exclusive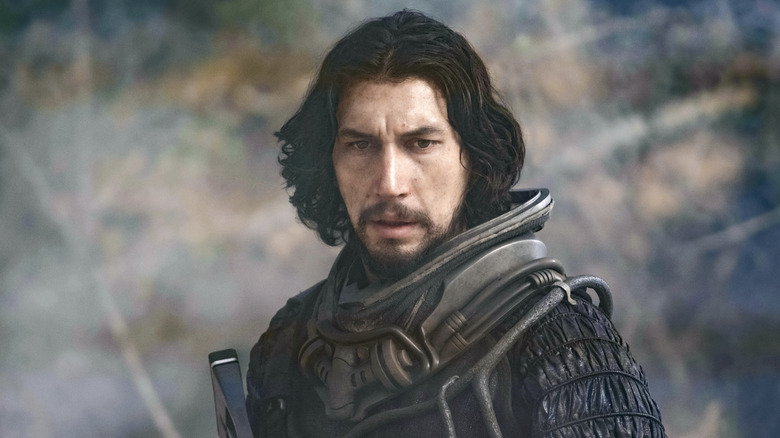 Sony Pictures
Sci-fi is one genre where Adam Driver has proven himself to shine. Of course, Driver excels at any genre, but seeing him in sci-fi feels like coming home for fans — he became a household name with his work in the "Star Wars" sequel trilogy as Kylo Ren. Now, fans are getting another dose of heavy sci-fi from the actor with his new film "65."
Now that the "Jurassic World" trilogy has come and gone, sci-fans may be feeling an empty hole for their dino love. "65" fills that void, but the film takes a more realistic approach to dinosaurs in their natural habitat — and what would happen if two people from fully developed worlds happened upon a prehistoric Earth. But it's not a dinosaur movie that sparked some inspiration for "65." One sci-fi classic offered some of the blueprints for the technical aspects and genre mashup vibes that the movie emulates. Looper exclusively spoke to Driver about the most significant sci-fi film inspiration for his performance in "65" and for the movie as a whole.
Emulating a sci-fi masterpiece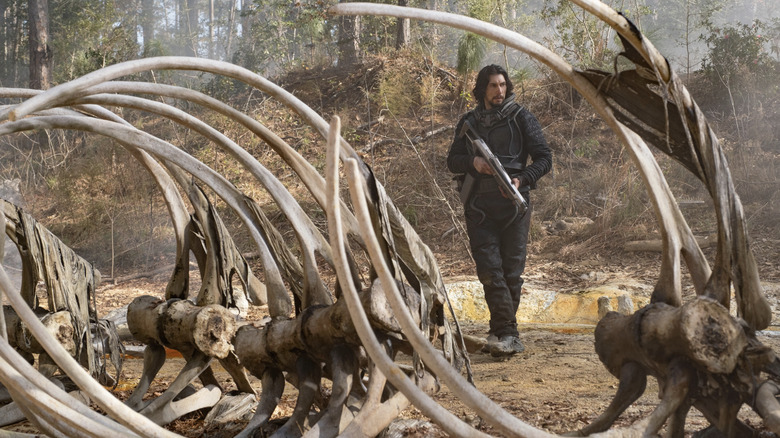 Sony Pictures
"65" manages to be entirely unique while paying homage to the sci-fi classics that came before. When we asked him whether there were any actors or movies that helped inspire his performance, Adam Driver named a movie that might not be the first that comes to mind when you think of an epic dinosaur-and-spacecraft escape adventure.
"We talked about 'Alien' a lot and that the technology was going to be a mix of things that were tactile. It was real levers and switches," he explained. 
Of course, "Alien" director Ridley Scott changed sci-fi forever with the 1979 film, expertly delivering a movie that's equal parts horror and sci-fi. "65" has its own take on genre mashups, offering a fascinating sci-fi take on history — wrapped up with a gnarly dinosaur bow. While movies like "Jurassic Park" certainly offer jump scares of their own, "65" takes a more natural approach to dinos and the brutality of living in the wild with these prehistoric creatures.
Driver noted, "Ridley [Scott] was a big inspiration to these directors [Scott Beck and Bryan Woods] and how it wanted to look and feel and not [make] the technology a blend of things that are screens and the world to feel really tactile and not so overproduced." 
"65" releases exclusively in theaters on March 10.