Viola Davis Broke Down Her Coke Scene From Ma Rainey's Black Bottom With 60 Minutes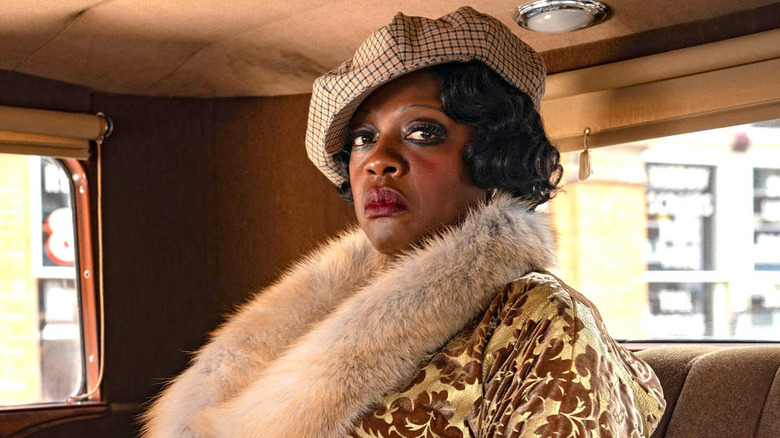 David Lee/Netflix
Viola Davis is one of the most acclaimed and talented actors in the industry — she even recently achieved EGOT status to prove it. While she gained the "O" of the EGOT with her Oscar win for her performance in the 2016 drama "Fences," she earned her fourth Academy Award nomination for 2020's "Ma Rainey's Black Bottom."
In "Ma Rainey's Black Bottom," which was directed by George C. Wolfe, Davis portrays a famous blues singer with a strong-willed nature. The film follows Ma through a day in the recording studio, where she is working with a group of white producers.
As mentioned, Ma is strong-willed and plays by her own rules, and she is confident in her talent and star power. This leads to her showing up an hour late to the recording session, despite her backing band being on time. Once there, she has a list of demands for producer Mel Sturdyvant (Jonny Coyne), including that she wants a cold Coca-Cola, something which has not yet been provided for her; insistent, she says she will not start recording until she gets her coke.
Once she finally gets the coke, in a memorable scene of the film, Ma downs the full bottle of coke in one go as the backing band and producers watch.
Davis knows the coke is really about what Ma deserved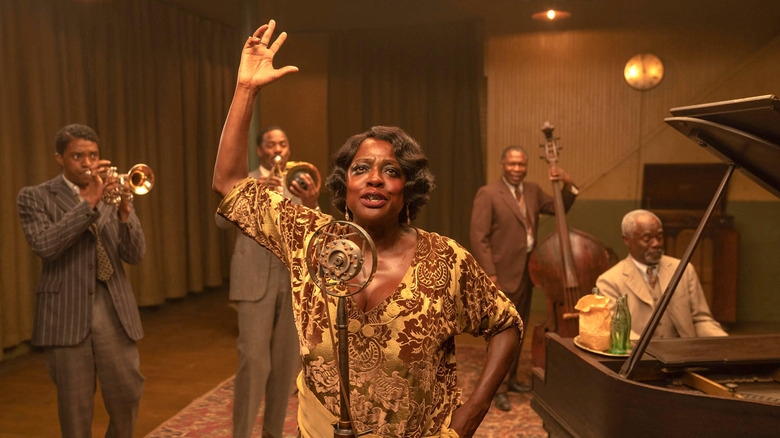 David Lee/Netflix
Around the time that "Ma Rainey's Black Bottom" was released to Netflix and limited theaters in late 2020, Viola Davis appeared on "60 Minutes" to discuss the role, as well as her career as a whole. During the discussion, the interviewer brought up the coke scene as one of the most notable of the film, one that showcases the complexities of the character of Ma Rainey. Davis, in turn, explained the real meaning of the scene.
After proudly announcing that she did indeed drink the entire coke in one go, Davis went on to explain the underlying meaning of what the coke represents. Davis said, "What's really going on is it's not about the coke. It's about what I deserve, it's about what I've worked for and what I've earned."
In short, Ma refuses to record until she gets her coke because she should have had it there waiting for her in the first place, as she had already asked for it. Thus, the scene exemplifies why, at another point in the film, Ma laments, "They don't care nothing about me, all they want is my voice."
Davis wanted to play Ma Rainey to showcase her worth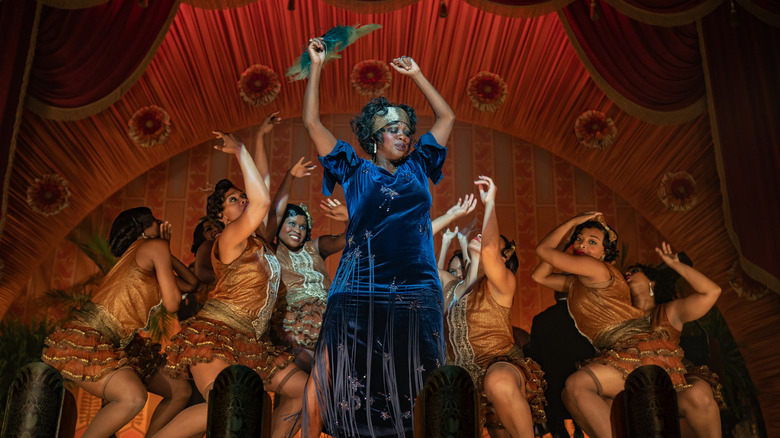 David Lee/Netflix
In an interview with The New York Times Magazine, Viola Davis discussed once again the idea of Ma Rainey demanding that she gets what she knows she deserves — in fact, it's exactly why Davis wanted to play her.
Davis said, "In 'Ma Rainey,' everybody's fighting for their value and the thing that holds us back is being Black. I wanted to show that. No — 'show that' is not a good term for an actor. I wanted that to be a part of Ma Rainey. I wanted people to see what lay in the heart of her being. Which is: I know my worth."
Valuing your own worth is something that Davis has in common with Ma and something that she says she can relate to, having to fight to be treated — and paid — equally to her white counterparts as a dark-skinned Black actress (something she says she hasn't even achieved yet despite making more than she has in the past). Davis said, "What drives me is a lot of what drives the characters in 'Ma Rainey,' which is my worth. Feeling worthy with everything that I do."