Read This Before You See Ma Rainey's Black Bottom
This content was paid for by Netflix and created by Looper.
It's the summer of 1927, and Ma Rainey is in demand. It's not hard to see why. With hits like "See See Rider," "Moonshine Blues," and "Trust No Man" under her belt, Rainey was quickly becoming the most celebrated female blues vocalist in the country, and her fans, white and black alike, were eager for more.
But during this Chicago summer, tensions are running high. Ma's ambitious trumpet player, Levee, has an eye on his own solo career as well as Ma's girlfriend, Dussie Mae. Rainey herself is flustered by the public attention, overwhelmed by the Chicago heat, and distrustful of the white record executives trying to make her famous. By the time everyone settles in to record Rainey's latest single, everyone's already at their breaking point. And that's just the beginning. Things are about to get much, much worse.
Director George C. Wolfe's adaptation of Ma Rainey's Black Bottom, a critically acclaimed play that made its Broadway debut in 1984, is many things. It's a showcase for actors like Viola Davis and Chadwick Boseman, who play Rainey and Levee, respectively. It's a celebration of the work of playwright August Wilson, a two-time Pulitzer Prize winner who wrote seminal works like Fences and The Piano Lesson. It's a treatise on racial oppression, cultural appropriation, and the exploitation of black artists. Most importantly, however, it's a fascinating portrait of a specific moment in time, full of all the human drama, pathos, and excitement you've come to expect from the talent involved.
Meet the Mother of the Blues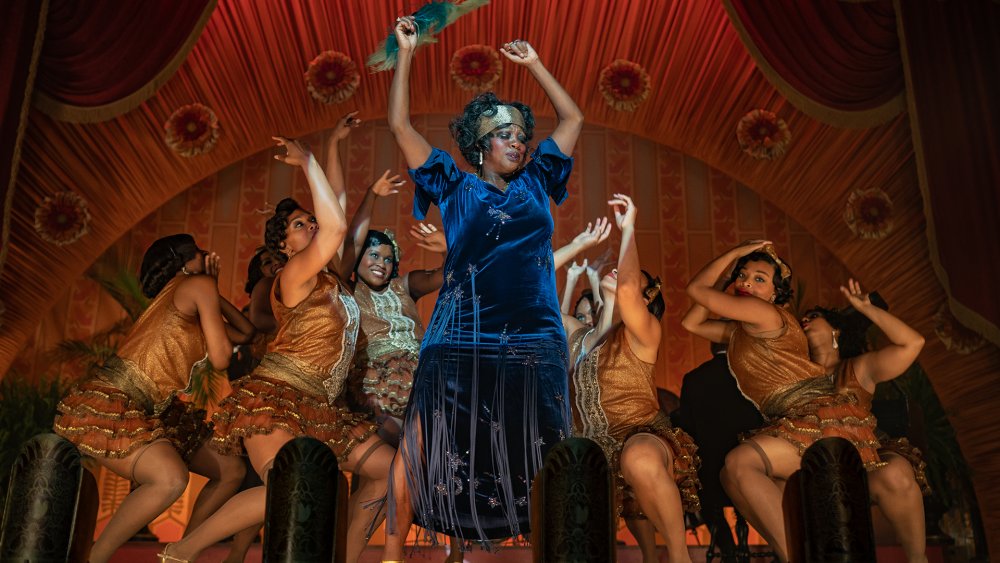 During her heyday, Ma Rainey went by many names. The Songbird of the South. The Gold-Neck Woman of the Blues. The Paramount Wildcat. These days, however, Rainey is best remembered as the "Mother of the Blues," honoring her status as one of the very first Black women to become a professional blues singer, as well as one of the first blues vocalists whose voice was immortalized in recordings.
Remarkably enough, however, Rainey didn't get her start as a blues singer. Originally, she was a vaudeville performer, who worked in black minstrel shows alongside her husband, Will. Over time, however, Rainey grew to love blues music, and when she was discovered by a Paramount Records producer in 1923, she quickly became a sensation. Over the next five years, Rainey lent her voice to over 100 records, cementing her legacy as one of the founding matriarchs of the genre and paving the way for the countless blues, soul, and R&B singers who followed.
While Rainey passed away in 1939, she was inducted into the Rock and Roll Hall of Fame in 1990, and is still widely remembered for her flamboyant costumes, her elaborate stage shows, and her powerful and raw singing voice. She's also known for frank and evocative lyrics, which didn't shy away from expressing Rainey's sexuality — the singer was openly bisexual — or her Southern upbringing. Put simply, Rainey wasn't just a masterful singer. She also knew how to put on a show, and, as you'll see, fans loved her for it.
Big characters, big performances, and big names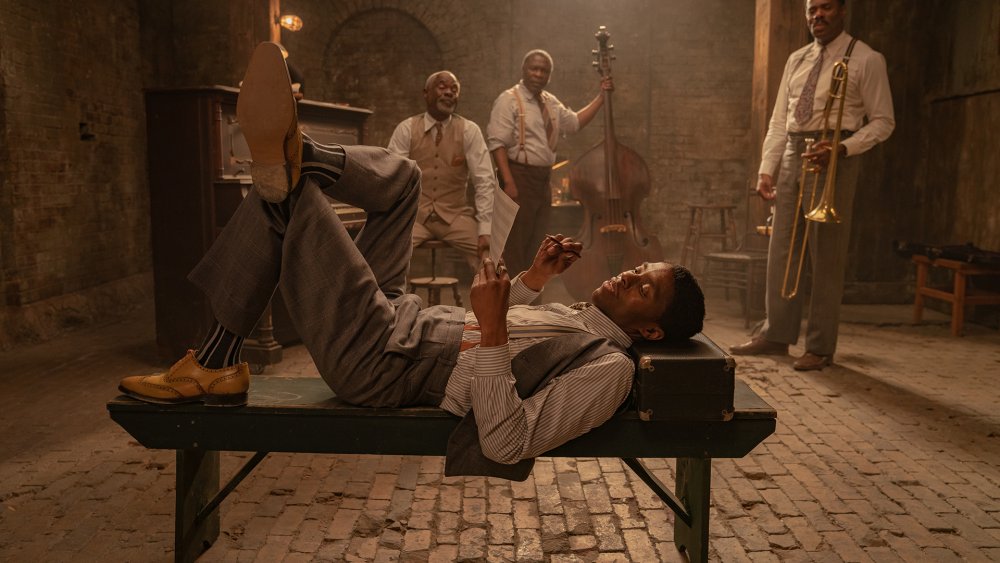 Ma Rainey left behind some big shoes to fill. Thankfully, the people behind Ma Rainey's Black Bottom found just the woman to do it: Viola Davis, the only Black woman to win a Best Actress Oscar (for Fences, an adaptation of another Wilson play), an Outstanding Lead Actress in a Drama Series Emmy (for How to Get Away with Murder), and a Tony for Leading Actress.
Not that it was easy to inhabit a persona as big as Rainey. "She's unapologetic, and that extends to her body and the way that she dresses. And trust me — as Viola, in my life, I don't do that," Davis told the New York Times. Still, Davis threw herself into the part, embracing all of Rainey's quirks and embodying all of her confidence. The result is one of Davis' most dynamic, assured roles yet — and given her past work, that's saying something.
Joining Davis in Ma Rainey's Black Bottom is Chadwick Davis, who turns in a very different performance than his fans may be used to seeing. While the Marvel Cinematic Universe's King T'Challa is regal and stoic, trumpeter Levee is a livewire, and Boseman puts everything he has on the screen. It's a performance that doesn't hold back, and should have audiences regarding him a whole new way.
In addition to Davis and Boseman, Ma Rainey's Black Bottom features The Wire alums Glynn Turman and Michael Potts and Fear the Walking Dead's Colman Domingo as the members of Ma's band, Hit the Floor's Taylour Paige as Dussie Mae, Jonny Coyne as the owner of the recording studio where the drama goes down, and Better Call Saul veteran Jeremy Shamos as Rainey's manager.
A dream team behind the camera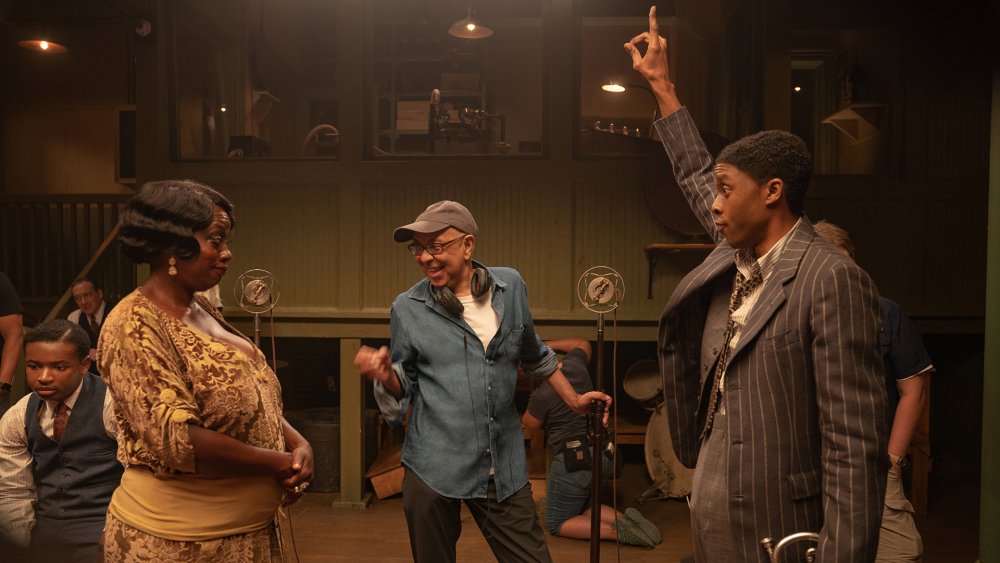 Ma Rainey's Black Bottom and playwright, theater director, and filmmaker George C. Wolfe are a perfect fit. In 1993, Wolfe won a Tony award for directing Tony Kushner's Angels in America, a groundbreaking drama that's considered a watershed moment for gay representation in the media. In 1996, he won another for directing Bring in 'da Noise, Bring in 'da Funk, a musical that fuses hip-hop and tap dance to bring the story of Black Americans to life (Wolfe also co-wrote the show's lyrics). Wolfe can handle drama, he can handle music, and he has critically acclaimed HBO movies like The Immortal Life of Henrietta Lacks and Lackawanna Blues on his filmography.
Similarly, it's not much of a surprise to see Denzel Washington's name on Ma Rainey's Black Bottom's credits list. Over the past few years, Washington has made preserving August Wilson's work something of a mission. In 2016, he directed the big-screen adaptation of Wilson's Fences that won Viola Davis her Oscar, and he's working to get an adaptation of The Piano Lesson with his son, Tenet and BlacKkKlansman star John David Washington, off the ground. Naturally, he's been very involved with Ma Rainey's Black Bottom, too.
Finally, while you probably know Ruben Santiago-Hudson best for his performance on ABC's Castle, the multitalented filmmaker is also an accomplished writer and director. Not only did he adapt Ma Rainey's Black Bottom for the screen, but he appeared in Wolfe's first Broadway show, Jelly's Last Jam, and wrote and starred in the stage production of Lackawanna Blues, which he helped Wolfe bring to HBO. He's also very familiar with August Wilson's work: His 2013 production of The Piano Lesson earned him a number of directing awards. Basically, it's hard to imagine a better team bringing Wilson's evocative, dynamic play to the screen.