Jon Bernthal Will Reportedly Return As The Punisher For Daredevil: Born Again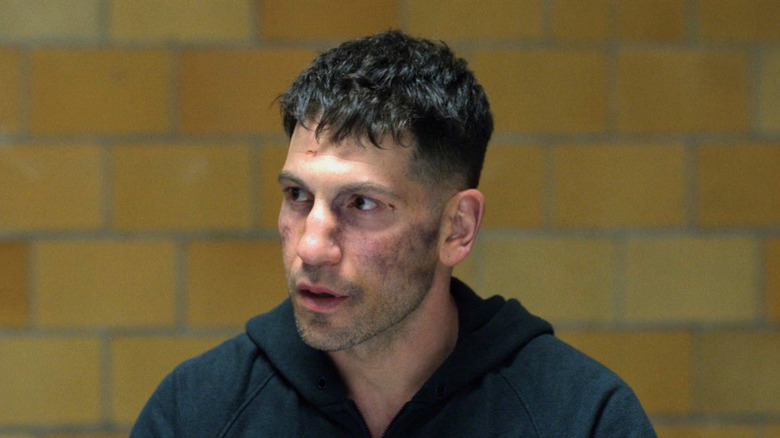 Marvel Studios/Disney+
Jon Bernthal will be gunning his way into the MCU once more as Frank Castle, aka The Punisher. After saying he'd only return if he could give fans the Punisher they deserve, Bernthal is now aboard the upcoming Disney+ series, "Daredevil: Born Again." Bernthal was first introduced as the violent vigilante in Season 2 of Netflix's "Daredevil," where he stole the show from Charlie Cox's devil of Hell's Kitchen with a performance that proved there are some people whose families criminals should just leave alone, assuming said criminals would prefer not to be riddled with bullets. Bernthal subsequently received a single season to star as The Punisher in a Netflix show of the same name, following up on the successes of "Daredevil" and other "Defenders" shows such as "Jessica Jones."
But as it became clear that a streaming push of Disney's own was imminent, Marvel pulled the plug on its "Defenders" universe. But the studio seemed to recognize how beloved several of those series had become among fans and reintroduced several characters from the "Defenders" shows during Phase 4 of the MCU. Vincent D'Onofrio returned as the vicious Kingpin for the Disney+ series "Hawkeye," while Charlie Cox returned as Daredevil in "Spider-Man: Far From Home" and again with a less abbreviated role in "She-Hulk: Attorney at Law."
Now, Bernthal will join his fan-favorite former co-stars once more for the next Charlie Cox-starring "Daredevil" series.
Bernthal and Charlie Cox will reunite alongside Vincent D'Onofrio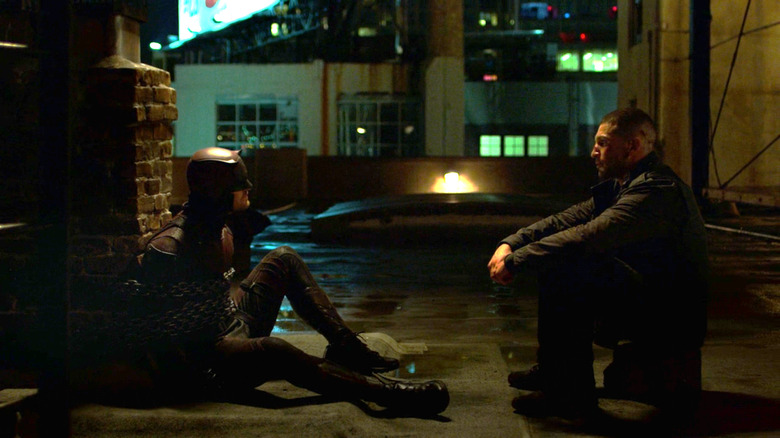 Marvel Studios/Disney+
Jon Bernthal is set to reprise the role of Frank Castle, better known as The Punisher, in the upcoming Disney+ MCU series "Daredevil: Born Again," according to The Hollywood Reporter. The series, which is expected to debut sometime during the spring 2024 television season, begins principal photography this month in New York.
With Vincent D'Onofrio reprising the role of Wilson Fisk, the Kingpin, alongside Charlie Cox as Matthew Murdock, aka the titular Daredevil in "Born Again," the addition of Bernthal reunites three of the most beloved characters from Netflix's "Daredevil." Cox and D'Onofrio also star in the upcoming "Echo," another Disney+ MCU series that will lay the groundwork for the events of "Born Again."
With "Daredevil: Born Again" set to begin filming, fans can cross their fingers for more casting news. So far, there's no word regarding the return of Elden Henson as Murdock's best friend Foggy Nelson, nor of Deborah Ann Woll as journalist Karen Page. But "Born Again" is shaping up to be a worthy spiritual successor to Netflix's gritty superhero series.