Prime Video's Citadel Has Fans Pumped To See Richard Madden Back On Screen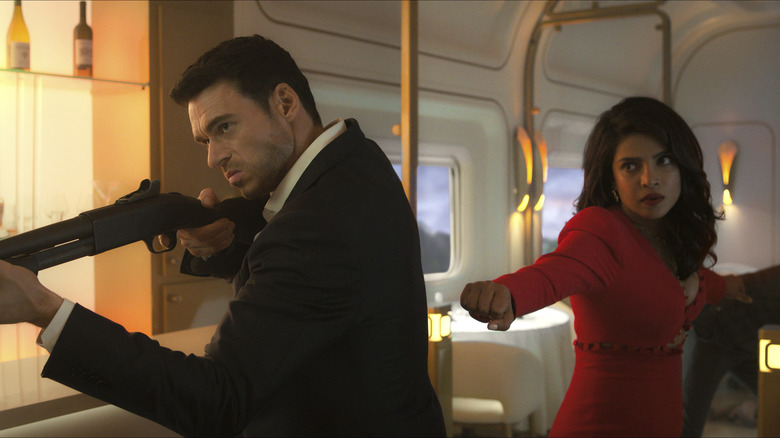 Amazon Prime Video
In 2021, fans were super excited for the next installment in the Marvel Cinematic Universe, "The Eternals." With a cast consisting of Angelina Jolie, Salma Hayek, Kumail Nanjiani, Richard Madden, Gemma Chan, and others, and recent Academy Award-winning director Chloé Zhao directing it, it seemed like a guaranteed blockbuster. And after making more than $400 million worldwide, it's hard to say it wasn't. But critics lambasted the film, and viewers who were expecting it to tie in more closely with the recent MCU films and television series had mixed reviews.
But one aspect of "The Eternals" that viewers did love was Richard Madden as Ikaris. After playing Robb Stark on "Game of Thrones," Madden has fans that will watch any movie or television series if his name is on the cast list. "As much as I love the Marvel movies [and] some of the comics, I never really knew about the Eternals growing up so the only reason I watched the movie was for Richard Madden," wrote a fan on a Marvel Studios subreddit.
In the two years since "The Eternals" premiered, Madden hasn't appeared in anything, so fans were thrilled when Amazon Prime dropped a trailer for "The Citadel," their newest series starring Richard Madden and Priyanka Chopra Jonas.
Madden's first project since 2021's The Eternals
Prime Video dropped a trailer for their new series "Citadel" on March 6, 2023, and fans are excited that the new spy thriller is finally almost here and even more gleeful that Richard Madden is finally going to be back on the screen. "Eyyy, glad to see that the wonderful Richard Madden is gonna be on our screens again! This actually looks like it's gonna be great, can't wait to see it!" commented @Mnxeu. "I didn't even know this was coming, but I'm so excited!" wrote @jessicahaley666. "I'm a big fan of Richard Madden and this looks like fun."
Set to be released on April 28, the series was developed by the Russo brothers, and Amazon is spending a staggering amount of money to develop it. While Madden and Priyanka Chopra Jonas are set to star in the English language version, there will be five other "Citadel" series airing in Mexico, Italy, Spain, and India, each one in the respective country's language. "The concept was an idea that Jen Salke presented to us, a few years ago," Joe Russo said at a press conference (via Collider). "The notion of telling a story that could be interwoven throughout the world, and that would have a flagship show and then regional shows, written, produced and directed by regional talent, that could interweave with the flagship show" Crossover episodes that span the globe? We're in.