HIMYF's Lizzie McGuire Flashback Is All Fans Can Talk About From Season 2, Episode 7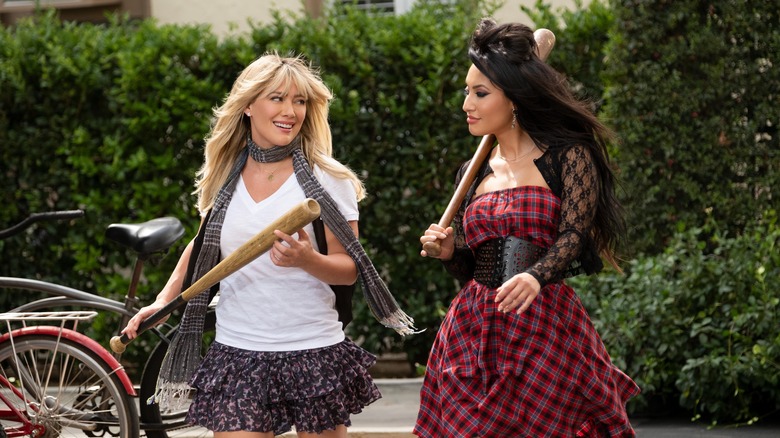 Patrick Wymore/Hulu
Season 2 of "How I Met Your Father" is moving right along and while we're not much closer to finding out who Sophie (Hilary Duff) ends up with, it's been a fun ride so far. There are plenty of love stories to watch, whether it's Sid (Suraj Sharma) and Hannah's long-distance relationship, Ellen's (Tien Tran) burgeoning romance with Rachel (Aby James), or what's left of Charlie (Tom Ainsley) and Valentina's (Francia Raisa) ill-fated love affair.
Even though "HIMYF" features a brand new set of characters, the series takes place in the same universe as "How I Met Your Mother." There have been plenty of nods to the parent series, including an appearance from The Captain (Kyle MacLachlan) and a cameo from Robin Scherbatsky (Cobie Smulders). Fans were overjoyed by Barney Stinson's (Neil Patrick Harris) Season 2 return, but that's not the only throwback that has viewers talking. The most recent episode, an installment titled "A Terrible, Horrible, No Good, Very Bad Valentine's Day," included a clever nod to Hilary Duff's Disney Channel days.
HIMYF fans loved the use of a Lizzie McGuire clip for a young Sophie flashback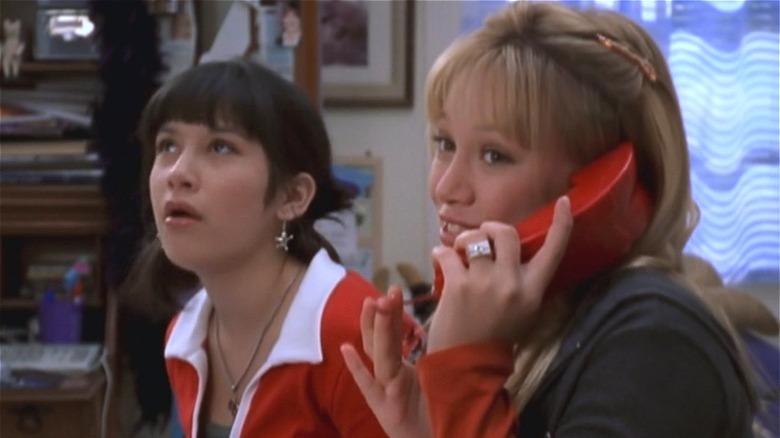 Disney Channel/Hulu
The "How I Met Your Father" Valentine's Day episode saw Sophie and her friends sharing their experiences with the holiday. The installment featured some great flashbacks, including a scene showing how Sophie and Valentina met in college after unknowingly dating the same man. At one point, Sophie started telling a story from her youth, but in place of a traditional flashback, viewers were gifted with a clip of young Hilary Duff as Lizzie McGuire, wearing sparkly barrettes and using a corded phone that plugs into the wall. It's a real scene from the Season 2 premiere of "Lizzie McGuire" and "HIMYF" viewers were loving the throwback.
"Omg was that Lizzie??? Now that's a cameo I can get behind," said Reddit user u/DailyTrips. The moment took fans by surprise in the best way. "It's the way I gasped," wrote Twitter user @grapejuicerry01. Meanwhile, Twitter user @c_saraaii couldn't keep their excitement to lowercase letters, writing, "NO WAY HIMYF SHOWED A CLIP OF 'LIZZIE MCGUIRE.'" 
Overall, the moment was a nice touch that longtime Hilary Duff fans appreciated. "That 'Lizzie McGuire' clip was [an] amazing add," said Twitter user @KhamGSkates. For many, it was one of the highlights of the episode. "Not Lizzie McGuire as a young Sophie flashback," said Twitter user @lupelovebot. "I love them sm for this." 
It's about time "HIMYF" took advantage of Duff's former teen idol status and the Lizzie reference was a great way to do it.