Yuriy Sardarov Says Filming Outside For Chicago Fire Was 'A Miserable Experience'
Chicago winters can get pretty cold and miserable. There's no way around that fact. Shows that have been filmed in the Windy City, such as "Shameless" and "The Bear" have showcased the harshness of the winters that Chicagoans are naturally predispositioned to "deal with." Outsiders coming into the Second City during a particular cold snap might note the way the air just sort of burns your skin on contact. Even the "Chicago Fire" heat isn't enough to combat the frigid winter temperatures.
The "One Chicago" franchise has made a home filming in actual Chicago for all of its shows under the umbrella. While the cast does feature a lot of locals, some transplants from Los Angeles or elsewhere might be in for a rude awakening when having to film their first outdoor Winter scenes. Yuriy Sardarov, who played firefighter Brian "Otis" Zvonecek in "Chicago Fire" until his character's tragic death on the show in 2019, previously split his time living between Los Angeles and Chicago. When it came time to film some outdoor Winter scenes for the series, Sardarov really struggled with the dangerous below-freezing temperatures he had to endure for long hours.
The extreme cold made the cast bond through shared misery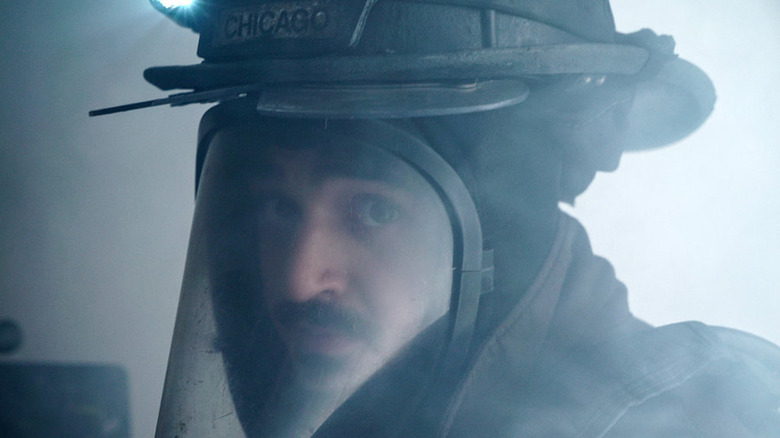 NBC
Yuriy Sardarov, who played Otis Zvonecek in "Chicago Fire," joined the show in Season 1 and became a regular in Season 2. Before being assigned as a driver for Station 81, Zvonecek earned the nickname Otis (based on the elevator repair company) for his specialty in helping out with elevators. Upon reflecting on his character's departure from the show, Sardarov commented to Tell Tale TV on how difficult it was to film in the Chicago Winters, even though, in retrospect, those are some of his favorite memories of filming.
He said, "We'd be outside at 5:00 am and filming. It's a miserable experience. There's no way to sugarcoat that. But I knew that as soon as I'd be done, I would look back on those memories, and I would cherish them." He remembered days when he had to film, and the temperature coming off the lake was 45 degrees below zero with the wind chill. He continued, "Our feet were frozen in our boots."
He recalled it being challenging to act when dealing with those kinds of conditions. He said, "You're just standing there, and you have to have this look of great concern on your face, but you are frigid and frozen to the spot." On days like that, the cast just wanted their work day to be over, but they also formed an infallible bond through the temperature-based trauma they experienced. He continued, "But it's moments like that, where everybody's like, 'please kill me,' where the connection that you make and the camaraderie that you build is completely indispensable and so special."