Jenna Ortega Reveals That She Continually Rewrote Dialogue On The Set Of Wednesday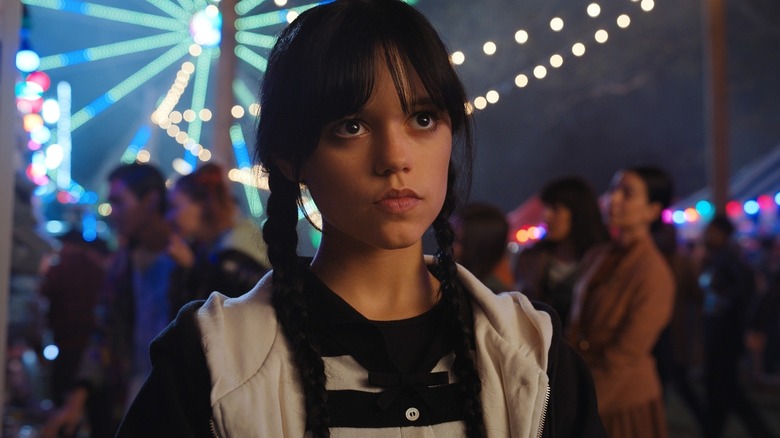 Netflix
When Netflix first released their horror-comedy series "Wednesday" back in November 2022 (a series based on "The Addams Family" and centered around the titular Wednesday Addams), the show turned lead actor Jenna Ortega into a household name overnight. The show itself follows Wednesday's early attempts to fit in at a new school, having been expelled from her previous school for setting a pack of piranhas on the boy's water polo team. Though things take a turn when her inherent psychic powers begin to awaken, connecting her to a mysterious murder in the small town of Jericho, Vermont.
Ortega's performance as the deadpan (and surprisingly mischievous) Wednesday Addams received widespread acclaim from both critics and fans alike, many of whom praised Ortega's updated portrayal of the iconic character and claimed her performance is what carries the entire show. The role earned Ortega a Golden Globe nomination and launched her into veritable Hollywood superstardom, so much so that she was even invited to host an episode of "Saturday Night Live" just a few short months after "Wednesday" exploded in popularity.
Jenna Ortega's incredible performance as "Wednesday" has received an enormous amount of recognition and acclaim from across the industry and has turned the up-and-coming actor into one of the biggest names in all of television. That said, it might still surprise some fans to learn that Ortega's talent in front of the camera extended behind the scenes as well — as she routinely rewrote her own dialogue while on the set.
Ortega frequently rewrote scripts to fit Wednesday's character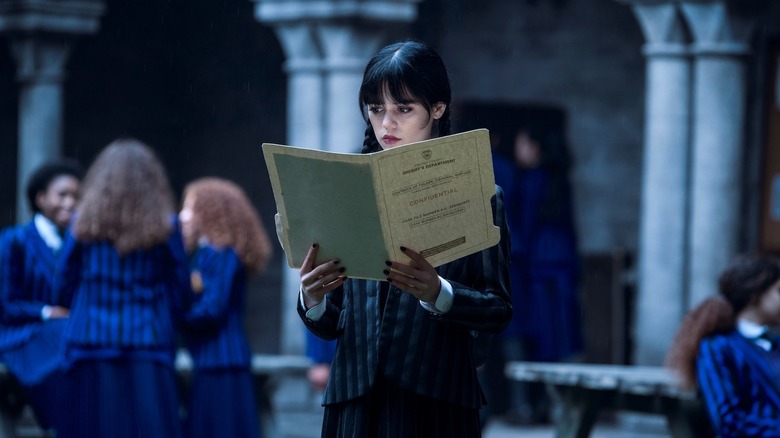 Netflix
During a recent interview with the "Armchair Expert" podcast, Jenna Ortega explained her process of joining "Wednesday" and learning to embody its titular character. Notably, she admitted that she would frequently make changes to her script without notifying the writers — saying that plenty of the scripts didn't even make any sense and that she felt the writers' Wednesday Addams was very two-dimensional.
"I don't think I've ever had to put my foot down more on a set in a way that I had to on 'Wednesday.' Everything that Wednesday does, everything I had to play, did not make sense for her character at all," Ortega said. "There were times on that set where I even became almost unprofessional in a sense where I just started changing lines. The script supervisor thought I was going with something and then I had to sit down with the writers, and they'd be like, 'Wait, what happened to the scene?' And I'd have to go and explain why I couldn't go do certain things."
Ortega specifically referenced a comedic line about a school dress and a love-triangle subplot as two instances where she simply rewrote the script or changed the dialogue, believing that Wednesday would never say or do those things. She went on to describe how protective she became about Wednesday, fighting for the character to have an emotional arc regardless of the director or writer's intention. Considering the immense praise her performance has received, it seems like Ortega's changes were the right call after all — though one has to wonder how the writers felt about Ortega's on-set changes to their character.