Jenna Ortega's Wednesday Performance Has Viewers Erupting In Applause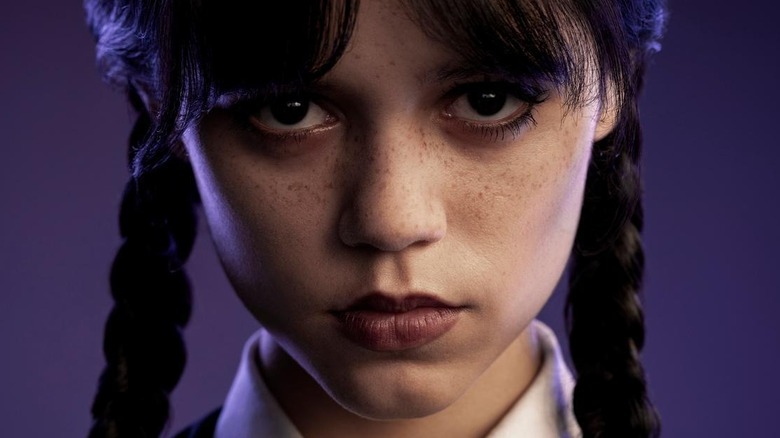 Matthias Clamer/Netflix
A champion of the weird and the whacky, it was only a matter of time before Tim Burton tackled "The Addams Family" franchise. Non-conforming women such as Lydia (Winona Ryder) and Sally (Catherine O'Hara) are just some of Burton's most iconic characters and modernizing Wednesday Addams was a no-brainer. Netflix's "Wednesday" is a fresh spin on the character, honoring her Latina roots and making her even more of an outsider than before. This was an element that the new Wednesday herself, Jenna Ortega, was hoping to elevate.
"It was really important to me that I did something different, even though she's been done so flawlessly in the past," Ortega stated in a Netflix featurette. "She's a bit more socially awkward. There's a confidence there but it's more concealed." There is no question that Christina Ricci's portrayal in the '90s is beyond reproach, but Ortega's instinct about the character did not end up being a gamble. Critics immediately began to praise Ortega's distinctive direction with the iconic character. "Ms. Ortega is a charismatic performer playing a character who is decidedly anti-charisma, so that's an accomplishment; she has a face that triumphs over deadpan," wrote The Wall Street Journal. 
It's no surprise that Ortega is receiving a bundle of praise for starring as one of TV's most iconic goth icons. Ortega lent her talents to the horror thrillers "Scream" and "X" earlier this year but it's clear that "Wednesday" is wholly hers.  After the series premiered on Netflix, fans couldn't get enough of the young actor's take on the iconic "Addams Family" character.
Jenna Ortega's acting is a standout
"Wednesday" isn't the first time television introduced us to teen sleuths, but the Tim Burton series never fails to impress. "Veronica Mars" gave us Kristen Bell's pithy titular detective while the characters of "Riverdale" would be nowhere without Jughead Jones (Cole Sprouse) leading the investigative charge. Jenna Ortega's Wednesday Addams is the next to pick up the mantle in this gothic high school series, with many praising the show's mystery. Fans on Twitter have exploded with praise for the Netflix series. "[T]his show was so iconic! Jenna Ortega is easily one of the best actors of our generation. And I loved that it was a murder mystery! it was like 'Addams Family' meets 'Sherlock,' wrote Twitter user @therealIsaiahF. This was just the first of many instances where Ortega received continuous praise on social media.
"[T]he 1st episode of #WednesdayNetflix was freakin' amazing! It's absolutely ridiculous how amazing Jenna Ortega [is] as #Wednesday. The score, the writing, the visuals, the acting, everything is on point!" exclaimed @SDavid1204. Though the series came together as a whole, there has been one continuous thread throughout the fans' love of the series.
"Finished #WednesdayNetflix and I'm left with the biggest smile on my face. Jenna Ortega ate that up, leaving no crumbs. What a ridiculously talented woman," @ShaunaMarie_0 tweeted. Across the board, fans could not get over her command of the character. @fletcherpcd and @IivswyIie echoed similar sentiments about the comedy coming across in spades. 
Fans say Jenna Ortega carries the entire show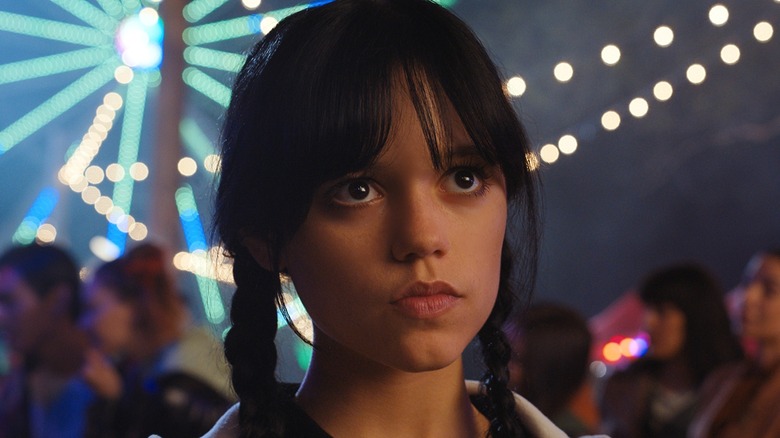 Netflix
Jenna Ortega has had considerable experience in television for some time, but the actor has truly come into her own in the past couple of years. Thanks to her recent leading and supporting horror roles, the "Wednesday" actor has become a true icon for the genre. Those who have completed the series think the star truly shines as the goth hero. "Jenna is awesome and I'm loving her, she's the best part of the show and in every scene she's great," wrote Reddit user u/Western_Camp7920 while discussing the series on r/television. User u/actingotaku suggested that Ortega's success as Wednesday is due to her ability to embody the character fans know and love, while also updating it for modern audiences, truly making it her own.  
Some were more critical of the Netflix series, though even they couldn't deny Ortega's acting chops. "Jenna Ortega is the only saving grace and carries the entire show on her back. It's palpable how inexperienced her co-stars are compared to her," wrote user u/Sundeww. While some Tim Burton fans couldn't get into the show, others couldn't help but feel joy seeing Ortega tap into Wednesday's Latina roots. Twitter user @alynalanis26 called out and praised Ortega for representing the Latin community. "Jenna Ortega as Wednesday Addams is everything Latina empowerment," said @gracie_vaz. Overall, it looks "Wednesday" is another winner for Burton, Netflix, and Ortega, whose career is just starting to rise.